Bangladeshi singer Shwapnil Shojib awarded 'Best Rabindra Sangeet Artiste' at Ananda Mela LA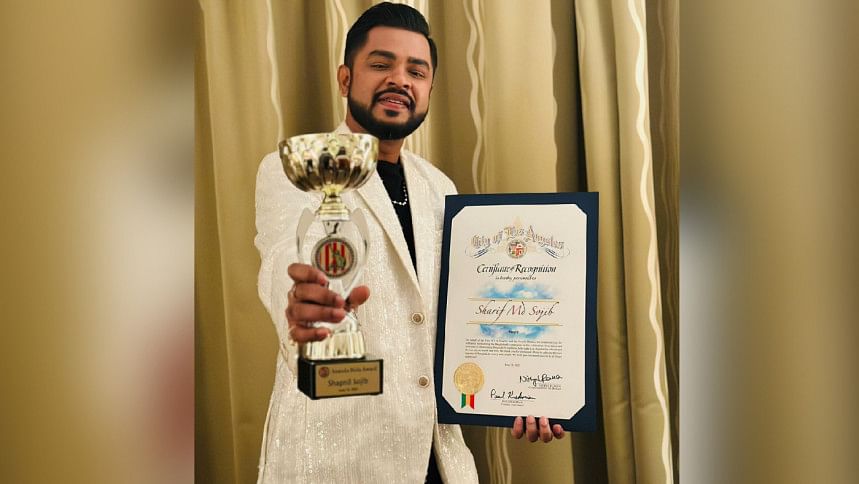 Bangladeshi Rabindra Sangeet singer Shwapnil Shojib has recently been honoured with the prestigious certificate of excellence as the 'Best Rabindra Sangeet Artiste of the Year' at the Ananda Mela 2023 in Los Angeles.
He was handed the certificate by City Council President Paul Krekorian, Ananda Mela Founder and President, Khan Mohammad Ali and Chairman Moazzem Chowdhury.
This recognition is a testament to Shwapnil's extraordinary talent, passion and unwavering dedication to Rabindra Shangeet.
With a deep understanding of Rabindranath's message, Shwapnil's melodious voice has managed to spread the charm of Rabindra Sangeet, not only in the hearts of Bangladeshi music lovers, but also to fans around the world.
Expressing his gratitude after receiving the prestigious award, Shwapnil Shojib said to the media, "I am grateful to Ananda Mela for this recognition. It is a true honour to be recognised as the 'Best Rabindra Sangeet Artiste' of the year.  The love and support of my fans, my family and mentors who have guided me throughout my musical journey. "
Shwapnil's musical journey started at a young age, and he worked tirelessly to preserve his musical skills and the rich tradition of Rabindranath's compositions.
The artiste is set to perform in the USA Summer Fest 2023, which will take place between June 23 to 25.