Eid tourism undaunted by higher costs, heatwave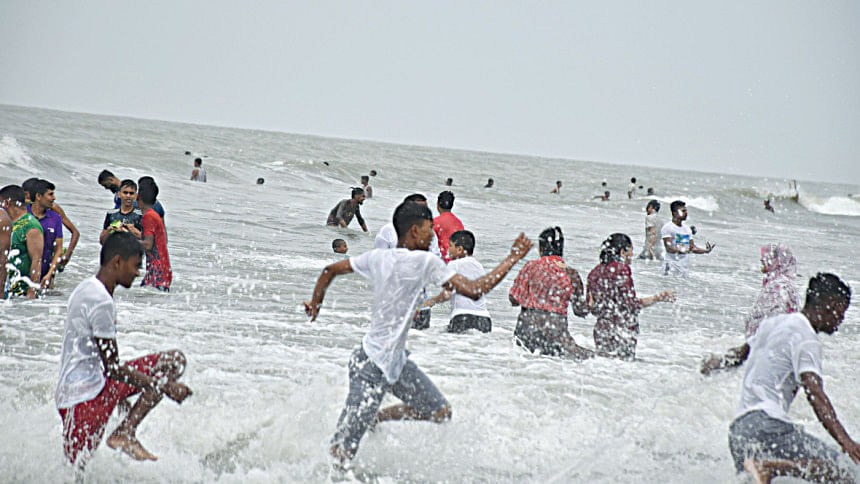 Travellers were undeterred by the ongoing heatwave or higher accommodation and transport costs as tourist destinations across Bangladesh were bustling with activity during the recent holiday centring Eid-ul-Fitr.
Occupancy rates at hotels, motels and resorts tend to exceed 90 per cent during the holiday season, which typically begins two days before Eid and lasts for seven days after, according to industry people.
Tourism in Bangladesh usually peaks during the cold months from November to mid-April each year.
The sector accounted for 3 per cent of the country's gross domestic product in fiscal 2018-19, according to the Tourism Satellite Account 2020 of the Bangladesh Bureau of Statistics.
Additionally, the sector accounted for 8 per cent of the total employment that year.
Cox's Bazar is the top vacation spot with about 500 hotels, motels and resorts as well as more than 2,000 eateries.
Abdul Awal, director for sales and marketing at Sea Pearl Beach Resort, said business was better this Eid compared to that of 2022.
"We are happy with the current situation," he added.
Md Jahirul Islam, general manager of Mermaid Beach Resort, said they achieved 80 per cent of their expected bookings as some tourists lost their interest in travelling due to high inflation and rising temperatures.
However, Prasenjit Guha Thakurta, group general manager of Seagull Hotel, said occupancy was 10 to 12 per cent lower than the 85 per cent registered in 2022.
"We had to face this situation due to the ongoing heatwave and Secondary School Certificate and equivalent examinations," he added.
Thakurta went on to say that the current economic situation and subsequently high travel costs are another reason for the decline in occupancy.
The Palace Luxury Resort, built on 150 acres of land with 107 rooms and 22 villas in a remote village of Habiganj, was almost fully booked during the Eid holiday.
Joseph Gomes, general manager of the resort, said business was quite good this time around compared to the Eid-ul-Fitr season of 2022.
"The occupancy rate was 100 per cent at our resort," he added.
Pradip Sanyal, executive director of Bhawal Resort and Spa in Gazipur, said this year's Eid season went well as occupancy stood at 100 per cent from April 22 to 30 while it was 90 per cent during the same period of 2022.
"We received a better response from tourists this year due to the development of the Gazipur-Mymensingh road," Sanyal added.
Md Abdullah Al Kafi, managing director of the Meghmati Village Resort in Mymensingh, said their occupancy rate was almost 80 percent with travellers even coming from Finland, Italy, and Germany.
Rumman Imtiaz Tushar, owner of the Ilish Park Eco Resort in Kuakata, said this Eid season has gone quite well as all 10 of their cottages were booked.
The number of tourists going abroad is increasing day by day as well, ‍said Imranul Alam, managing director of Tour Group Bangladesh, which conducted trips to Kashmir, Meghalaya, Sikkim, Darjeeling, Maldives and Nepal during the Eid season.
Some 100 people went abroad through the company in 2022 while about 120 went this year.
Abu Tahir Muhammad Zaber, chief executive officer of the Bangladesh Tourism Board, said there were around 2 crore domestic travellers last year.
Abu Masum, a maintenance manager of Interlink Apparel Limited in Gazipur, went to Cox's Bazar with his family during Eid vacation.
"It was a pre-planned tour for us. And I took the tour's preparation in that way," said Masum.
"I booked a room at Hotel Ashish for which I had to count Tk 2,000 as an additional cost. On normal days, I would have spent Tk 12,000 as room rent for a four-day trip, whereas I had to count Tk 20,000 besides other expenses," he added.