PHP launches soundproof glass production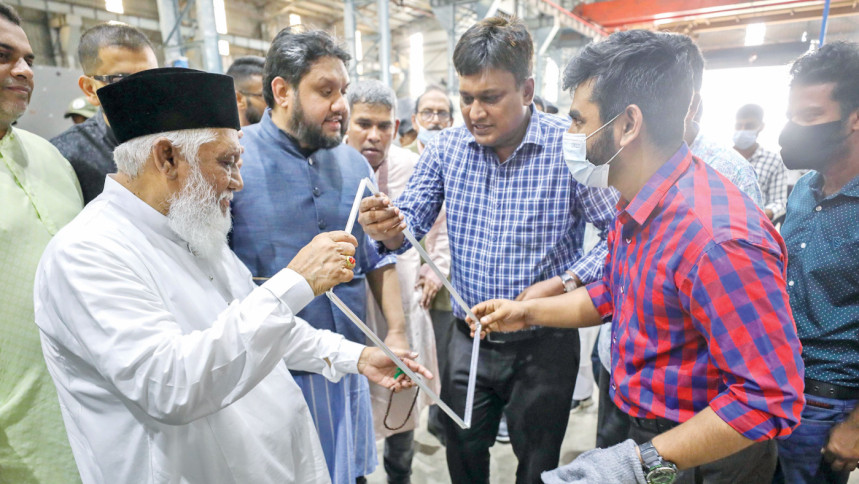 PHP Family, a Chattogram-based business group, launched soundproof glass production yesterday as a part of its expansion aiming to meet the demand for sound protective and energy efficient glass.
The plant has the capacity to produce 500 tonnes of soundproof glass or insulated glass units (IGU) each month.
The use of such soundproof glass is increasing at posh hotels, airports and commercial hubs thanks to ongoing development in the country.
Soundproofing is the process of making a room resistant to the passage of sound waves. The purpose is to block external noises from entering the room and to keep internal noises from escaping.
Generally, glass is first laminated with a specialised PVB interlayer that offers excellent sound absorption properties.
This dampening core prevents sound frequencies from vibrating from one pane of glass to the other. When compared to ordinary glass, this glass is better at reducing external noise.
Sufi Mohamed Mizanur Rahman, founder chairman of the group, inaugurated the unit of PHP Float Glass Industries Limited at Barabkunda, Sitakunda.
Mohammed Amir Hossain, managing director of PHP Float Glass Industries, said they invested Tk 25 crore to start the new facility that produces highly durable glass, which is an import substitute.
The monthly demand for this type of glass is still low though, ranging from 200 to 300 tonnes, most of which is currently met through imports from India, China and Thailand.
Some factories in Dhaka are producing this glass manually in a small quantity while PHP's unit is a 100 per cent state-of-the art facility having automatic fourth generation machineries, Hossain said, adding that their aim is to reduce imports.
The plant has an initial target to sell 50 tonnes of glass every month.
The market price of imported soundproof glass ranges from Tk 700 to Tk 1,200 per square feet but PHP aims to bring the price down to within Tk 300-350 per square feet, according to the managing director.
Having two layers of glass panes, these glass sheets also block external temperature from entering the room while keeping internal temperatures from escaping.
Besides, the multiple layers of glass panes boost the overall strength against extreme wind forces and other severe weather conditions, he added.
PHP was the first to bring float glass technology in the country and started commercial production in June 2005.
The group then went on to concentrate on value addition and gradually started producing different types of glass, such as silver coated mirror glass, tempered glass and reflective glass.
The company's state-of-the-art reflective glass unit is able to produce 10 different coloured glass including purple, violet, ocean blue, green, blue, golden, bronze, grey, pink and silver.
PHP also has plans to install a glass door manufacturing unit at its new facility.
The group has so far invested Tk 1,500 crore in PHP Float Glass Industries Limited.