From 'girl next door' to multifaceted star: 10 years of Safa Kabir
From "@18: All Time Dourer Upor" to "Parul", Safa Kabir evolved from 'the girl next door' to portraying multidimensional characters that captivated audiences. The tenacious actor, who has completed a decade in show business, wanted to be a fashion designer growing up.
The gorgeous actor dropped by The Daily Star office to share her childhood dreams, projects, and more.
Is Anatoney Kelly really your name?
This name holds a special meaning for me- my grandfather wanted to give me a foreign name as my father was living abroad. However, my dad was keen on naming me Safa Kabir, and thus I decided to keep both of them.
You looked gorgeous in 'Barbie' premiere. How did it inspire you?
Growing up, I had only one Barbie doll and I really loved making her dresses all by myself. This inspired me to become a fashion designer; however, destiny had other plans and I ended up becoming an actor. At the premiere, I wore a pink fluffy dress which fully embodied my bubbly spirit. It was really nice seeing real life artistes portraying Barbie on the silver-screen.
Sometimes you are seen selling newspapers; other times you are working as a bus conductor. Have you fallen on hard times?
Haha! That's my part time job. Jokes apart, those are my characters- it was really challenging to portray the harsh realities of a hawker and a bus helper as they have to work hard under such tiresome conditions. I am really grateful to my directors for bringing such unique stories to me and for being confident enough to take me for these roles.
What was the most challenging part in 'Parul'?
I think portraying Parul itself was very challenging. However, the most difficult part was the makeup. As I have a more pinkish skin tone, they had to darken my skin color, which used to come off easily due to heat and sweat. I had to constantly redo my makeup.
Another challenging part for me was going to Shapla Chottor, and taking people into bus and delivering my dialogues. We had to take raw shots as we didn't have any set -- so we had to improvise according to what people were doing. People were looking at the camera which made it difficult for us to shoot. We faced a lot of hurdles while shooting the bus scenes but at the end, we were happy with the result.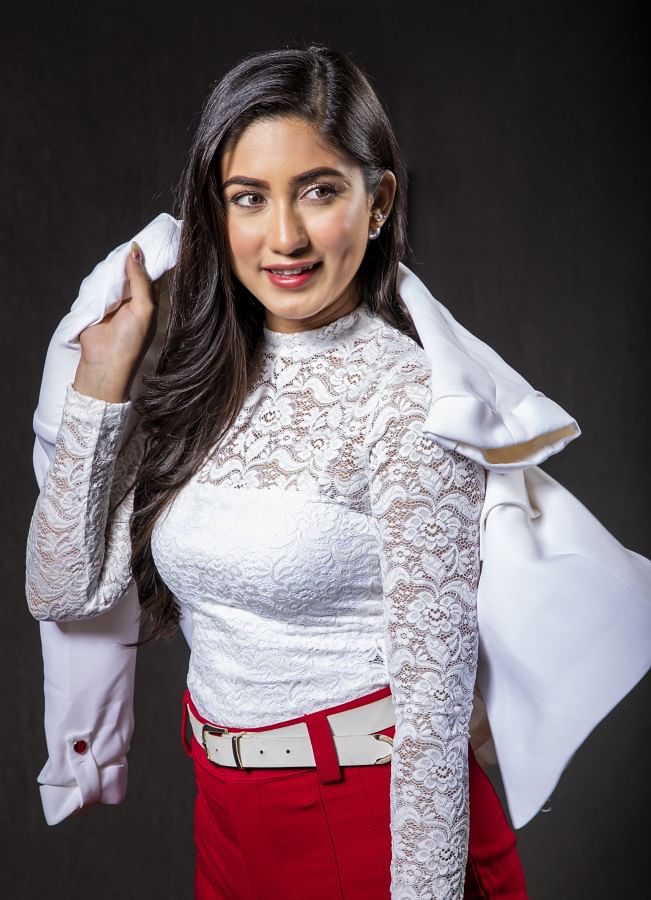 Do you think its hard to makes friends in showbiz?
I really don't understand why do people have these misconceptions regarding showbiz- I have a close knit circle of friends whom I have known for 10 years. I first got to meet Tawsif during my debut project "@18: All Time Dourer Upor", after 1 year I started a serial called "University" with Jovan. I also worked in an airtel tele-film called "Bhalobasha 101", from where I got to know Toya and Siam. Our friendship wasn't built in a day; it was a beautiful journey which took almost ten years to bloom.