Legal framework on Hindu marriage in Bangladesh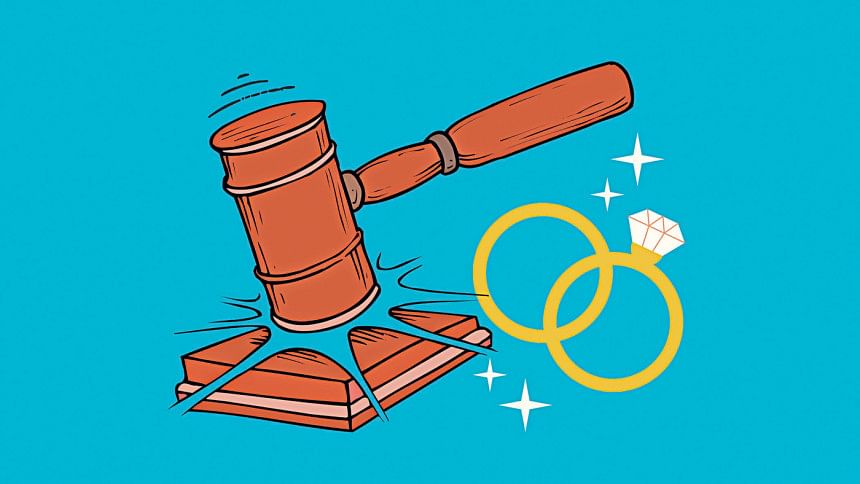 Marriage is considered to be a sacrament or samskara according to Hindu shastra. In this write-up, different aspects of Hindu marriage will be discussed in light of Bangladeshi legislation, case laws, and customs. First, there are some ceremonies that must be performed for a Hindu marriage to be valid, such as saptapadi, i.e., seven steps by bride and bridegroom, and vivaah homa, i.e., invocation before the sacred fire. In Amulya Chandra Modak v State (1983), the man subsequently denied marriage that was performed only by exchanging garlands. The Supreme Court of Bangladesh held that there was no valid marriage due to the absence of the required ceremonies.
After independence, Bangladesh made no statutory laws exclusively dealing with Hindu personal law except the Hindu Marriage Registration Act 2012. Section 3(1) of the Act made the registration of Hindu marriages optional. However, non-registration in case of Hindu marriage is not an offence. Pertinent to note, in case of Muslim marriages, non-registration, while has no effect on the validity of the marriage itself, is still a punishable offence.
As per section 2(c) of the Act, Hindu marriage means all approved forms of Hindu marriages. It can therefore be argued that it is now immaterial whether the saptapadi or vivaah homa are performed or not as the Act of 2012 overrides the decision of Amulya Chandra Modak case. According to the Hindu shastra, inter-caste marriage is not permitted in Bangladesh. But there are some regions where inter-caste marriage is practiced by custom. Since the Act of 2012 also includes Hindu marriage by custom as a valid marriage, it can also be argued that inter-caste marriage is also allowed per law in Bangladesh.
Child marriage is allowed under traditional Hindu law. However, marriage between a male and female who have not attained 21 and 18 years, respectively, is prohibited and punishable under the Child Marriage Restraint Act 2017 (CMRA). Section 7 of the CMRA prescribes punishment for contracting child marriage, which may extend to 2 years imprisonment or fine extending to 1 lakh taka, or both. Moreover, child marriage cannot be registered according to section 5 of the 2012 Act. Furthermore, polygamy in Hindu marriages is still allowed in Bangladesh, whereas polyandry is prohibited. In India, as per the Hindu Marriage Act of 1955, polygamy is prohibited. Though a wife cannot marry twice at the same time, after the death of her husband, she may remarry. Section 1 of the Hindu Widow's Remarriage Act of 1856 validates it. However, in such a case, the wife will not be entitled to the property of her deceased husband if she remarries.
And lastly, in case of dissolution of marriage, a Hindu marriage cannot be dissolved under any circumstances in our country. The idea and nature of marriage as 'indissoluble' remain in Bangladesh, though it has been made 'dissoluble' as a civil contract in India. A married woman can however seek separate residence and maintenance under the Hindu Married Women's Right to Separate Residence and Maintenance Act 1946.
As mentioned, Bangladesh does not have a codified Hindu marriage law like India.The problems as highlighted above arise because of this reason. It is therefore imperative that relevant issues be resolved through enactment of a single comprehensive legislation.
Abuzar Gifari 
The writer is an LL.M. candidate at the University of Dhaka.