Boho jewellery: All colours under the sky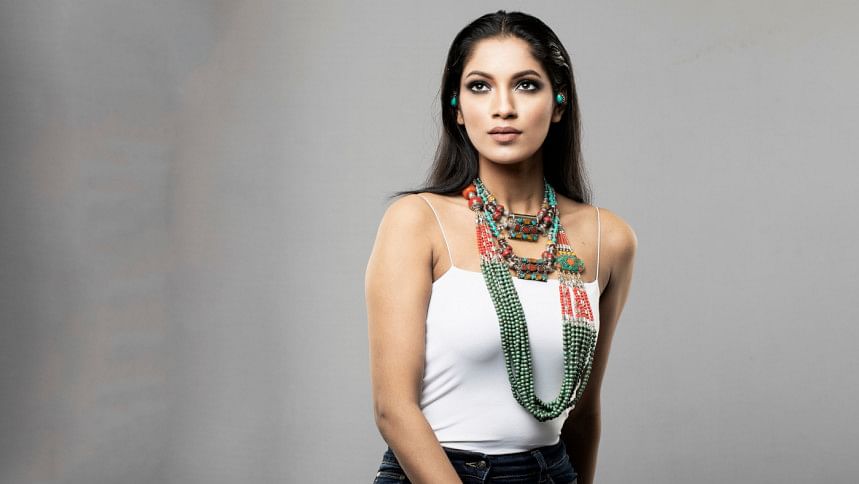 Gone are the days when jewellery was merely there to complement the attire. Today, it is all about stealing the spotlight from clothes and owning the ensemble. Boho pieces stand out unapologetically and make their presence felt in each outfit and it is no surprise that fashion enthusiasts are lapping up the kaleidoscope of colours, beads, leather, fabric, coins and stones that make up the weapons in the hippie archery of jewellery.
Versatile enough to wear on traditional or western clothing, the boho trend is blazing a bold trail across the fashion scene and the magic seems to be catching on. One of the best ways to rock boho or hippie jewellery is to give it a plain canvas so that the outfit does not interfere with the bold interplay of colours, textures and designs of the ornaments.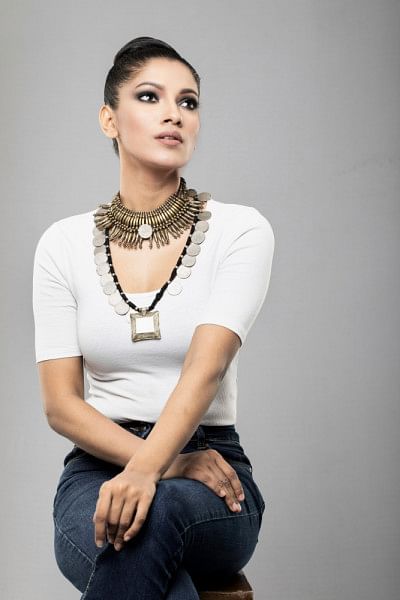 Colourful and wooden bead necklaces from Africa look incredibly hip with a white shirt and a boho printed skirt. The white of the shirt helps the colours pop out and the print of the skirt keeps up the contrast. As these usually come in multi-layered pieces, the necklaces look chunky and do not allow the plain top to look out of place.
Beaded and painted, tribal chokers in silver or gold oxidised metal look chic and modern on turtlenecks and blouses alike. What sets tribal jewellery apart from other ornaments is its usage of eclectic motifs like fish or feathers. They add a touch of fun and energy to the ensemble and give it an informal spin.
Another gorgeous way to flaunt boho baubles is to keep the rest of the look very basic white and black, and let the jewellery does the talking. Oxidised metals on a basic white t-shirt will stand out in the best way and the dark denims will complement the darkish hues of the jewellery. If the piece is threaded with black, it will give out a neater, well-defined look to the outfit.
Afghan kuchi jewellery is another trend that is making the rounds of Bangladeshi occasions. More and more people are seen choosing the heavy, filled out pieces in antique colours, instead of the traditional yellow gold, on formal and informal wedding events. These jewels look breath-taking on plain, dark coloured, high necked lehenga tops. Adding Afghan hand accessories can be a unique replacement to traditional bangle sets.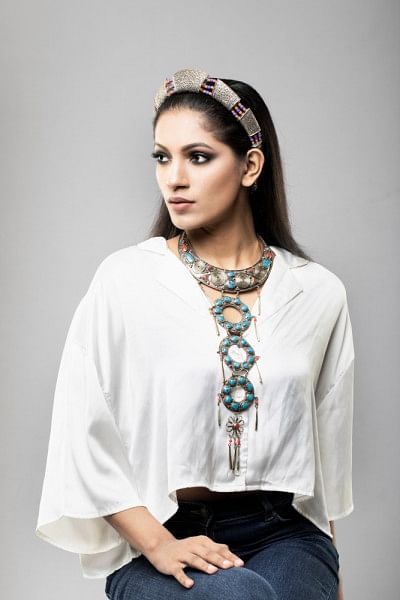 If you are very gutsy and wish to go for an out and out hippie look, layering is the best favour you can do yourself. Go for a semi choker in tribal spikes and add longer pieces, like Afghan coin jewellery. Black, or deep hues like navy blue or dark wine can come alive with artful layering and can make one look glam for a special occasion without wearing any heavy or gaudy clothes, at all!
Model: Surjo
Make-up: Sumon Rahat
Jewellery: Kolors of Kathmandu
Styling: Sonia Yeasmin Isha