Get the right look with Apex this Durga Puja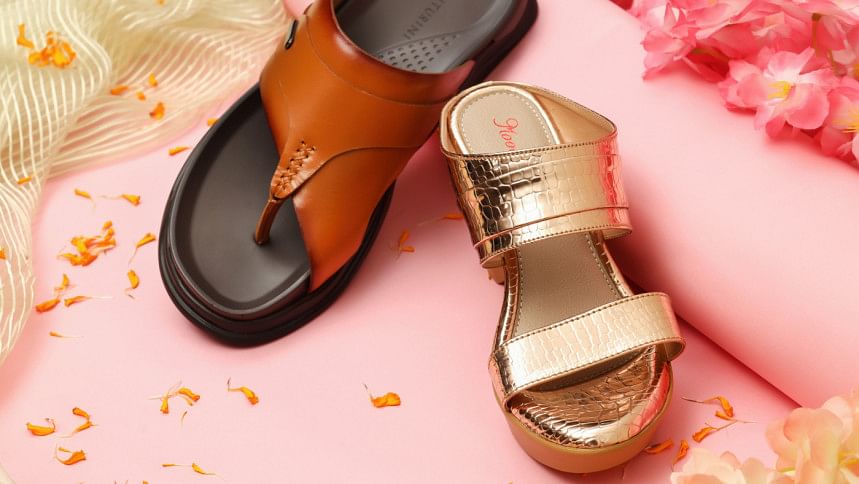 Durga Puja is just around the corner and no festive occasion is ever complete without a stunning look. Whether you decide to drape yourself in a sari, slip in a kurta, or casually wear a top, you will need the right pair of shoes to complete your look. And on this festive occasion, Apex Footwear brings you an array of fashionable footwear for men and women to add elegance and style to your festivities.
Walk into any Apex store and you will find something for everyone, for every look, with several brands to choose from. The Moochie Block Heel Sandal is an all-rounder that goes well with just about everything, be it sari or shalwar kameez. This fashionable pair will complement every ethnic wear you decide to flaunt. The stylish woven strap design in the tan brown shade makes it wearable with outfits of any colour, from pastels to neutrals.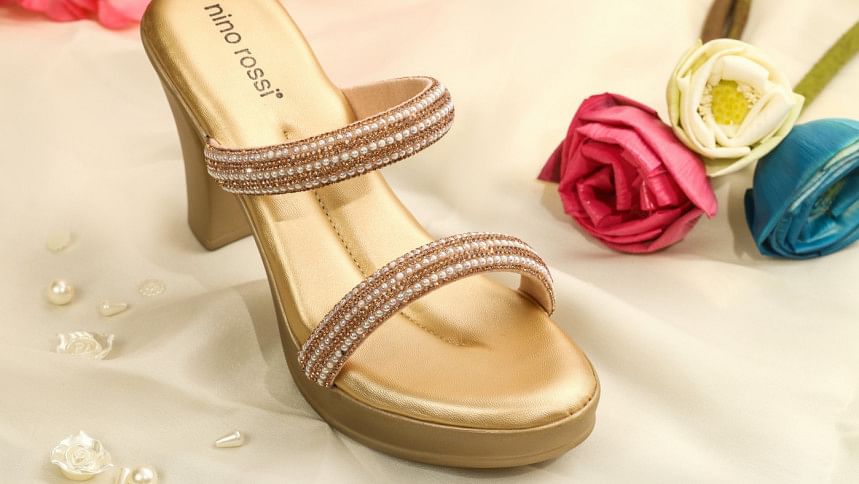 For a more glamorous look, Nino Rossi Block Heel Sandal is the perfect finishing touch to your gorgeous attire. The crisscross design with stunning shimmery golden and bold red combination will surely steal the show and add the glam factor to your overall ensemble. The comfortable block heel will look amazing with any ethnic wear, especially in black, red, and golden hues. 
For men, Apex Footwear brings a selection of classy sandals that will complement any ethnic wear and add substance to your overall look. Apex Men's Mule Sandal will go well with your casual wear. The slip-on style makes it easy to wear and take off and the versatile matte black shade will complement outfits of every colour. 
For a traditional ensemble for men, the dark brown Venturini Men's Kolahpuri Sandal is the way to go. It is perfect to pair with traditional outfits such as panjabis and kurtas on any festive occasion. The genuine leather gives a stylish appeal and is a must-have for every man's wardrobe to flaunt that traditional Bengali look. 
The gorgeous Nino Rossi Block Heel featuring an embellished stone design is another great option to pair up with your traditional outfits. The versatile golden shade complements everything and the shimmer on top is sure to be the highlight of your look. The comfortable footbed makes it easy to strut around in ease all day. 
If you are not a fan of bold and chunky heels, then an alternative can be the Nino Rossi Block Heel in a stylish double-strap sleek design with stunning stone and pearl embellishment. The muted golden shade makes it great to pair up with all kinds of ethnic wear from saris to shalwar kameez.           
For a modern and trendy look, you can opt for the Moochie Wedge Heel Sandal. The shiny golden metallic shade is eye-catching and will match your tunic or top perfectly. The soft sole makes it a comfortable wedge heel for all-day wear so that you can strut around without any discomfort as you enjoy the festive celebrations.  
On the other hand, the Venturini Men's Slip-on Sandal crafted from genuine leather renders a stylish appeal for a refined look along with comfort. This versatile pair will add a touch of elegance to anything you decide to wear and will easily uplift your fashion game.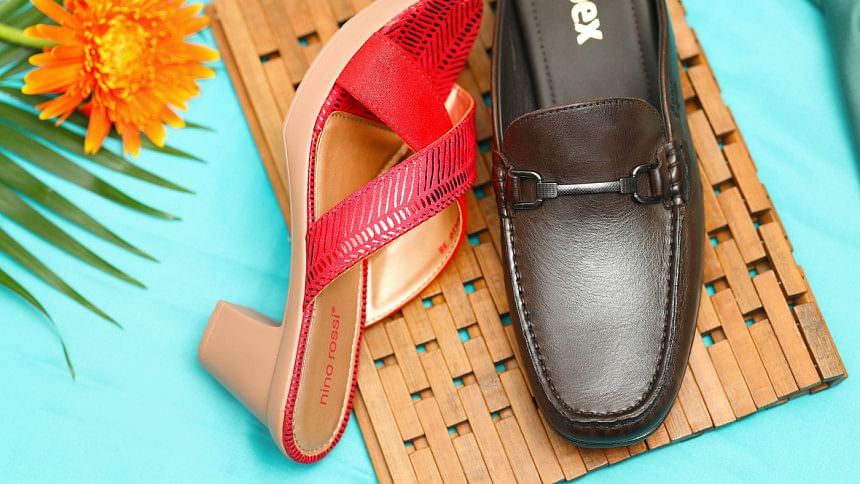 If you want to avoid wearing heels altogether, then you can opt for the Nino Rossi Flat Sandal that features a gorgeous golden embellishment in a dark blue shade. This stunning pair will make for an effortless style statement and will make you want to pull out the right fit from your wardrobe only to highlight your shoes!
Whether you are a girl planning to rock that traditional Bengali Belle look or a guy waiting to sport a casual attire during Durga Puja, you can set aside the woes of selecting the right pair of shoes because rest assured, Apex Footwear will surely have the perfect pair for you.