5 savoury recipes for Ramadan
Here are some delicious savoury recipes that you can cook up to spice up your iftar table spread.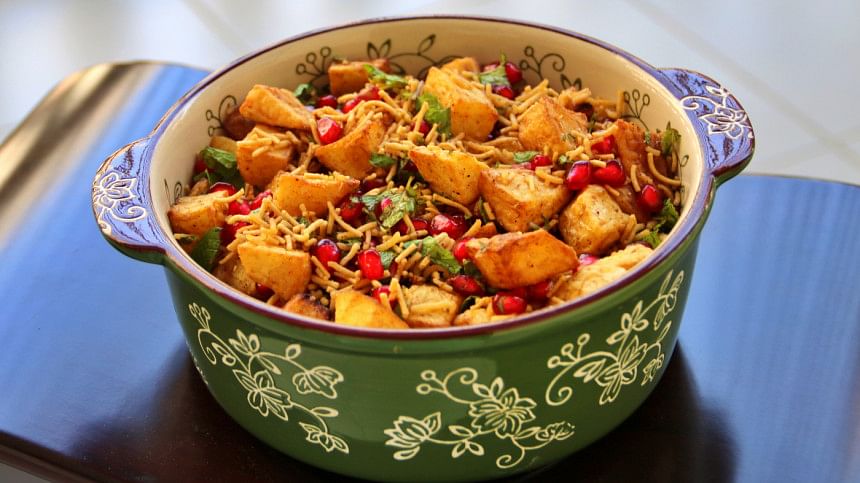 POTATO CHAAT
This item has it all — juicy, tangy, crispy, crunchy — you name it! The perfect food for iftar that is unbelievably quick and easy to make.  
Ingredients
4 large potatoes
1 thumb ginger
1 onion
1 tsp salt
1 tsp chaat masala
1 tsp coriander powder
½ tsp red chilli powder
2 green chillies
¼ cup fresh pomegranate arils  
¼ cup chanachur
A handful of mint leaves
Oil for frying   
Method
Peel and dice the potatoes and dab them well to extract all moisture. Fry them in hot oil until they are golden brown and crispy. Finely dice the onion and cut the ginger thumb into juliennes. Add these to the fried potatoes and sprinkle over salt, chaat masala, coriander powder, red chilli powder and toss everything together.
Slit the green chillies and add these along with pomegranate arils, chanachur, and chiffonnades of fresh mint leaves. Give everything a final toss and add a dash of chaat masala on top before serving.     
CHICKPEA CHILLI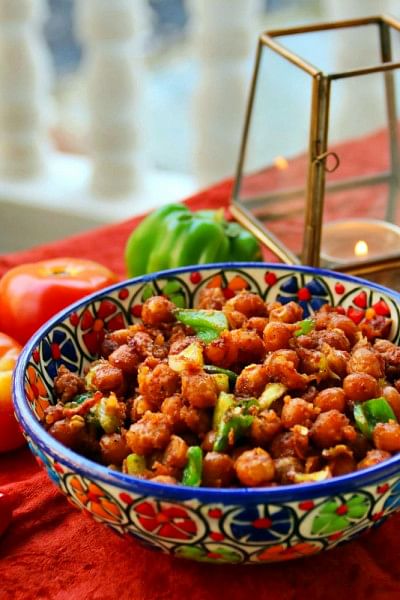 Ditch your regular chickpea this Ramadan and try out this revamped version instead, which is spicy, tangy, crunchy, and utterly delicious.  
Ingredients
1 cup chickpeas
1 tsp salt
4 tsp corn flour
Oil for frying (as needed)
Water for boiling (as needed)
1 onion
2 garlic cloves
1 ginger thumb
3 green chillies
1 capsicum
For the sauce –
1 tbsp oil
2 tsp white vinegar
2 tsp soy sauce
2 tsp chilli sauce
4 tsp tomato ketchup
1 tsp Chinese five-spice
½ tsp Sichuan pepper
Method
Soak the chickpeas overnight and then boil them with salt. Once they are fully cooked, drain the water and toss them with corn flour to fully coat them. Deep fry the chickpeas and drain them on a paper towel.
In a pan, heat oil and add finely chopped garlic and ginger. Cut the onion and capsicum into wedges and add them as well. Next, add vinegar, soy sauce, tomato ketchup, and chilli sauce. Season with Sichuan pepper and Chinese five-spice and finally add the slit green chillies. Lastly, stir in the fried chickpeas and combine everything together.     
POTATO ROSTI
You cannot deny it – we all make the resolution of avoiding fried food during iftar, but alas! We fail to stay committed. With this recipe, enjoy a lighter version of pakora without the oil.
Ingredients
1 onion
3 medium yellow potatoes
3 medium sweet potatoes
4 strips chicken rasher
1 tsp salt
½ tsp black pepper
½ tsp cumin powder
½ tsp red chilli powder
½ tsp garlic powder
1 tbsp oil
Method
Peel and grate the potatoes and then wrap them in a kitchen towel. Squeeze them to drain out as much water as you can. Finely chop the onion along with chicken rasher, and combine these with the potatoes. Season with salt, black pepper, chilli powder, garlic powder, and cumin powder. Add a drizzle of oil and mix everything together.
Grease a muffin tin and scoop the mixture in each hollow to the top. Press and pack each cavity tightly and let them bake in a preheated oven at 170°C for 30 minutes. Once baked, they should be crispy on the outside and soft on the inside. Serve these with sour cream or garlic sauce.    
SHAHI HALEEM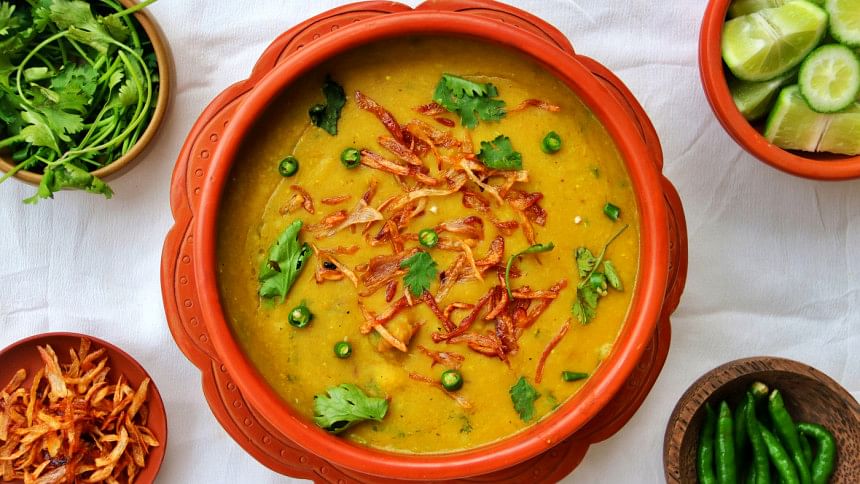 An iftar spread is incomplete without haleem – and this recipe spills all the secrets of a great shahi haleem straight from the heart of old town. 
Ingredients
1 cup roasted wheat powder
½ cup chinigura rice
½ cup green gram lentil
½ cup split peas lentil
½ cup split black gram lentil
½ cup Bengal gram lentil
1 tsp turmeric
1 tsp salt
8 cups water
For the meat –
1 kg mutton
1 cup oil
250g onion
1 tsp salt
1 tbsp red chilli powder
1 tsp turmeric
1 tbsp ginger paste
1 tbsp garlic paste
1 tsp coriander powder
1 tsp cumin powder
3-4 bay leaves
1 tsp kabab masala
5 cups water
7-8 cloves
For garnish –
Sliced ginger
Chopped chillies
Mint chiffonnades   
Method
Soak the four types of lentils and rice overnight or for at least eight hours. Boil them with six cups of water along with a teaspoon of salt and turmeric. Once they are boiled and soft, blend them to get a smooth, homogenous paste.
Slice the onions and heat one cup of oil in a heavy bottom pot to fry them. Once the onions are golden brown, remove and drain them. Add mutton in the same oil and roast them with salt for 10 minutes. Once they gain colour, add back half of the fried onions.
Next, add ginger and garlic paste, turmeric, red chilli powder, coriander powder, cumin powder, kabab masala, and bay leaves. Sauté them for a while and then pour in a cup of water and allow it to simmer till the water evaporates.
After that, stir in four cups of hot water and allow this to cook on medium heat until the meat becomes tender. When the meat is almost done, add cloves and cook until oil rises to the surface and remove about half a cup of oil from the top. At this point, give it a taste to determine if any salt or spice is needed and add accordingly.
To the blended lentil mixture, add two cups of hot water along with the cooked meat and mix together. Cook everything together for 10 minutes. Before serving, top with the reserved oil and fried onions, chopped chillies and mint, along with ginger juliennes.          
CHICKEN SHAWARMA
A chicken shawarma for iftar is as fulfilling as it is delicious. Strips of grilled chicken and fresh vegetables wrapped inside soft flatbread makes for the perfect iftar meal! 
Ingredients
1 capsicum
1 cucumber
1 cup shredded cabbage
1 tomato
For the sauce –
A handful of mint leaves
4 garlic cloves
1 tbsp lemon juice
½ tsp paprika powder
1 cup hung curd
2 tbsp tahini
Salt to taste
For the flatbread –
2 cups flour
1 tsp yeast
2 tsp sugar
½ tsp salt
2 tbsp curd
1 tsp oil
½ cup lukewarm water
For the chicken – 
4 chicken fillets
1 tbsp oil
2 tbsp lemon juice
1 tsp salt
2 tbsp curd
1 tbsp tomato paste
1 tsp onion powder
1 tsp garlic powder
½ tsp all spice powder
1 tsp red chilli powder
½ tsp black pepper powder
½ tsp cumin powder
Method
To make the flatbread, add sugar, yeast and oil to water and let it rest covered for 10 minutes or until the top is frothy. Mix flour with salt and incorporate the curd. Gradually add water and knead this mixture into a soft dough. Shape the dough into a ball and brush its sides with oil. Let this rest for about an hour before tearing little amounts and rolling them to a flat circle. Cook them on a tawa on both sides without any oil until little bubbles start to appear. Cover the flatbreads with a cloth up until you use them.     
To prepare the chicken, flatten the chicken fillets and season them with oil, salt, and lemon juice on both sides. Cut them into strips and set aside. Mix curd, tomato paste, onion powder, garlic powder, all spice, red chilli powder, cumin and black pepper to marinate the pieces of chicken with this mixture. Drizzle oil in a grilling pan and grill the chicken strips, cooking completely on both sides until slightly charred.
Cut the capsicum, tomato, and cucumber into thin strips and shred the cabbage. To assemble, place chicken strips on the centre of a flatbread. Add in a mix of vegetables and drizzle over some sauce. Wrap both the edges into a roll and enjoy!