Top 4 footballers and their dietary habits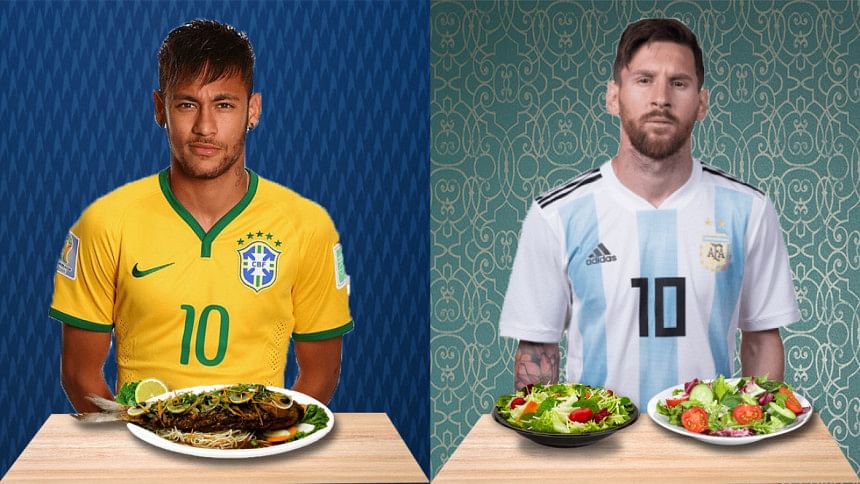 You are what you eat – how true is this statement? Well, whether or not it reflects on us ordinary individuals, for athletes, this directly reflects on their performance. So, what are the top players in the world eating for such power-packed performance on the field?     
Lionel Messi, Argentina
Believe it or not, one of the GOAT (greatest of all time) once used to have unhealthy eating habits, with fizzy drinks and fast food being his favourites. In 2014, the Argentine reconstructed his eating habits with the guidance of a nutritionist, Giuliano Poser who revolutionised his diet. Giuliano Poser recommended a Mediterranean diet that includes five main foods including water, olive oil, whole grains, fresh fruit, and vegetables — and this was set as the foundation of Messi's dietary regime.
This combination essentially strengthens the player's muscles through the intake of good nutrition that suits Messi's body, serving the purpose of maintaining his fitness and enhancing his physique to perform at his optimum level. 
Neymar Junior, Brazil
Neymar has won the hearts of millions owing to his extraordinary performance on the field with the Brazilian national team and in club football with Barcelona, and PSG. He is not a body-builder like Ronaldo, nor does he have sturdy muscles like Messi, so what is the secret behind Neymar's fitness? 
When he initially joined Barca, dieticians were sceptical about his performance seeing his spindly limbs. Thus, a special diet was devised for someone with such intense activity levels until he was on track. Now, Neymar's food intake is divided into three sections -- carbs, protein and fats, and vitamins and micro-nutrients. 
Kylian Mbappe, France
Already a World Cup winner, Mbappe displays powerful prowess on the field that makes him so well known, along with his incredible physique and fitness. While on his route to succeeding Ronaldo and Messi as the best player in the world, Mbappe has picked up a thing or two from their diets. 
Like Ronaldo, Mbappe takes six healthy meals a day, with no room for cheat eating – a cheat day is difficult for anyone to resist and it would be even more difficult to attain his level of resistance! His meals compose mostly of carbohydrates and proteins, with an abundance of colours. Additionally, just like Benzema, Mbappe restricts his consumption of meat to a minimum level. 
Robert Lewandowski, Poland 
One of the best strikers in the world has also become one of the fittest, thanks to the interesting eating habit initiated by his wife, Anna Lewandowska, who is a Karate World Cup medallist and fitness instructor. Called a "backwards eating diet" this means, unlike everyone else, he has desserts first followed by the main course, and lastly the starter.
 Although he chose to defy ordinary eating habits, Lewandowski credits his accelerated brilliance in performance to his inverted diet. Typically, the Polish international starts his meal with a brownie made from pure cocoa, followed by rice or meat from selected producers, and ends the meal with a soup or salad.