Top 5 places to visit in Morocco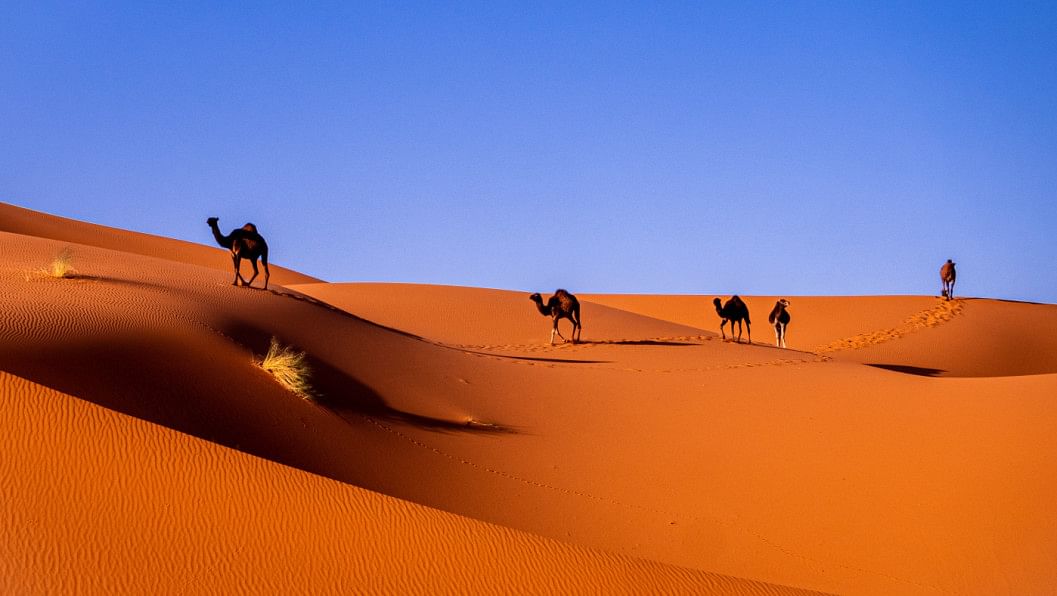 Morocco, the gateway to Africa, is a country of stunning diversity. There are rugged mountain ranges, undulating deserts, old civilisations, desolate beaches, and kind people. Morocco's towns are some of the most intriguing on the African continent. Its epic landscapes cover this chunk of North Africa like the gorgeously patterned carpets you'll yearn for in the marketplaces. contrast
Marrakech's magical local life rocks the kasbahs, and following in the footsteps of old traders in Fez with Casablanca, which combines a more modern perspective with its legacy, Opportunities to escape the cities abound, with the vast Saharan desert enticing travellers and Atlantic coastal resorts providing the ideal setting for kitesurfing lovers.
Here are the top 5 places to visit in Morocco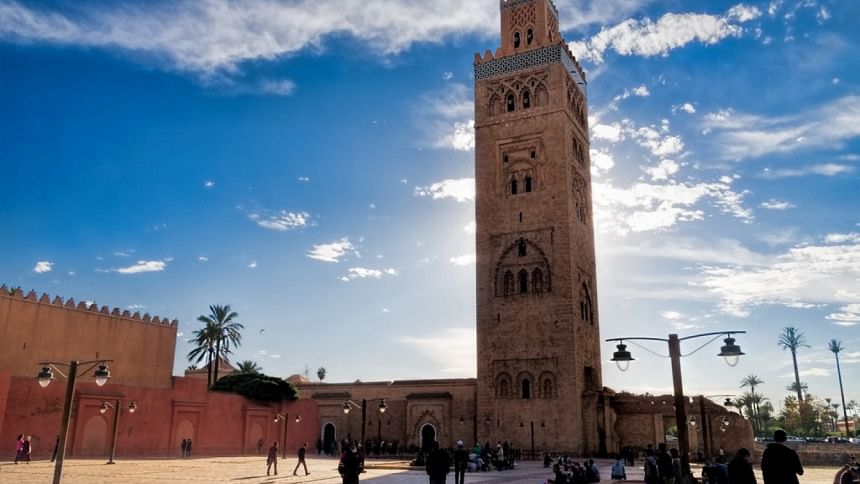 Marrakech
Marrakech, formerly one of the country's royal capitals, is commonly referred to as the "Red City" because of its sandstone architecture. Marrakech was recognised as a "hippie mecca" in the 1960s, drawing superstars such as The Beatles, Yves Saint Laurent, and the Rolling Stones. With its gorgeous ancient architecture and courtyards of orange, palm, apricot, and olive trees, Marrakech is still one of Africa's most popular tourist attractions today.
The Medina lies at the centre of Marrakesh, a maze of ancient walls and small alleyways crowded with historical landmarks, museums, appealing food booths, colourful souks, or markets. The central plaza, Djemand El-Fna, is the Medina's focal point, bustling with snake charmers, musicians, acrobats, storytellers, magicians, and booths selling carpets, leather, ceramics, hookahs, and spices.
Merzouga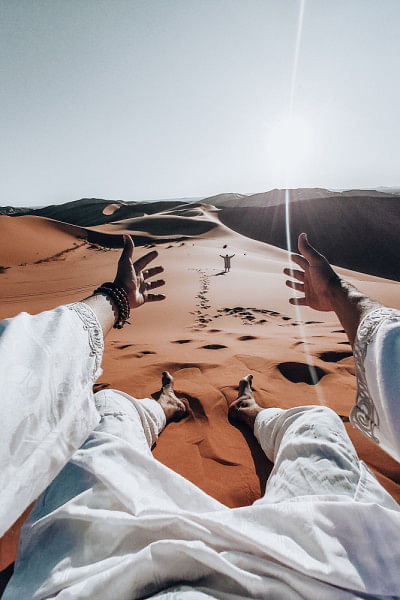 Merzouga, located in an isolated area near the Algerian border, is today a popular base to explore the wonders of the Sahara Desert. The massive dunes of Erg Chebbi, which reach over 300 metres in some areas, tower above it. Most visitors come for the massive sandscapes, with hiking, quad biking, and camel safaris being popular methods to explore the dunes. Many travellers camp in the desert overnight to witness the breathtaking sunrises and sunsets that paint the dunes in a rainbow of colours.
Merzouga, formerly just a short stop and transit place for Arab and Berber traders on their journey to Timbuktu, has a growing number of hotels for travellers to select from. These cater to various budgets and provide trips to the desert's wonders and dune fields all around you.
High Atlas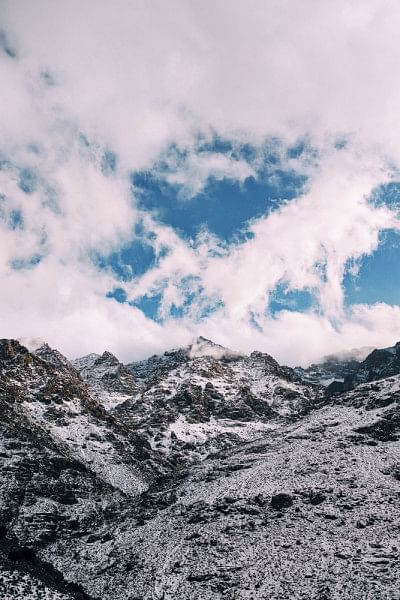 The High Atlas is a mountain range that stretches from Morocco's coast to Algeria. Toubkal National Park, which houses Morocco's highest peak, Jbel Toubkal (4,160 meters/13,670 ft), is part of the range. Imlil, a Berber town, is an ideal spot to begin the ascent to Toubkal. The High Atlas, North Africa's highest mountain range, provides year-round outdoor leisure activities, from winter snow sports to summer trekking.
The Todra Gorge, near Tinerhir in the eastern High Atlas, is one of Morocco's most famous tourist destinations. The Todra and Dades rivers cut steep, cliff-sided canyons across the mountains.
Asilah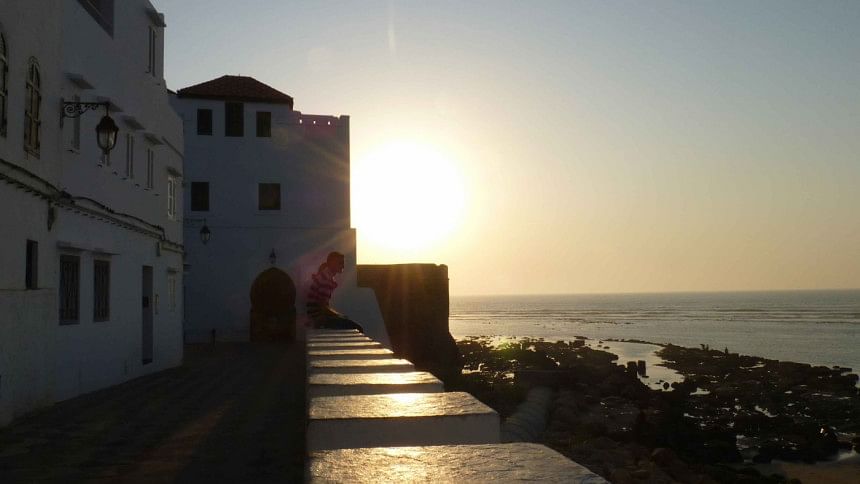 Asilah, now a famous beach resort town, has a wonderful history dating back to 1500 BC when it was a Phoenician commerce centre. Pirates used it as a base of operations in the 19th and 20th centuries. These bygone ages' fortifications still encircle the reconstructed medina. Asilah lies on Morocco's north coast, around 30 kilometres (20 miles) from Tangier.
It's a popular summer destination for Moroccans; visitors who wish to avoid crowds can go in the spring or fall. Whitewashed cottages complement the stunning scenery. Paradise Beach is located about 2.5 kilometres (1.5 miles) south of Asilah and is popular with residents and visitors.
Chefchaouen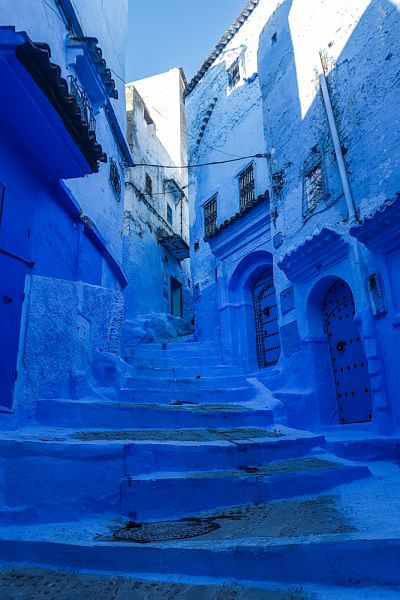 Chefchaouen, located in northwest Morocco's Rif Mountains, is one of the country's most beautiful and attractive cities. This is due, in large part, to the fact that all of the buildings in its historic medina are painted a lovely blue that stands out charmingly against the dusty surroundings. The colourful old town, known as the "Blue Pearl," is a treat to get lost in, with exquisite Moroccan and Andalusian architecture all around. These take you through innumerable quaint cafés, traditional eateries, and small hotels to its centuries-old kabash and bustling souk, where you can buy local handicrafts and leatherware.
While the medina is the centrepiece of Chefchaouen, the surrounding slopes and hills are also worth exploring; they are home to some spectacular landscapes, waterfalls, and vistas. Several magnificent hiking paths in the adjacent Talasemtane National Park, for example, take you past cliffs and high mountains with spectacular views wherever you turn.