Top 5 places to visit in Sitakunda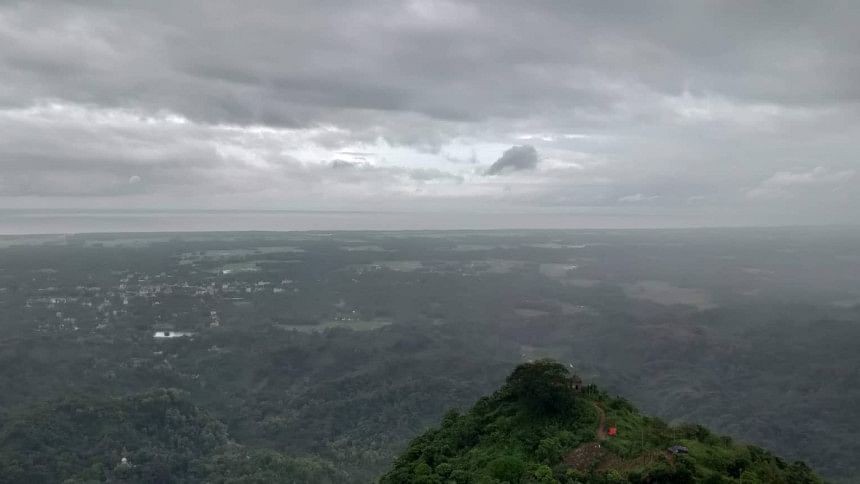 Well known for its natural beauty, Sitakunda has always been one of the major tourist spots in Bangladesh. Sitakunda is an upazila in Chattogram district hosting the first eco-park of the country. The name of the place itself — Sitakunda is rather intriguing and there are multiple myths behind the origin of the name, but that's another story!
For now, let's discuss the top 5 places you should visit if you are in Sitakunda.  
Chandranath Hill and Temple
Arguably the most popular place in Sitakunda and had to be number one on the list, Chandranath Hill is well known for its verdant and scenic view. More than a thousand feet in height, the top of the hill takes about an hour and half to reach and once you get there, you will find the temple. With the enchanting view of the sea on one side and the hills on the other, this is a view to savour as one of the most cherished memories. There are two ways to climb the hill and you should choose carefully and prepare before you start trekking.
Eco-park
Sitakunda Eco-park is to the south of Sitakunda Bazar and only a few kilometres away. It is the first eco-park of Bangladesh and plays host to a wide number of flora and fauna. Hundreds of different types of flowers and trees are nursed here and as always, the vegetation will rejuvenate you with its soothing green touch. The park also offers home to a number of wild animals such as monkeys, rabbits, chimpanzees, etc. that only adds to the natural elements.
Waterfalls such as 'Sohosrodhara' and 'Shuptodhara' are part of the park and if you come during rainy season, you can observe the true beauty of them.
Guliakhali Sea Beach
Also known as Muradpur Beach, it is one of the most attractive sea beaches in Bangladesh. Only 5 kilometres away from Sitakunda Bazar, the Muradpur Beach is a place that will make you feel things that are just indescribable. With the sea on one side, the Keora Forest on the other and the grass spread like a canvas under your feet, this place offers a view that we see in paintings. The breathing roots of the Keora trees are visible sometimes, adding a flavour to this already picture-perfect landscape.
Mohamaya Lake
The name of this place is pretty accurate. 'Moha' (great) 'Maya' (enthralling) is the only way to describe the effects of this place. Mohamaya Lake is the second largest artificial lake in Bangladesh with an area of 11 square kilometres. Hills, rubber dam, fountains and crystal-clear water — all this together in a cocktail of absolute bliss and to top it off, you can camp and Kayak here.
Komoldoho Trail
With the Komoldoho Waterfall as the hero of the trail, there are at least five more different waterfalls on this trail. The Komoldoho Waterfall itself is rather dangerous during rainy season because of its nature and therefore should be visited following the departure of the rainy season. Being one of the most challenging and risky trails in Sitakunda, this place makes up for it with the cathartic feeling it offers once you finish the trail.
Honourable mentions — other places worth visiting

The Jhorjhori trail should not be missed and it offers a challenging route just like Komoldoho. Kumira Ghat will offer you a soothing view of the sea and a perfect place to witness the sunset in all it's glory. Horinmara trail is as interesting as the name itself. Sagolkanda Waterfall or Kamalak Jharna is getting more and more popular amongst travellers lately.
We suggest that instead of trying to fit everything in a tight schedule, slow down a bit and take your time in this place. Prepare for trekking with proper gears and supplies and try to enjoy the adventure rather than making it a chore to be finished in time.

How to go there

The easiest way to get to Sitakunda is by bus. There are plenty of buses departing from Dhaka to Chittagong every few minutes. Pick any transport service you are comfortable with and board a bus of Dhaka-Chittagong route. Easy as that.

One might also get there by train if that is more convenient for you. Get down at Feni Railway Station. Then get to Mohipal bus station in any sort of transport and from there you can get on buses headed for Sitakunda.