Top 6 places to visit in Jashore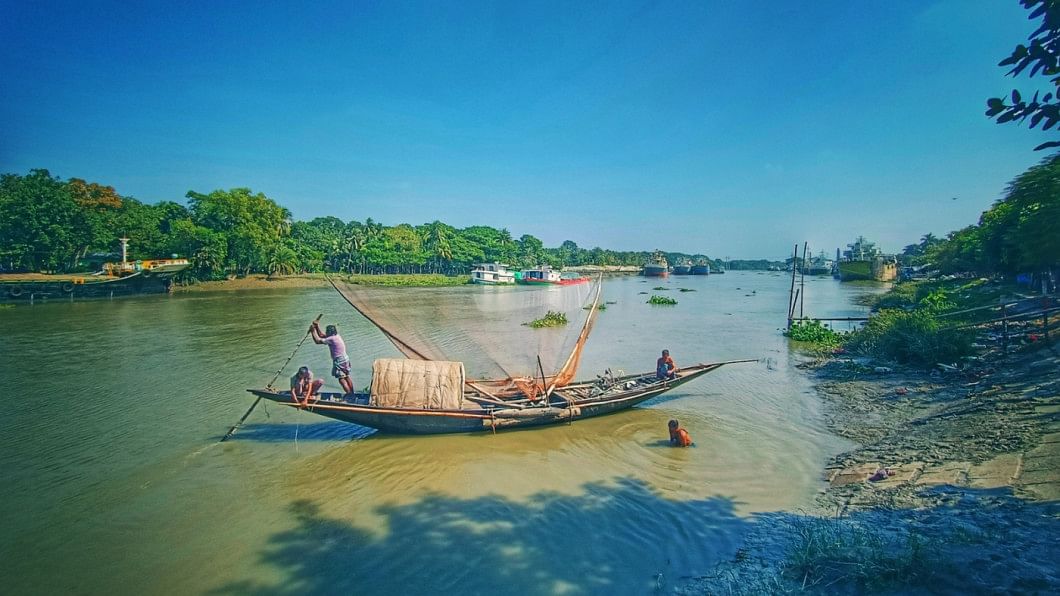 Like every other region in Bangladesh, Jashore, formerly spelled Jashore, located in the southwestern part of the country, contains a treasure trove of places to visit and explore. From housing the country's largest flower garden to being home to one of the pioneers of Bengali literature — Jashore has a lot to offer, from both natural and historical aspects.
Here is a list of the 5 must-visit places in Jashore.    
Madhushudan Polli
Jashore is the birthplace of Michael Madhushudan Dutt, who is also deemed as the Father of Bengali sonnet. His house, which is known as Madhupolli is well-maintained and open to visitors who can explore inside, pay a visit to his library, and take a look at his belongings.  
In order to pay homage to this celebrated poet, every year, during his birthday, 25 January, a week-long "Madhu mela" is arranged with various stalls that washes the entire city with a festive vibe. People from all around the city gather here and pay a visit to the birth site of this literary trailblazer.  
Abhaynagar
Jashore is surrounded by several pristine water bodies that make the place abundant with picturesque views. To catch surreal glimpses of nature and enjoy serenity on a boat ride, Abhyanagar is the place to be!
In addition to that, Abhyanagar also houses interesting historical and religious archaeological sites that you may visit; Khan Jahan Ali Jami Mosque, Noapara Kali Temple, etc. will give you a peek into our rich history. 
Godkhali – The Capital of Flowers   
Godkhali is one of the hidden gems of not only Jashore, but of Bangladesh. It is a flower garden so big that it alone has the capacity to meet 60 – 70 per cent of the country's demand for flowers. Spread over 90 villages in the Jhikargacha and Sharsha areas, there is no better place to gaze upon the combination of lavender, white, pink, blue, and yellow stretched till the horizon.
Inundated with the sweet fragrance of flowers with beautiful butterflies spotted throughout, it truly is a slice of heaven on Earth. Some variations of cultivation include rose, gladiola, tuberose, and marigold. Flowers are grown, collected and brought to the Godkhali market in bullock carts from where people can purchase. The months of January and February are the best time to visit this place.
Chachra Shiva Temple
Jashore is home to many temples but the Chachra Shiva Temple holds historical, religious, and archaeological values. It was built in the 17th century with intricate terracotta plaques lining its outside walls. Adding to it, the three arched entrances make it aesthetically pleasing.
This architectural artifact is currently listed as a protected structure by the Bangladesh Archaeology Department. Various religious ceremonies are organised in it throughout the year including Shivratri, Dol Utsav, and Loknath Baba's Paduka festival. The temple is open to everyone and being located on the Jashore-Benapol highway makes it easily accessible.  
Jhapa Baor
Jashore does not have any big rivers but if you want to catch a glimpse of pristine waters, then this oxbow lake is where you ought to go. The clear water acts as a mirror reflecting the sky and its surroundings on the still water.
The main fascination of this lake is its 1300 feet long floating bridge. The bridge has been constructed with a metal sheet over drums with security railings on either side, upon which people and small vehicles can pass. The construction of such a structure with basic equipment has made it an architectural marvel and a picnic spot has also been set up after the influx of visitors in this place. 
Benapole Land Port
Benapole is an area located in the Bangladesh-India border. It is a border control-and-search station and a land port that is operated by the Bangladesh Land Port Authority. In the Indian side, it is known as Petrapole.
People usually visit this place to watch the India-Bangladesh Border Parade Ceremony that takes place. It is a well demonstrated parade, complete with a flag-lifting ceremony. Many people from all age groups gather in this area to watch the parade every other day. There is also a seating arrangement for viewers to watch.
Essentials to know about food and travel
Previously, going to Jashore involved a full-day journey, as it took around 7-8 hours to reach by car. However, since the construction of Padma Bridge, one can reach Jashore by car within 3.5-4 hours from Dhaka. Other options by road include buses and trains. Apart from that, there are direct flights that will take you to Jashore within 40 minutes.
While in Jashore, make sure to try food from Johnny Kebab, especially the lamb leg barbeque and coral fish barbeque. Do not miss out on trying the spicy lamb curry, locally known as chui jhaal. For street food, Jashore has a special muri makha known as "chui jhal er jhal muri." Lastly, if you visit Jhapa Baor, then sit for a great Indian meal at Bamboo Restaurant.