BRANDING BANGLADESHI CUISINE
Food for thought: Understanding Bangladeshi cuisine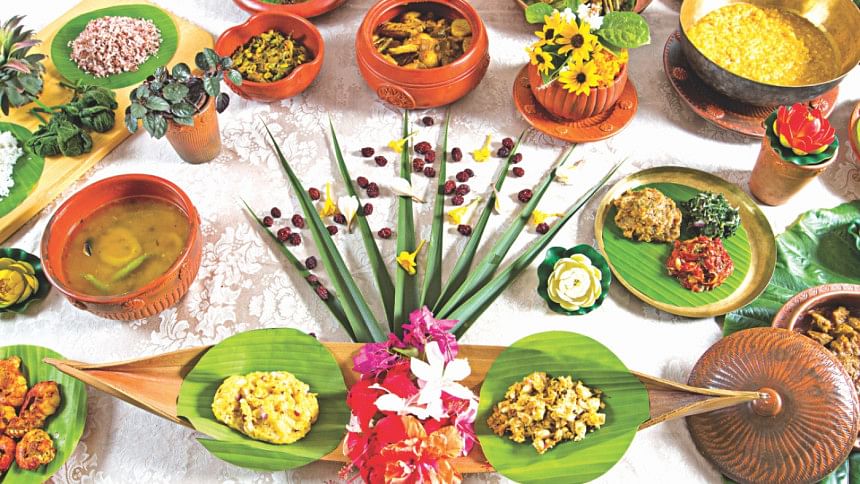 Every country has a range of things that is unique to the rest of the world. It is this uniqueness that the nation proudly presents: from its history, to its people, and their culture. A country's cuisine is of course one of those important things.
What makes Bangladeshi cuisine stand out from the rest, even from the Indian State of West Bengal, with which it shares many similarities? How rich and diverse is it?  What defines our cuisine?
First of all, it is important to understand that the geography of a land is one of the defining factors that largely shape the diet of its people. Given that Bangladesh is a riverine country and that long-stretching paddy fields are in abundance, the saying 'machhe bhaate Bangali' stands true. Fish and rice are our staples, and the typical Bangladeshi household cannot do without them.
A positive word about our traditional cuisine is that it is not only tasty, but healthy as well. Be it the fish, or the way rice is traditionally cooked, or the numerous vegetable dishes in the Bengali menu, or the proteins from lentil soup or meat - it is of no doubt that the food of this land is very nutritious.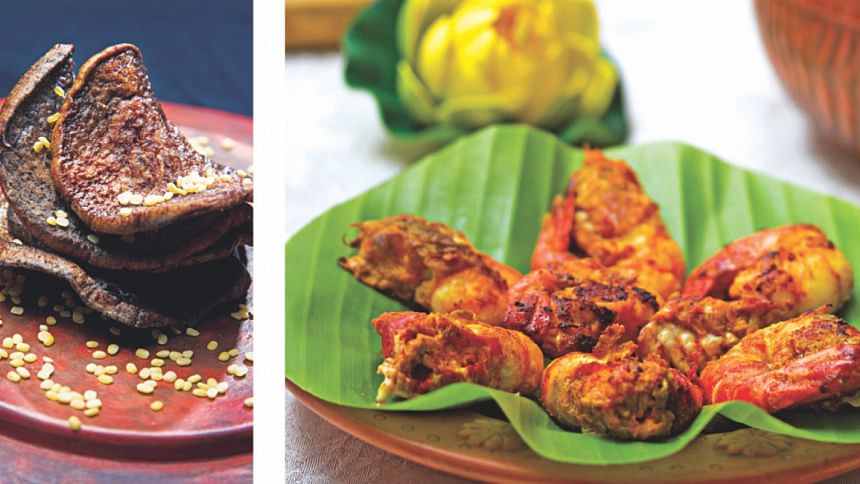 Fish, a common item in the Bengali menu, is of course very healthy. And the way we traditionally cook rice is also ideal in terms of nutrition. "The water is not thrown away, allowing the rice that is cooked to retain most of its nutritional value," Niaz Zaman, a revered author, academician and an expert on Bengali culture and folklore, pointed out.
This approach is also maintained when cooking pilaf. "In the North Indian way of cooking - which is unlike ours - the water is boiled and when the rice is almost ready, the water is discarded," Zaman said. "But the typical Bengali method of cooking pilaf - as it is of cooking plain rice - does not discard the water. Instead, we cook it in such a way that the rice gets cooked while the water is absorbed."
However, one may argue that in the modern city life, we are slowly moving away from the healthy cuisine. Rice, in many urban households, is now cooked by discarding water, not maintaining the classical way of letting the water get absorbed during cooking.
Meanwhile, for the youth, generally speaking, the saying 'machhe bhaate Bangali' seems to have changed into 'mangshey bhaat e Bangali', as they prefer meat to fish!
Bhorta is a common food eaten with rice. And the sheer variety of bhorta is astounding! "We make bhorta out of almost anything," Zaman remarked. Mashed vegetables or fish are mixed with chillies, mustard oil and salt and you have a simple, easy to make everyday food. Another item which never fails to be present on the dining table of a Bangladeshi is the 'daal' (lentil soup).
To a large extent, Bangladeshi food revolves around rice. Pitha, or rice cakes, is just another illustration of this concept. The wide range of pithas is a very popular delicacy, particularly in Nabanna festivals (i.e. rice harvest festivals) and throughout the winter.
Pitha is indeed an age-old food. The names and descriptions of several pithas can be found in different Mymensingh ballards, and other oral traditions. The following lines from the seventeenth century Kajol-Rekha could be used to exemplify:
"Nanajati pitha karey gandhey amodita
Chandrapuli karey kanya chandrer akrita..."
Many of the old literary works that have survived to this date tell us the diversity and variety of our cuisine. The fact that Bengalis are not exclusively fish eaters or vegetarians is also quite clear looking at architectural and literary works suggestive of the idea that meat has also been part of our diet. "Excavations at Mainamati and Paharpur, the terracotta decorations on Kantajee Mandir in Dinajpur as much as the Mangalkabya suggest that the early Bengali ate fowl and flesh," Niaz Zaman wrote in her book, Bosha Bhat to Biryani: The Legacy of Bangladeshi Cuisine.
Fish, meat and vegetables are cooked across Bangladesh, with much variation owing to regional differences, which makes Bangladeshi cuisine even richer. Chittagong's 'mezban' is a feast, a grand social event, which offers the unique 'mezbaani gosht', a delicious beef curry eaten with plain rice.
Meanwhile, Sylhet offers 'shatkora'. "The dish of choice is shatkora beef curry, which is the pride of the region. Another well known shatkora based dish is ponchar (beef knuckle) khatta, a tangy tasting thick soup," Shaheda Yesmin, Vice-President of the Women Culinary Association of Bangladesh, and a veteran chef wrote in her article, Bangladesh Cuisine Part 1: Delectable and Diverse, published on Star Lifestyle. "A unique Sylheti delicacy is 'chungga pitha' in which sticky rice is stuffed inside young bamboo and then smoked. The rice can be eaten with thickened milk or in fried form," she further wrote.
Not just in Chittagong and Sylhet, all across Bangladesh, there are refreshingly unique ingredients and cooking styles which contribute to the rich gastronomy.
The plethora of delicacies, the geography, age-old literature, festivities and the everyday menu - they all combine together to create an extraordinarily rich, diverse, tasty and healthy food, which is Bangladeshi cuisine.  
The writer is a Reporter of The Daily Star and can be contacted at m.h.haider@live.com