Gardeners in concrete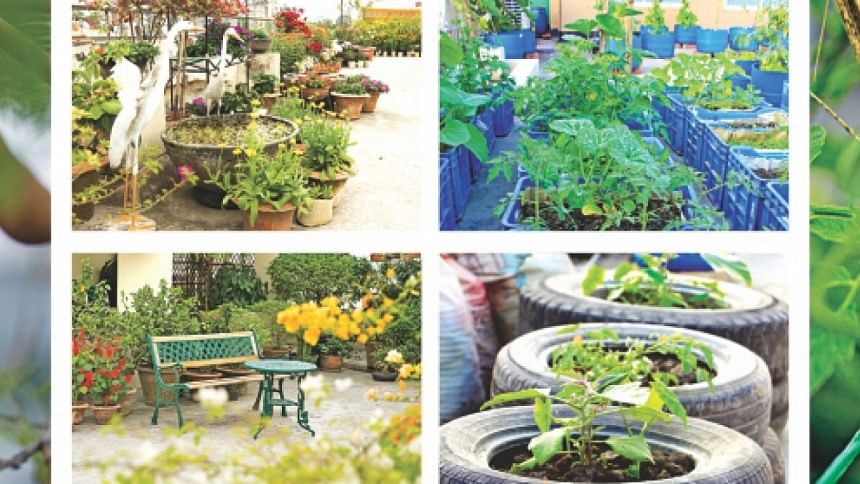 There is not a single space on the horizon that reveals foliage – austere words like these, have almost become harsh realities, especially for urban settlers like myself. But all is not lost; there will always be some people who fight against the tide, bringing back the happiness that seems lost with the greenery.
The lone ranger
"Amidst a world of pure concrete and starkness, a little amount of green can always lighten our burden," says Fatema Mannan, an urban gardening enthusiast. She affirmed that her habit of growing her own plants was largely influenced by the extensive amount of travelling to the remotest parts of Bangladesh in the early years of her life.
"It's been almost 25 year!" admits Fatema Mannan, and continues, "I have been growing vegetables and fruits on the rooftop! I was always attracted to farming, but trouble befell when I finally settled in Dhaka.
Money, business, economy were rampant terms here, and everyone was occupied with converting every little space available into cash. Independent buildings became apartments and open fields became markets; all these happened in front of my eyes. There was no space left for 'green' and that's when I realised I had to do something on my own to keep the greenery alive," she added.
Inquired whether she was reliant on organic farming from the beginning or not, Fatema Mannan nodded. "No, not at all. Reliance on organic cultivation came much later. In the beginning, I used chemical fertilisers to grow plants and most of my pet birds and chicken got sick after drinking the water that seeped from the pots. From that moment on, I realised how poisonous the mixtures were and promised myself to never consume anything that was not organic - ever again!"
With a little bit of effort, I began using natural fertilisers to grow my plants. I never used pesticides again; insects, fungus and bugs were all dealt with simple watering. I would manually wash them off every time there was an infestation. If too many of my plants were harmed, I would uproot them from the core and garner another layer – but I never compromised," she said.  
Inquiring on her farming method, she declared, "I do not do anything special. I buy the seeds from wholesalers, grow some of the compost at home or buy only the natural ones in retail. My belief is that everyone can do this. All it needs is a little bit of aspiration."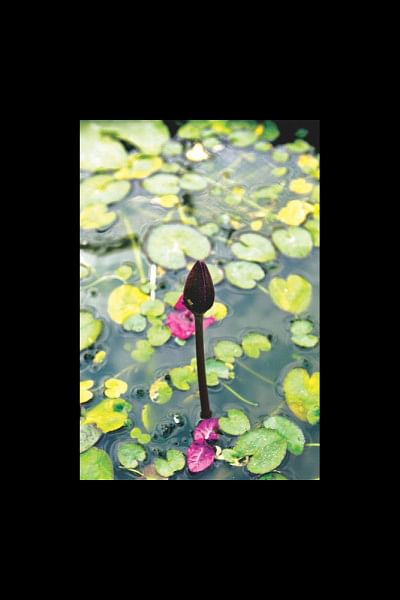 A collective movement
Prakriti deals with urban and community organic farming, helping to connect the dots for each individual gardener.
"Prakriti is about encouraging and educating urban dwellers to grow vegetation at home and within their community," says a beaming Ashna Afroze Ahmed, founder of Prakriti, an urban food grower herself, and spokesperson for organic healthy food consumption. "Our goal is to create a chain of networks for organic urban farmers and customers, benefiting the people in society by giving them access to healthy uncontaminated food." Ashna carried on with the conversation to give us more perspective into Prakriti.
"The institution was built based on hope - towards a better future. If we look at the statistics carefully, we would know that at the current rate of population growth, the world will soon run out of fertile land. In 20 years' time, the overall global population is expected to be approximately around nine billion. Leading to the ultimate eye-opener for upcoming disasters - scarcity of land, soil erosion, increases in detrimental weather etc. Land would have to be allocated as shelter to meet the demands of the ever growing population. Food shortages would ultimately overcome us if we do not plan for the future and take the matter into our hands, right now."
A concerned Ashna admitted that Prakriti provided that very opportunity. "We encourage our fellow members, patrons, followers, fans - whatever you call it, to grow their food in the little space that is available to them, be it the veranda, or the window sill."
Inquired about the certainty of such farming methods, she confidently answered, "Bangladeshi weather is extremely suitable for agriculture. There are many countries in the world that face harsh conditions like extreme snow, heat, scarcity of rain, etc. but Bangladesh is lucky. Therefore, wherever a little sunlight seeps in, we can do this sort of gardening, on that very spot."
Discussing more about the benefits of a rooftop garden, Ashna mentioned, "Rooftop gardens, lawns and community can help in growing organic food while converting tonnes of organic 'waste' into nutrient rich compost. If ten households in a community are doing the same, use of chemical fertilisers and pesticides would be replaced with natural fertilisers such as homemade compost from food waste and natural fertilisers like tulsi water; food will ultimately become organic and healthy – this is called practical farming and to most scientists and researchers –this is the only long term (sustainable) solution that can save us from unexpected illnesses, starvation, disease and unnatural death".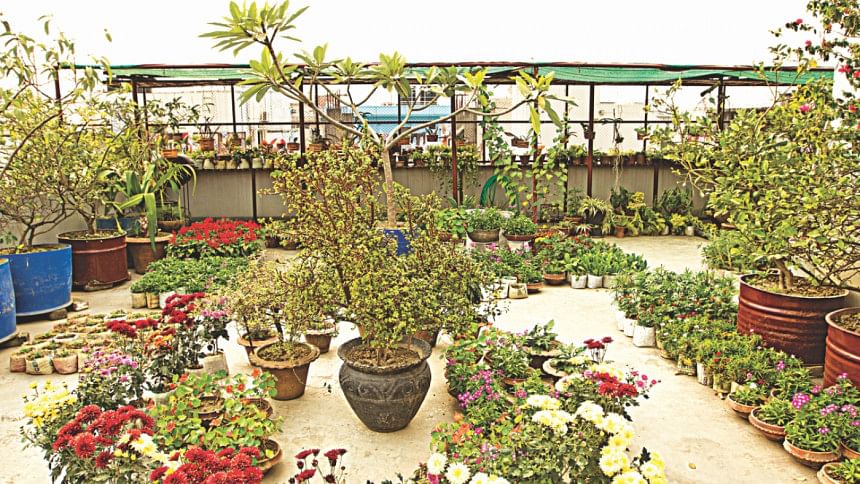 Sowing a seed for the future
After reading all these, if you agreed that all did not seem bleak in the horizon, then you are perhaps right, because our next conversation with a seed wholesaler, Abul Hossain gave us high hopes.
"I have been in this business for 30 years now. My father was a farmer, my brothers are farmers and I am a seed seller," he said. With the recent advent of farming, malpractice and increased use of pesticides, we wanted to know why the farmers felt compelled to use so much harmful substances in their produce.
"Well, if you ask me it is because of the lack of knowledge; these people are not aware of what they are doing. Plus, the blame cannot be entirely focused on them, it is the consumers that are demanding increased yield, and that too which does not rot!
"If the demand for such alterations died out, farmers would have no other way but to go back to the healthy and natural way of farming."
Giving us high hope, Abul Hossain assures that a change has begun. "My brothers have attended workshops to learn about the organic way of farming and have successfully adopted the technique. Soon, we will see many others following suit," he further added.
If urban gardeners like Fatema Mannan increase, seed sellers like Abul Hossain learn about the harmful effects of artificial farming and institutions like Prakriti help connect the dots, we can imagine a bright future for everyone – bringing back the green and healthy lifestyle that we so much yearn for.
Contact information: Prakriti, House #45, Surwardhi Avenue, Apt #302, Baridhara Diplomatic Zone. Seed-seller: Abul Hussain, Shatarkul, 100 Feet Road.
Mehrin Mubdi Chowdhury works as a Feature Writer at The Daily Star. She can be contacted at chowdhurymehrin1@gmail.com