CU cultural activities on the wane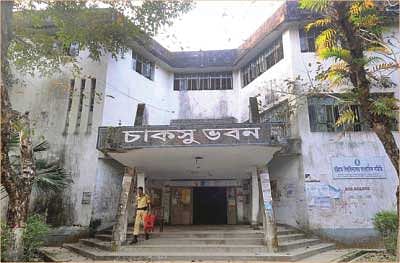 The cultural organisations active in Chittagong University (CU) are not getting adequate infrastructural facilities to carry out their activities.
Because of limited infrastructural facilities for rehearsal and practice, the cultural bodies at the university often show apathy to hold programmes marking different significant days. As a result, the number of cultural programmes on the campus is reducing, campus sources said.
There are at least 12 cultural organisations at the university, including Udichi Shilpi Goshthi, Charon Sangskritik Kendra, Biggan Andolon Mancha, Abritty Mancha, Angon, Sangskritik Union, Oikotan, Nandi Theatre and Shyamageet.
These organisations carry out their activities on the campus on their own with inadequate logistic support, they said.
The only space available for the cultural organisations to hold rehearsals is the building of CU Central Students' Union (CUCSU). But lack of sufficient rooms in the CUCSU building is forcing cultural activists to hold rehearsals outside the campus, said the cultural activists.
Sources said the central auditorium of the university has remained unused since 1980s due to infrastructural imperfections in it. But the university authorities are yet to repair it, they added.
For lack of central auditorium, cultural bodies as well as the university authorities organise programmes in the auditoriums of social science faculty and business administration faculty.
The leaders of the cultural organisations said they show apathy to hold any programmes as rent of the two auditoriums are too high for them to bear.
Yusuf Hasan Bappi, general secretary of 'Angon', said the cultural bodies working on the campus are not getting proper facilities, including rooms in the CUCSU building and lack of proper rehearsal spaces.
Bappi urged the university authorities to construct a central auditorium for the cultural activities on the campus.
Prosun Chowdhury, organising secretary of Udichi Shilpi Goshthi, said due to lack of infrastructural facilities they have to rehearse under the open sky most of the time. As there are no sufficient facilities in CUCSU building for the cultural organisations, they can not preserve their necessary equipment and instruments on the campus, he said, adding that as a result cultural activists have to keep their necessary logistics of cultural programmes in their respective residents that are very much bothersome.
Prosun said a central auditorium is very necessary on the campus for carrying out cultural actvities. He demanded of the university authorities to construct a Teacher Student Centre (TSC) on the campus.
Admitting the limited space for cultural activities in the CUCSU building, Vice Chancellor Prof Md Anwarul Azim Arif said they can not provide many facilities due to financial constraints.
Prof Arif, however, said he has a plan to build up a Teacher Student Centre on the campus to make the green campus of the university more vibrant.