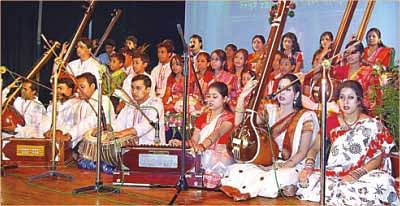 US envoy meets Ctg women chamber leaders
The US Ambassador to Bangladesh Dan Mozena said there is no alternative to working with women entrepreneurs for sustainable and permanent change of economy of Bangladesh.
"Empowerment of women is necessary for economic emancipation of the women in the context of global change", he said, adding that "there are many scopes for the women entrepreneurs in the country for going ahead".
He was addressing a meeting as the chief guest organised by Chittagong Women Chamber of Commerce and Industry (CWCCI) at a port city hotel on Thursday.
CWCCI President Monwara Hakim Ali chaired the programme while Vice-President Gulshan Ali and Director Nasrin Sarwar Meghla spoke.
The American embassy officials and other directors of the women business chamber were present at the programme.
Conference on 'Gitanjali' held
A conference on 'Gitanjali' was held at the auditorium of Alliance Française de Chittagong in the port city on Saturday.
As part of the celebration of 150th birth anniversary of Rabindranath Tagore, Alliance Française de Chittagong arranged the conference.
Eminent French writer and poet Dr William Radice was the key speaker who translated Gitanjali from the original text in Bengali.
Radice explained the rhythm and inner poetic essence of the verses of the Gitanjali and showed the difference between the translations by WB Yeats, a Nobel laureate.
Radice, the Senior Lecturer in Bengali in the School of Oriental and African Studies of University of London, translated several Bengali works including Rabindranath Tagore and Michael Madhusudan Dutta.
The Tagore songs translated into French were rendered.
CMC Sandhani celebrates founding anniversary
Sandhani, Chittagong Medical College (CMC) unit, organised a press conference at Chittagong Press Club (CPC) on Tuesday on the occasion of its 35th founding anniversary.
Sandhani, CMC unit, a voluntary organisation, is run by the students of MBBS and BDS of the college for donating blood and cornea. It collected 7,308 bags of blood in the session 2010-11, said the Sandhani leaders at the press conference. They conducted 2,360 free blood grouping during this session and distributed free drugs worth Tk 66,697 to the poor patients.
The demand for blood in Chittagong is over 60,000 bags while Sandhani, CMC unit can supply only 6,000 bags, they said.
Buddhadeb Sarker, general secretary of the organisation, while reading out a written statement, also said Sandhani, CMC unit conducted 21 blood donating programmes in 2011-12 and collected 1,980 bags blood.
He said a person aged in between 18 and 57 years with at least 47 kg weight and normal hemoglobin can donate blood every four alternative months. But one should not donate blood if he or she suffers from jaundice, malaria, typhoid and skin and sexual diseases and does not pass six months after recovery, he added.
Noshin Farzana, president of this organisation, said Sandhani, CMC unit conducts a unit for thelasamia patients who need blood on regular basis.
Sandhani, CMC unit Press and Publication Secretary Shuvo Majumder, former president Shuvojit Bhattacharjee, former general secretary Ripan Kanti Das and Adviser Umme Hani were present at the press conference.
Prize giving ceremony held
Primary and Mass Education Minister Afsarul Amin said separate arrangements would be taken for the unprivileged children living in the city so that they get the light of education.
He was addressing a prize giving ceremony of annual cultural and sports competition as chief guest organised by Ghashful, a non-government organisation (NGO) working on deprive and unprivileged children in the city.
Ghashful organised the programme under a project titled 'Nest' for the children at risk' supported by Elma and Manusher Jonno Foundation at district Shilpakala Academy on Friday.
Ghashful Chief Executive Officer Aftabur Rahman Jafree chaired the progarmme while Councillors Md Gius Uddin, Mohammad Hossain, F Kabir Manik, Manusher Jonno Foundation Programme Manager Abdullah Al Mamun and Deputy Director of Primary Education , Chittagong Shah Sufi Mohammad Ali Reza spoke at the programme.
A total of 420 students were awarded at the programme.
BHRF for release of foreign prisoners
Bangladesh Human Rights Foundation (BHRF) in a statement on Thursday
expressed concern regarding 39 foreigners who still are in detention despite having finished their sentences or obtained release orders from the court.
BHRF President Advocate Zia Habib Ahsan and General Secretary Advocate Sharif Uddin urged the government to take necessary steps regarding the prisoners who are detained for years.
They said authorities concerned are reluctant to release the prisoners, including the women and children, in violation of human rights.