They went on a picnic, never to return
2 SSC examinees perish in road crash; 6 die across country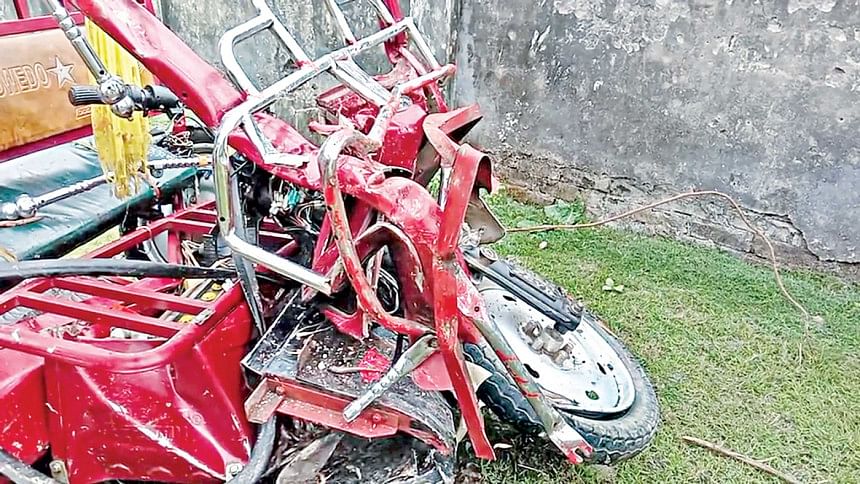 By this year, they would've been done with their SSC exams and become proud college students. To celebrate their last few days at school, they went to a picnic with their fellows, promising their parents to return home quickly.
But after their human haulier slipped into a roadside ditch, Ismail Hossain (16) and Saidul Mia (16) never returned home. The two SSC examinees were killed while 10 were injured from the accident that took place at Mamdamari area in Sreebordi upazila of Sherpur yesterday night.
The duo hailed from Kharia Kazir Char area.
Quoting locals, Sreebordi Police Station OC Md Abul Hashim said the picnic party of 15 school students from different institutions in Sreebordi went for the picnic at Gazni in adjacent Jhenaigati upazila in the morning.
Police seized the vehicle but its driver managed to flee. A case was lodged in this connection.
In another accident in Patuakhali, at least two people were killed and three others were seriously injured when a battery-run auto rickshaw collided head-on with a recklessly driven passenger bus at Ghutabacha area on the Patuakhali-Kuakata highway. The deceased auto-rickshaw passengers are Selim Talukder (47) and Mohammad Bayezid (14). The accident took place around 8:00am yesterday. Witnesses believe the accident took place due to dense fog.
In Sirajganj, a joyous occasion turned to sorrow as at least two people were killed and three were injured, all members of the same family, after a speeding truck hit their auto-rickshaw in the Hasil area in Sirajganj-Raiganj road in Raiganj upazila yesterday morning.
The deceased are Manik Haldar (50) and his nephew Dinesh Sarkar (45). The accident occurred as the duo were off to shop for Manik's sister's wedding programme.