Green malta brings smiles to farmers
Growers find new source of income as they cultivate fruits on fallow lands in Sylhet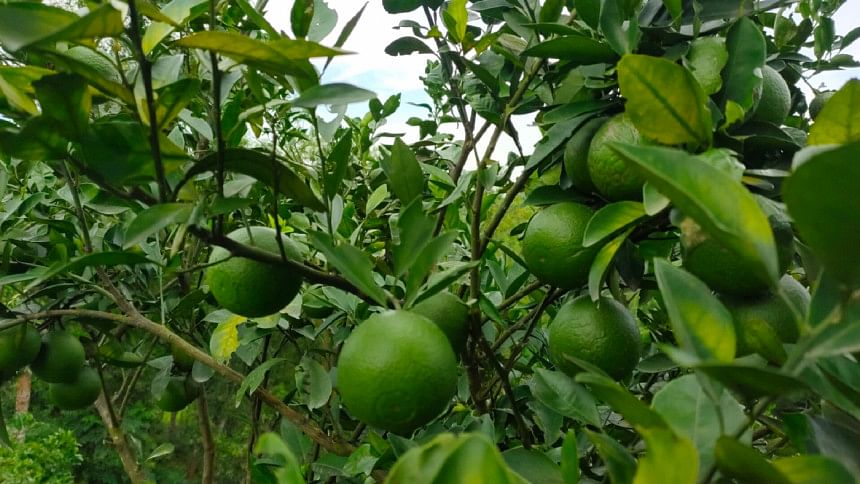 Farmers in Sylhet division have seen tremendous success from the cultivation of green malta in the fallow lands this year.
Overjoyed with the bumper yield and favourable market prices, they hope to expand cultivation next year.
The agriculture department said commercial cultivation of malta is increasing rapidly in the division due to favourable climate and good soil.
"Originally this was a barren land where we never cultivated anything. Over the last three years, we planted 20 malta trees on only eight decimals of land. It cost around Tk 10,000. Just last year, I sold about Tk 25,000 of the fruit and hope to sell more this year," said Shiddique Mia, a resident of Monchhara area in Kulaura upazila of Moulvibazar.
"I have done this with the support of agriculture department of Kulaura. Last year, I planted around 800 trees. Hopefully, I will earn around Tk 200,000 from malta sales every year," he added.
When this correspondent visited the Kulaura upazila recently, wholesale buyers from different parts of the area were there to buy green malta from farmers. Traders said the locally produced green malta is chemical free and safe.
Hosen Ali and Rajan Ahmed, wholesalers from Sylhet, said there was a lot of demand for local green malta produced here. The orange malta is foreign and therefore more expensive. So, demand for domestic green malta is higher. If green malta is cultivated more, many wholesale fruit traders will come here to buy it.
"We advise local farmers and also provide them seedlings, alongside other support. We also encourage the use of eco-friendly sex pheromone traps to prevent insect infestation and reduce pesticide application to crops. It also cuts down cost. Necessary advice is also given to prevent infection with yellow mosaic virus," said Kulaura Upazila Agriculture Officer Md Jasim Uddin.
In Kulaura upazila, green malta was cultivated on only five hectares of land in 2018-19; eight hectares in 2019-20; 18 hectares in 2020-2021 and 23 hectares in 2021-22, he added. A total of 100 malta seedlings can be planted on one bigha of land. In the first year, each plant yields 15-20 kg of green malta. In the second year, the yield is doubled. In this way, it is possible to collect fruits from the tree for around 20 years, the official added.
Malta from this region is also supplied to different districts.
There was no cultivation of malta in Sylhet region's hilly areas till 2019. In 2019-20 it was cultivated on 200 hectares of land, 251 hectares in 2020-2021 and 325 hectares in 2021-22. It is increasing day by day, said Musharraf Hussain Khan, additional director of the Department of Agricultural Extension in Sylhet division.
"This hilly area is the right environment to grow malta. The quality of green malta is much better than the yellow variety. Now, we are conducting various campaigns to make farmers more interested in malta cultivation," he added.