Roses gone, dreams dead
Virus attack leaves 1,500 flower growers of Golapgram in despair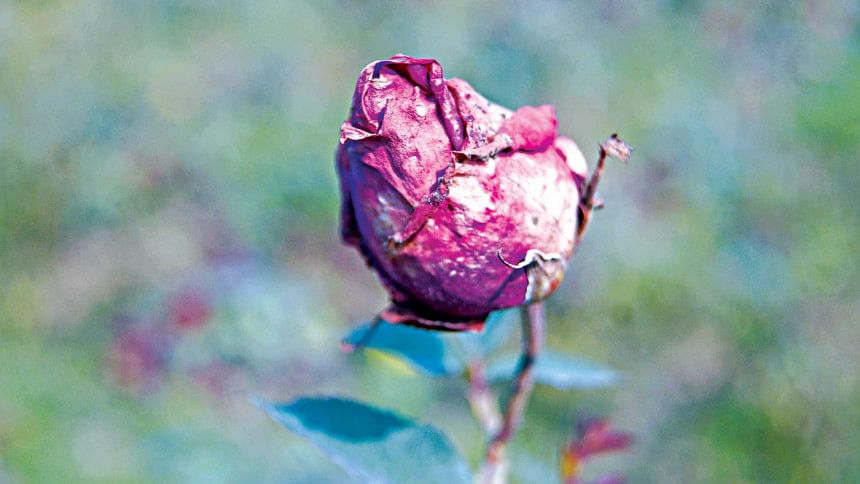 This was supposed to be their time of the year. There's Pahela Falgun, then there's Valentine's Day, both occasions where people buy flowers to give to their loved ones.
But in such a crucial time, a wave of virus attacks has left rose farmers in Savar's aptly named Golapgram in despair. Since mid-December, the majority of them has been unable to sell even a single rose from their gardens.
According to Savar upazila agriculture office, around 1,500 people from the village are involved in commercial rose cultivation, on nearly 275 hectors of land.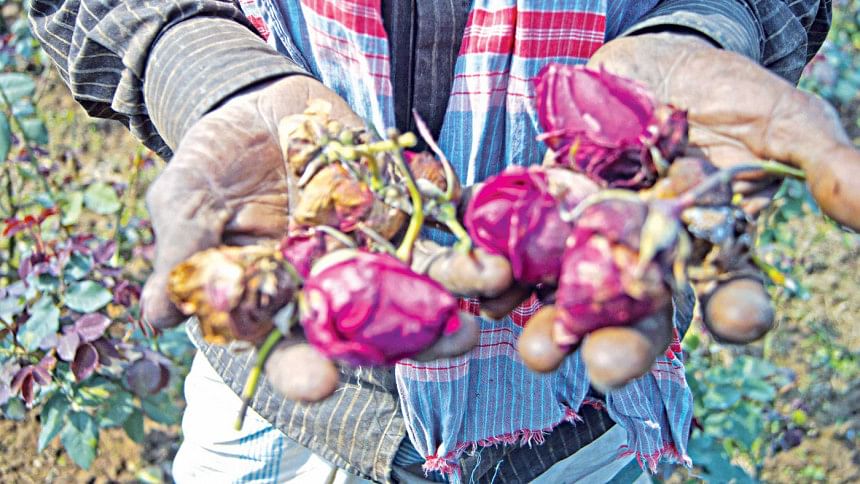 Rose farmer Abdul Oadud Mia (65), of Shampur area under Golapgram, said he has been unable to sell anything this year. He farms on 75 decimals of land, and has been in this profession for 20 years.
"Every year, I sell 2-3 lakhs of roses ahead of Valentine's Day. I've spent around Tk 1 lakh  to take care of my rose field this year, but all of it's been wasted due to the virus attack," he said.
Talking to The Daily Star, another farmer, Umed Ali, said, they've informed the matter to local agriculture officials, but they failed to take care of the issue. "We don't know if they're even trying to solve the problem," he added.
Contacted, Upazila Agriculture Officer Najiat Ahmed said this disease has appeared due to using of too much pesticides and this year's unfavourable weather.
"We have advised the farmers on how to deal with this and are trying to diagnose the disease by examining the affected plants with agronomists."
"Last week, we arranged a meeting with two hundred farmers to discuss their issues and advise them on several aspects of it," she said. "If the weather improves, the disease may subside a bit," she added.
"Besides, we are working to provide financial assistance to the affected rose growers through upazila administration and government funds," she said.