Family demands safe return of missing JU student
The family of a Jahangirnagar University student who has been missing for about a week has demanded for his safe return.
Jahid Hasan Razu (27), a master's student at the chemistry department was untraceable after he went out of his house in Dhaka's Mirpur on June 24, his family said.
"We want his safe return," Jahid's mother Aklima Begum told reporters at the press briefing at JU campus today.  
She also demanded intervention from Prime Minister Sheikh Hasina to find her son as soon as possible. 
Jahid's wife and their one-year-old daughter are eagerly waiting for his safe return, she said.
A student of 2012-13 session, Jahid was on a break in his study and had been living in Mirpur area for a couple of years.
According to the GD, Jahid went missing and his two cell phones were found switched off after he left his house on June 24.
In the press conference, his mother said they received a phone call on June 26 where the caller demanded Tk 1 lakh as ransom saying they kidnapped Jahid.
The family gave them Tk 13,000 through mobile financial service but later found the phone numbers of the callers found switched off, she said.
Jahid's roommate Mizanur Rahman filed a general diary with Pallabi Police Station on June 26.
Parvez Islam, officer-in-charge of Pallabi Police Station, said they are trying their level best to trace Jahid out.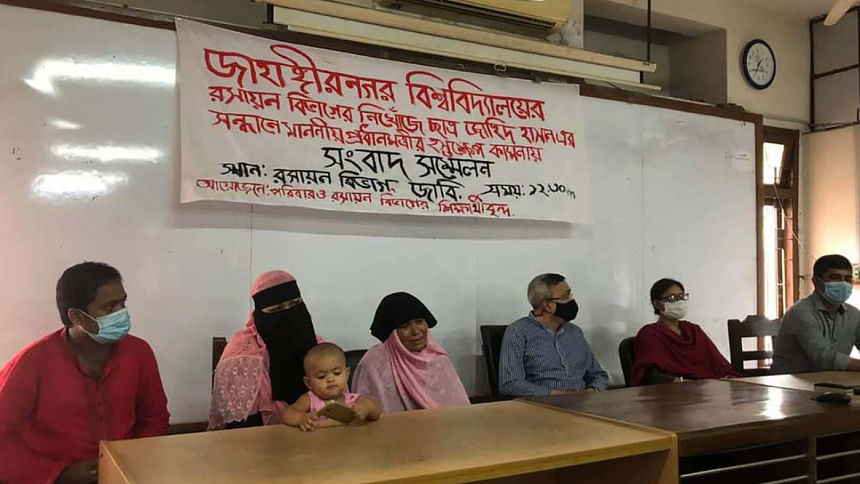 "We came to know that a fraud gang extorted money from the victim. Police are looking into it," he said.