Below this institute lies a torture cell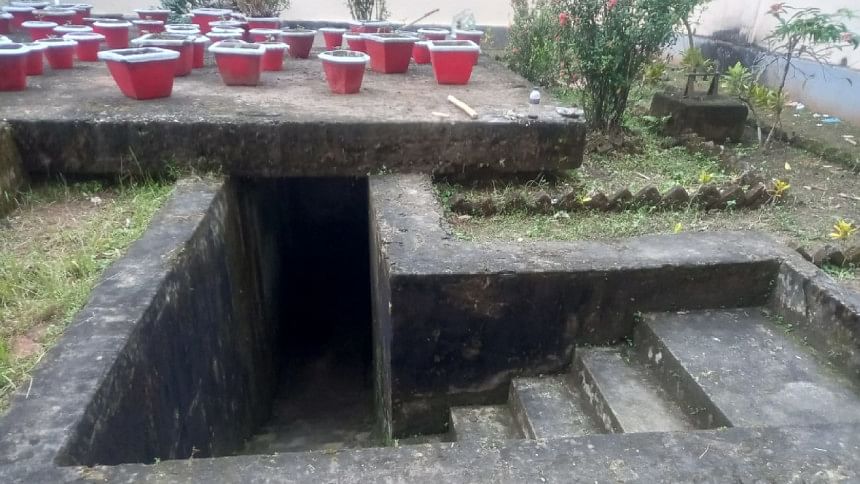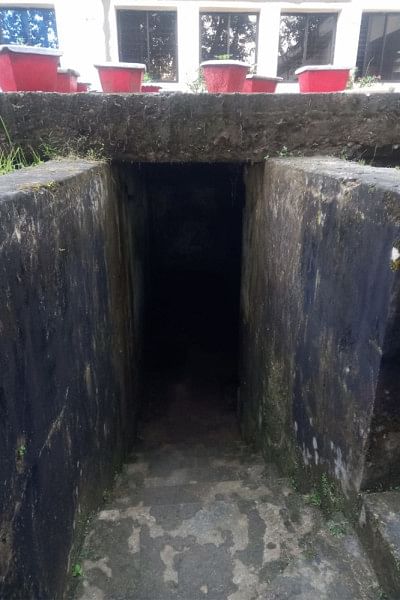 The year was 1971. Odoitto Sen Odhikary was just a tenth-grader preparing for his board exams. A curfew was imposed in Moulvibazar on the morning of March 26, following a night of terror, when the invading Pakistan army launched a full-fledged crackdown across the country.
Odoitto was picked up in an army truck in the morning from Chaumohana area. A teenager at that time, Aditya's crime was his involvement with Bangladesh Chhatra Union, a left-leaning student body.
He was taken to the Primary Teachers Training Institute (PTI) in Banabithi area of Moulvibazar, where hell was waiting.
He was first brought to the dining room (current classroom) of PTI, where he also saw Bomkesh Ghosh alias Tema Babu,  late Azizur Rahman, former MP and parliament whip, and few others.
"At night, the army beat us with sticks after tying our hands. They wanted to know the locations of the student leaders from us," Aditya told this correspondent.
At midnight, a Pakistani army major arrived and freed Odoitto. He told him to run as far as he could without looking back. But others were not so lucky.
"There was an underground bunker in the PTI. That was the main torture cell. Many people, including women, were tortured and killed inside the place," he added.
However, even five decades after independence, no government has ever taken any initiative to preserve the site's history, which, according to Liberation War researchers and freedom fighters, is a blatant disrespect to all the martyrs who were killed there.
During a recent visit, this correspondent saw normal classroom activities going on in the facility.
Unless they have prior knowledge, no one will be able to know that many people were brutally killed under this very facility, because there are no memorial plaques or signs in place. Many of the youngsters interviewed by this correspondent had no idea about the history.
This correspondent decided to see the bunker for himself even though the officials there said no one enters the place due to its dilapidated condition. 
As soon as he descended the stairs and entered the underground bunker through the narrow entrance, this correspondent was surrounded by an eerie atmosphere. There was darkness everywhere, accompanied by an uneasy silence. It felt as if the souls of the martyrs who had been tortured and killed inside were still haunting this place.
During his brief tour inside, this correspondent estimated that the bunker, or whatever remained of it, had two rooms. The entire place was dilapidated, with plaster falling off the roof.
Jamal Uddin, former district commander of Muktijoddha Sangsad Moulvibazar, said many freedom fighters, including Sudarshan, Mukit, Ranu, Samar and Shahid, had been killed there. Their bodies have never been found.
Bacchu Mia, 78, whose house was near 
the PTI centre in 1971, said, "Every night, the screams and cries of freedom fighters filled the area."
Dipankar Mohanta, a Liberation War researcher, said at the beginning of the war, the Pakistan army used PTI as its brigade headquarters. There, they built an underground bunker, which was used as a torture cell.
"Many women were also raped and killed inside this place," he said.
"We demand that the chairman of the district council and district deputy commissioner take appropriate steps to preserve this historic place. The authorities should build a monument in the memory of martyrs and a Liberation War museum on PTI premise," he added.
Tapan Palit, a history professor at Jagannath University, said after killing people, the Pakistan army would dump the bodies inside the PTI well or in and around surrounding forests and hills.
"Due to a lack of research, there is no exact data on how many people were killed and raped inside this building. People should know about this place," he said.
Contacted, Moulvibazar Deputy Commissioner Mir Nahid Ahsan said, "We are taking some initiatives to preserve the memories of the martyrs who sacrificed their lives inside this building."