'This cannot go on forever'
Tea workers protest for raise in daily wage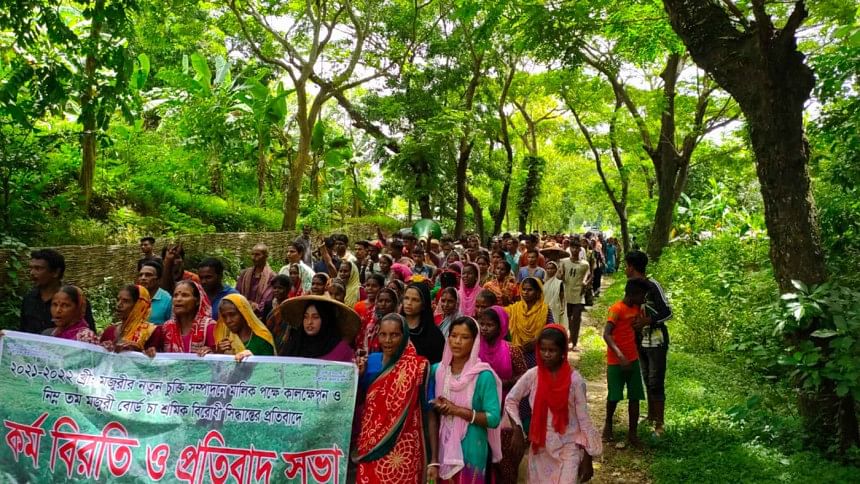 Permanent tea worker Koliti Rabidas earns a daily wage of Tk 120. They are a family of five, and only two kilos of rice are available at Tk 100.
"On most days, our entire family goes to sleep famished. Even eight hours of my labour every day cannot get us a litre of soyabean oil," she said.
Tea worker Sukhia Kairi echoed Koliti. "Prices of every daily essential have gone up, yet our wage remains the same after three years," she said.
"Our daily wage must be raised to Tk 300 for us to sustain," said another worker Sobita Gorait.
This correspondent talked to at least 20 tea workers in Moulvibazar, who are participating in a country-wide protest of tea workers demanding an increase in their daily wage.
The protest started on Tuesday. Tea workers of all plantations will be observing a two-hour strike today.
"Tea workers are deprived of their basic rights. This cannot go on forever," said Ajit Kairi, president of Luhaiuni Tea Garden Panchayat in Moulvibazar.
"The authorities have ignored us for two years. Moreover, the recent hike in fuel prices was a double blow for us," said Nipen Paul, acting general secretary of Bangladesh Tea Workers Union's Central Committee.
He also said they will go for a tougher movement if their demand for a Tk 300 daily wage is not realised immediately.
Contacted, Sylhet branch Chair of Bangladeshi Tea Sangsadand General Manager of Finlay Tea Company Golam Mohammad Shibli said the government has constituted a wage board to determine the tea workers' wages.
"Discussions are ongoing in this regard. The sudden strikes are unreasonable as the wage board is still functioning," he said.
Mohammad Nahidul Islam, deputy director of Sylhet divisional labour office, said "Tea workers' wages are set through a bilateral agreement between the owners and the workers union. But if they seek a settlement then we can negotiate with the two parties."