Cattle market on rail track!
Traders demand alternative space; admin 'unaware'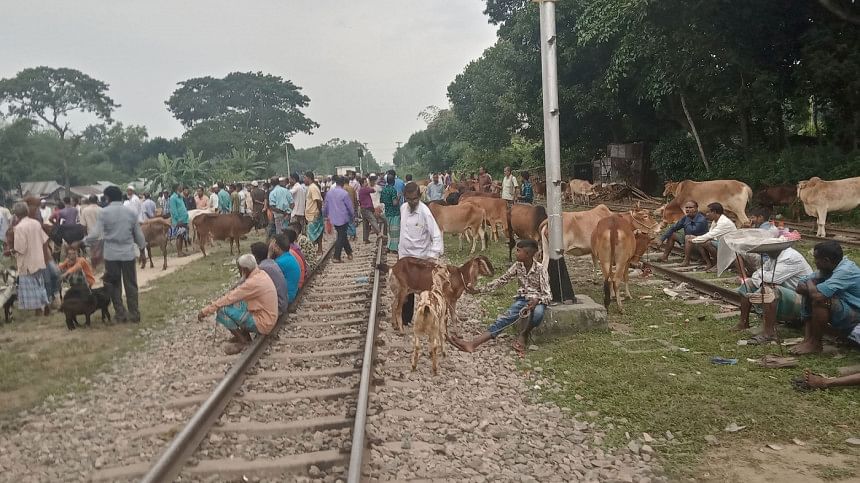 Ignoring risks of accidents, a cattle market sits two days a week on the rail line in the southern part of Shamsernagar station in Moulvibazar's Kamalganj upazila.
Cows are tied with  the railway tracks, and buyers and  sellers conduct their businesses standing on the rail line. When a train comes, people hastily move away along with their cattle, an endeavour that can cause serious accidents within a split second.
The lessee of the market said they are well aware of the risk, but claimed they  do not have any alternative space for setting up the cattle market.
The market sits regularly every Sunday and  Wednesday. In a recent visit, this correspondent saw cattle being tied up with rail sleepers, signals and point keys.
If the traders delay even for a second when a train arrives, these animals, completely defenseless,  will be the first in line to fall under the wheels of the moving train.
Besides, buyers and sellers were seen bargaining over the price of cattle by standing on the rail track, disregarding the dangers attached to such an act.
Besides, the cattle market sits without any written permission from the rail authorities, making this business practice illegal to begin with. But no one knows why the authorities and local administration are playing the role of silent spectators.
Sanu Mia, a cattle farmer, said, "I'm well aware of the risks. But where will I go?"
Echoing the same, Sajjad Mia, another cattle trader said, "When I hear the sound of trains, I move away with my cattle."
Buyer Siddiqur Rahman said this way of conducting business is even riskier than it sounds, as the sound of  trains are often not heard because of the hustle and bustle of traders and customers.
However, Asahid Mia, a leaseholder of the  market, said, "This isn't a big deal. We always monitor the situation. When a train comes, we remove everyone."
"Besides, I have requested the upazila nirbahi officer to give us an alternative space, but they didn't respond," he claimed.
Uttam Kumar Dev, assistant station master of Shamsernagar Railway Station, said, "We have informed the relevant authorities not to set up the cattle market on railway tracks but to no avail."
Abdul Hannan, president of Shamsernagar Bazar Banik Kalyan Samiti, said the market has been set up on rail tracks due to a lack of space.
Contacted, Kamalganj UNO Sifat Uddin said they didn't get any application from cattle traders for an alternative space to set up the market.
Regarding the cattle market on rail track, he said they will take actions after an enquiry.