Celebrating love, togetherness
Monipuri villages to observe Rash Mela today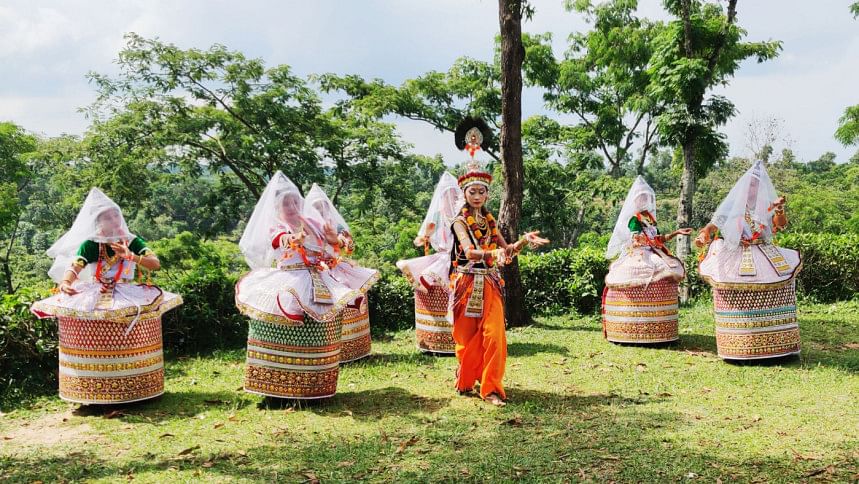 Monipuri villages in Madhabpur and Adampur of  Moulvibazar's Kamalganj upazila have taken a festive look as their major religious festival, Rash Mela, is right around the corner.
The festival will kick off on Tuesday, and last minute preparations are currently underway.
Vignettes of Sri Krishna's life will be performed by local youths  at Jormandaps (Monipuri temples) during the three-day festival.
Sonaton Hamom, a resident of Madhabpur Monipuri village, said Rash Purnima is the biggest religious festival of Monipuri  people.
"It's celebrated on the full moon, in the Bengali month of Kartik," he told The Daily Star.
Rash-dance is performed on the day of Rash Purnima, which is considered an expression of love and affection.
Radha-Krishna are collectively known within Hinduism as the combined forms of feminine as well as the masculine realities of God, and are universally considered as symbols of love, said Hamom.
Therefore, love is the recurring theme of the week in Monipuri villages. The community is lighting up and decorating their temples, household and shops accordingly.
The celebrations aren't only limited to the Monipuri community.  Thousands of people,  irrespective of caste, creed, and religion, take part in the celebrations every year.
Madhabpur Jour Mandap, the district's most famous Manipuri temple, will host their 180th Rash festival this year, according to the temple authorities.
An organisation called  Manipuri Mahalila Sangha organises the celebrations in Madhabpur every year.
During a recent visit, this correspondent saw Subarna Rani Singha dancing with her co-performers in a temple,  hoping to steal the show today.
"We learn the Rash dance from childhood. We have to do a lot of training for this."
"I've been practicing day and night for the last  20 days for this festival," she further said.
Dhirendra Kumar Singh, a local dance teacher, said Rash-dance and Rakhal-dance are being practiced in three  temples in Madhabpur.
Shyam Singh, general secretary of Madhabpur Monipuri Maharash Seba Sangha, said all preparations have been completed to celebrate the festival.