Khanjar haor: Disappearing fish, dying land
BSCIC industries pollute haor, put farmers at risk in Moulvibazar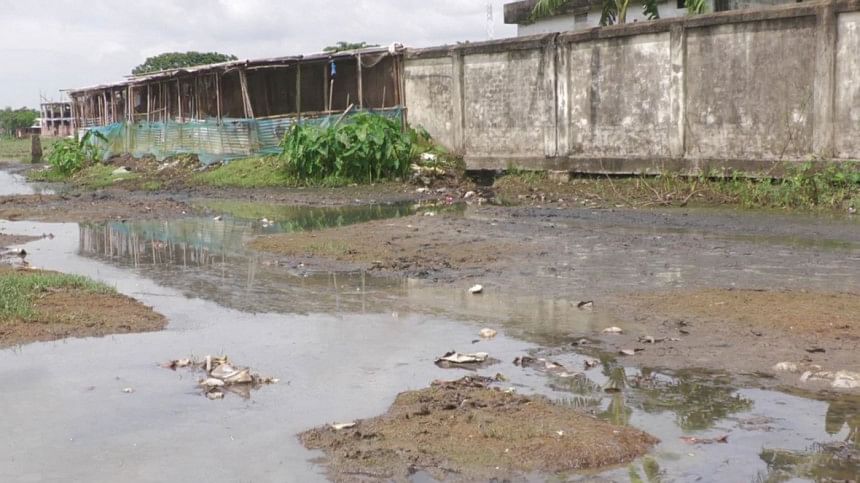 Khanjar haor in Sylhet's Moulvibazar is being polluted at an alarming rate due to waste discharged from Bangladesh Small and Cottage Industries Corporation (BSCIC) Industrial Estate.
Factories dealing with ready-made garments and other products have been discharging waste into the nearby haor in an unrestrained manner for almost  two decades now, taking no effective measure to curb it, said locals.
Besides, nearby arable lands have depleted and fish population has declined significantly as  chemical-laden water enters Khanjar haor through the drains, they added.
Often times, locals suffer from skin diseases as a result of using this water.
"Fertility of agricultural land has been lost due to factory waste and toxic water. It's impossible to produce  aus, aman or any kind of crop near the industrial area," said local farmer Imon Mia.
Villager Jabed Mia said, "Hundreds of farming families are being affected due to industrial waste. No remedy was found even after appealing to the BSCIC authorities."
"There are no fish in the haor now due to the chemical's effect.  Many have contracted skin diseases using polluted water," said Nurul Amin, another villager.
A delegation of Bangladesh Environmental Lawyers Association (Bela) visited Gomra village, adjacent to the industrial area, on June 13 to investigate the matter.
Contacted, Bela Sylhet divisional coordinator Shah Shaheda Akhtar said the plants and soil in the village have turned black due to pollution.
"Agricultural lands of the village have become uncultivable, and the waste discharged from BSCIC industries is falling into the haor."
"We're not against industrialisation, but it should be in accordance with environmental laws," she added.
Experts alleged that wastes are being discharged from the factories as the effluent treatment plants (ETP) aren't being utilised properly.
Mentionable, there are 101 plots in the industrial area. Of these, 61 have been  allotted to various business organisations. However, 38 of them are  currently in use. Other spaces remain empty due to entrepreneurs' lack  of interest -- mainly because of poor road conditions and lack of  security services.
Billal Hossain Bhuiyan, deputy manager of Moulvibazar BSCIC Industrial Estate, said, "Chemicals are used in four factories operating in the area. These four have ETPs installed."
He said the factory owners have committed to use the ETPs every time they are under production.
"We also monitor whether the ETPs are being used properly for waste management. But it is impossible to keep an eye on everything all the time," added Billal Hossain.
He said the authorities are trying to come up with a way so that  chemical-laden wastes can be diverted into a big drain without dumping those in the haor.
Badrul Huda, assistant director of Department of Environment  in Moulvibazar, said, "BSCIC installed ETPs in four out of five factories. However, there's some truth to the allegations that factories don't often use them to cut costs."
The official also said they will install CCTV cameras in the factories to monitor the situation.
He also agreed that the water management of BSCIC authorities is far from the standard benchmark.
"I'll write a letter to the higher authorities about this. This needs a lasting solution, " he added.