Gone too soon
The last of Lawachhara's African Teak Oak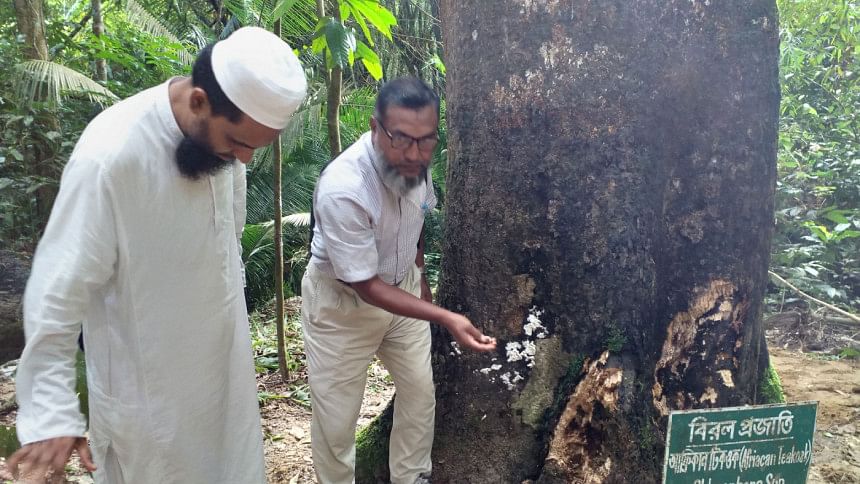 Among the 167 species of plants in Moulvibazar's Lawachhara forest, two rare species of trees, known as the "African Teak Oak", were the elements that attraction for hundreds of tourists to the forest.
Typically, this species of trees live upto 500 years.
The larger one between the two was uprooted during a storm around 15 years ago. Since then, the one remaining became the only trace of the species in Bangladesh.
But now, even that lone tree is slowly dying.
The researchers of Bangladesh Forest Research Institute have announced that the tree is dying, after collecting some samples of its roots, which have been rotting for quite a few days now.
Adding that not much can be done to revive the tree, scientists said whether the death is coming at its natural course or influenced by any external factors, can only be determined after thorough research on the collected samples.
Sylhet Divisional Forest Officer Rezaul Karim Chowdhury said, "We think the around 100 feet tree was planted here in the 1930s. Probably the British brought the tree and planted it. It hasn't been found anywhere else in Bangladesh."
A British official planted several saplings of the African tree in Lawachhara, only two of which survived, said Saju Marchiang, a Lawachhara resident.
Lawachhara National Park's Bit Officer Md Anisuzzaman said, "With the demise of the country's only surviving teak tree, a century-old legacy in this region will also end."
Director of Forest Research Institute Rafiqul Haider said the soil under the base of this tree was changed a year ago. They initially thought the tree died due to some bacteria that came with the fresh soil.
Md Zillur Rahman, research officer of Forest Conservation Department of Bangladesh Forest Research Institute, and Abdul Rashed Molla, research officer of its Soil Science Department, were in the team that collected they dying tree's root samples recently.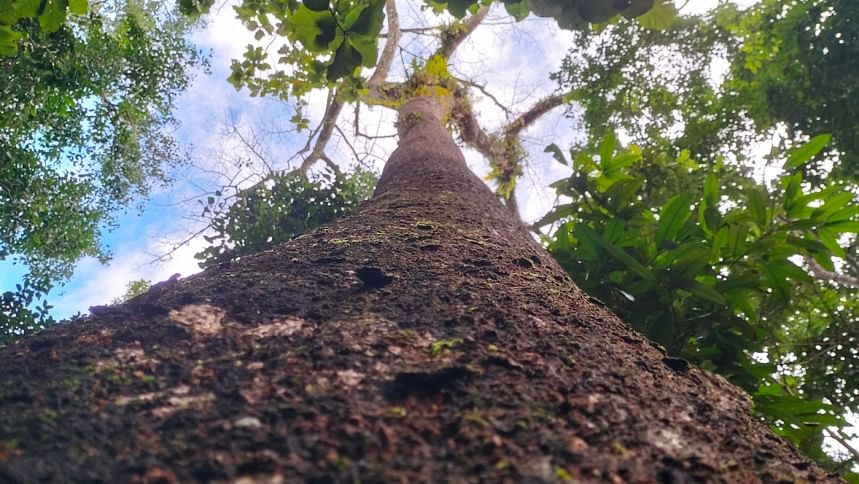 "A plant may die due to a disease, insects, microorganisms or soil problems. It can also happen because of multiple other factors. We cannot immediately tell what happened," he said.
"The sample roots and the soil around the tree will be researched and analysed in the laboratory of our institute, after which we can submit a report on the matter to the relevant authorities," he added.
Rashed Mollah said, "The tree is still partially alive. But the chance of survival is very low because its roots have rotted. Since it can't produce food, it's dying."