Inflation cooling as food prices drop
Favourable exchange rate holds the key to reining it in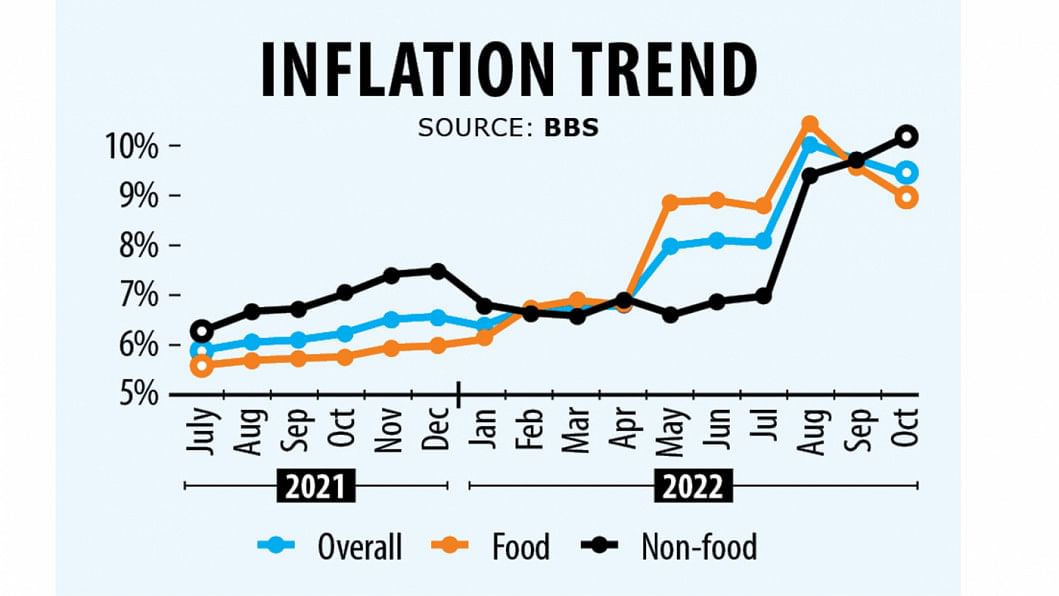 Inflation bucked the rising trend for the second consecutive month in October, helped by the cooling off of grocery prices.
Last month, inflation stood at 8.91 percent, down 19 basis points from September, according to the Bangladesh Bureau of Statistics.
October's figure means the average inflation so far this fiscal year is 8.75 percent -- a long way off the target of 5.6 percent set in the budget for this fiscal year.
However, the elevated consumer price level is a headache not just for Bangladesh.
In October, European inflation accelerated to a new record high of 10.7 percent as energy and food prices in the region continue to skyrocket. Inflation in Germany, Europe's biggest economy, shot up to 11.6 percent. In Italy, it rose to 12.8 percent, while France's rate climbed to 7.1 percent.
Although the US, the UK and India are yet to release their figures for October, analysts expect inflation to accelerate.
In fact, inflation may be a key factor in deciding the results of yesterday's US midterm elections to determine control of Congress, according to the latest polling data.
To control inflation, which has sparked off a cost of living crisis everywhere, central banks globally, including the Reserve Bank of India closer to home, are raising interest rates aggressively.
But this ammunition is not at the disposal of the Bangladesh Bank thanks to the interest rate cap to spur economic growth.
Where interest rates are not being hiked, inflation is racing ahead.
Turkish consumer price inflation accelerated for the 17th straight month in October, reaching a 24-year-high of 85.5 percent after the central bank cut its benchmark interest rate to fuel economic growth.
Turkey's president Recep Tayyip Erdogan, a self-declared "enemy of interest", has ordered the central bank to lower borrowing costs to single digits ahead of an election next year, unleashing the country's worst inflation in a quarter of a century.
"Inflation is controlled with monetary policy and our monetary policy is unable to do that -- the Bangladesh Bank cannot take any anti-inflationary measures," said Ahsan H Mansur, executive director of the Policy Research Institute of Bangladesh.
So, if inflation comes down, it will be for factors that are outside the control of monetary policy, he added.
Which is exactly what transpired last month.
In October, food inflation slowed down to 8.50 percent from 9.08 percent a month earlier.
"Food inflation is still too high to be bearable for the vast majority of the population," said Zahid Hussain, a former lead economist of the World Bank's Dhaka office.
The slight moderation relative to September may be because of slower pace increases in a handful of items, he said.
Non-food inflation, on the other hand, maintained a rising trend: it stood at 9.58 percent in October, up 45 basis points from September.
The lagged effects of energy price increases, supply disruptions due to gas shortage and load shedding, exchange rate depreciation and the inability to execute austerity measures are likely to have contributed to the rise in non-food inflation, according to Hussain.
As a result of the elevated inflation, unskilled workers are worse off, data shows.
In October, the nominal wage growth was 6.91 percent, whereas the food and non-food inflation were much higher.
As a result, poverty and inequality are probably getting worse, Hussain added.
"We are going through a difficult period and so is the rest of the world -- I am hoping that the situation will improve very soon," Planning Minister MA Mannan told reporters after the meeting of the Executive Committee of the National Economic Council yesterday.
In October, inflation came down "visibly", he said.
"It was a very good drop. The wage rate has gone up at the same time. As a result, we got a double gain. Consumers are getting relief now."
The global coronavirus pandemic and the Ukraine war, both identified as the root causes of inflation everywhere, have dealt a heavy blow to the Bangladesh economy, he said.
"Our economy was having a great run and then our progress was halted -- this was a big loss. We are still witnessing a positive trend in the economy."
Hopefully, the aman harvest will be good and inflation will come down further then, Mannan added.
Shamsul Alam, the state minister for planning, echoed the same.
The pressure on reserves has come down as the import bills are more or less the same as the receipts from exports and remittances in recent weeks.
The exchange rate, which is fuelling inflation, will become more favourable in the coming days, he added.
On November 7, each dollar cost Tk 103.5, up about 21 percent year-on-year.
"We can see a downward trend in inflation if we can keep the exchange rate stable," said Mansur, also a former economist of the International Monetary Fund.