It's not pro-migrant workers
Expatriates' welfare ministry to consider revising migration cost list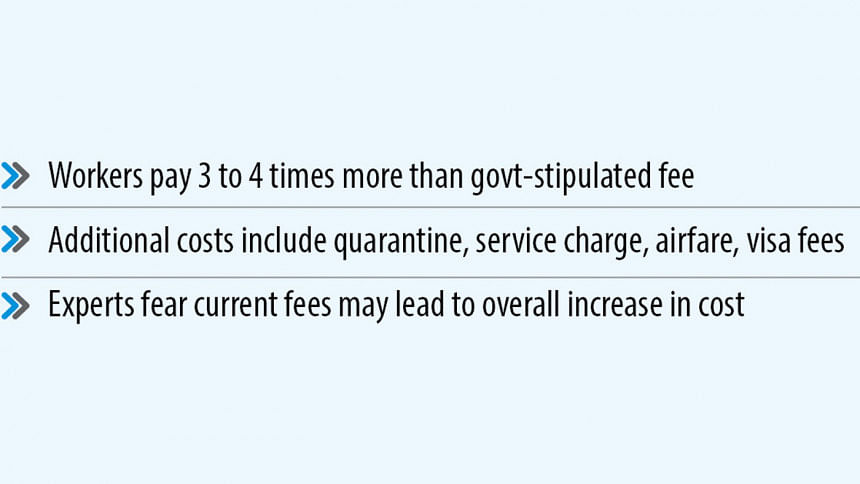 Expatriates' welfare ministry has taken up an initiative to revise the costs for international migration, with the aim to make it more "realistic" for the labour force.
The issue came up during a meeting at the ministry's employment wing in November last year.
As per the meeting minutes, it focused on pressing issues such as the rising plane fare for workers amid the pandemic. The additional cost-burden of institutional quarantine upon arrival was also discussed.
Currently, the government lists migration costs for 16 labour-receiving countries at a maximum of Tk 1.66 lakh and minimum of Tk 97,780.
However, concern is growing among migrant rights groups as workers often have to pay hefty amounts to intermediaries to secure jobs overseas.
After the current fees were set by the government, they voiced concerns over whether this will lead to increase in other costs for workers as well.
In light of this, an official of the expatriates' welfare ministry recently said they want to revise and re-fix the migration costs based on suggestions from stakeholders. "We want to make it [migration costs] more realistic," said the official, preferring anonymity.
Besides, setting migration costs for some newer labour-receiving countries -- including Mauritius and Seychelles, which were left off the current list -- has become a necessity, said another official.
However, Shakirul Islam, chairperson of Ovibashi Karmi Unnayan Program, said if the government's revised fees increase existing costs, then this will be a "terrible step".
He added that as part of ethical recruitment practices, many countries now focus on an "employer pay model", saying Bangladesh should go for such models while sending workers abroad.
The 16 listed countries are Saudi Arabia, Singapore, Malaysia, Libya, Bahrain, United Arab Emirates, Kuwait, Oman, Iraq, Qatar, Jordan, Egypt, Russia, Maldives, Brunei, and Lebanon.
For 14 of these countries, excluding Saudi Arabia and Singapore, the fees were set in 2017. The costs for Singapore was set at Tk 1.4 lakh the same year.
For Saudi Arabia, the government in 2016 fixed Tk 1.65 lakh for each male worker, while the country currently recruits Bangladeshi female domestic workers under a "zero cost" agreement.
However, according to Bangladesh Bureau of Statistics data, the estimated average recruitment cost for Bangladeshi migrants was Tk 4.17 lakh between 2015 and 2018.
This includes agencies' service charge, airfare, passport, medical, and visa fees.
Migration cost for Singapore was Tk 5.74 lakh, Saudi Arabia Tk 4.36 lakh, Malaysia Tk 4.04 lakh, Qatar Tk 4.02 lakh, and Oman Tk 3.08 lakh.
Talking to reporters last December, secretary of the ministry Ahmed Munirus Saleheen pointed to the lack of formal complaints filed by workers.
He urged workers to file complaints, along with necessary proof, stressing that the ministry will take stern action based on their complaints.
M Tipu Sultan, president of Recruiting Agencies Oikya Parishad, however, said they were unable to maintain the government-fixed costs due to increase in airfare.
Earlier, airfare for workers heading to the Middle East was between Tk 20,000 and Tk 25,000, which has now increased to over Tk 1 lakh, Tipu said. He urged the government to introduce a special "labour fare" for workers.