A lifeline for Khasi women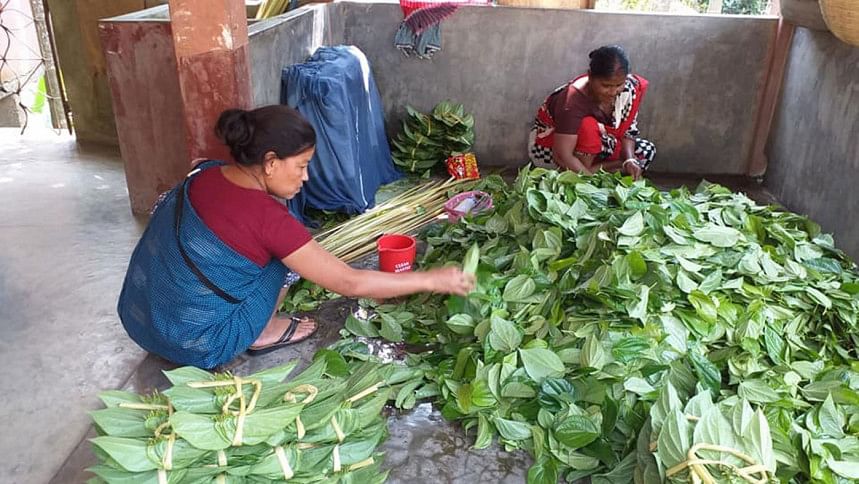 Alongside its tea estates, one thing that tourists also look to relish while visiting Sylhet is the local betel leaf cultivated there, also known as Khasi Paan.
Grown by the Khasis, an indigenous community living in the suburbs of Habiganj and Moulvibazar districts, the leaves are mostly cultivated in hilly areas near the homes of the community, locally known as punjee.
Khasi betel leaf, which is distinct in its taste and shape from other betel leaf varieties, serves as a natural remedy for minor injuries.
This product has turned into a unique cash crop and a symbol of self-sufficiency for Khasi women.
According to the Khasi Social Council, betel leaf cultivation is a major means of livelihood for 13 Khasi punjees -- three in Habiganj and 65 in Moulvibazar.
"Khasi people are matriarchal, so women hold significant status within their families," said Ram Papang from Lutijuri punjee in Moulvibazar's Kulaura upazila.
According to the Khasi Social Council, betel leaf cultivation is a major means of livelihood for 13 Khasi punjees -- three in Habiganj and 65 in Moulvibazar.
Despite being independent, there are many challenges faced by around 40,000 Khasi women living in the division, said Flora Bably Talang, general secretary of Kubraj, an inter-punjee development organisation.
"Khasi women mostly sell betel leaves to Bengali buyers visiting their villages although they can get better profits if they directly go to the local markets to sell their produce. Though some Khasi women visit Sylhet's Jaintapur market, the ones in Moulvibazar often prefer selling the produce to local wholesale traders and tourists for lesser prices as they are often maltreated by market syndicates," she added.
Flora claimed that Khasi women often face gender-based discrimination. Besides, it's a constant struggle for them to keep their gardens safe from miscreants who often steal their crops or damage them, said Flora.
Khasi sellers get around Tk 800-1,000 for a bundle of 2,880 leaves if they make the sales from home. However, the same bundle is sold for Tk 2,000-2,200 in the local bazars, mentioned Saju Marchiang, a cultivator from Lawachhara punjee.
"Despite working hard, we have to sell the leaves from homes for less than half the market prices," he said.
Furthermore, inadequate rains during dry seasons and intermittent floods in the area during monsoons also sometimes damage the crop, he added.
Last year, key betel leaf markets in Sylhet and Sunamganj faced prolonged flooding that caused massive problems during harvest, he added.
"Inadequate rain can lead to cultivation delays, affecting the production volume. As cultivating betel leaves is the community's sole means of income, any fluctuation highly impacts them," said Gdision Pradhan Suchiang, president of Khasi Social Council and head of Magurchhara punjee.
During a recent visit to the area, this correspondent saw hundreds of Khasi women invested in betel plantations – plucking, cleaning and packing them. While some said they would sell off their produce to local markets, others were adamant.
Contacted, Musharraf Hussain Khan, additional director of Department of Agriculture Extension in Sylhet, said betel leaf farming is more profitable in the region than many other crops if correctly produced.
As the crop is not recognised as a priority crop, DAE has limitations when it comes to experimenting with its farming techniques and managing crisis situations, he added.