Most tea workers continue protest for pay hike
Disregard deal signed by their leaders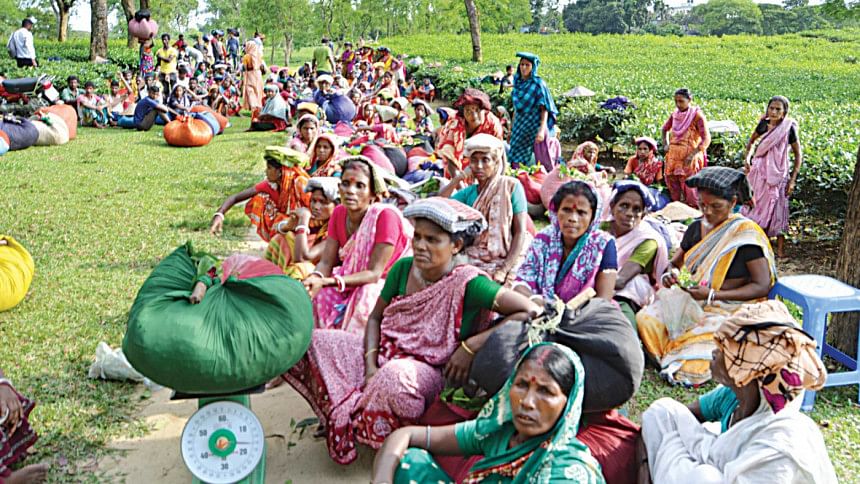 Many tea plantation workers continued their protest yesterday, disregarding their union leaders' agreement on the withdrawal of ongoing strike demanding pay hike.
On Sunday night, the union leaders and Moulvibazar district administration signed an agreement that stated that the workers would withdraw strike until the prime minister resolves their problem in a meeting before Durga Puja.
However, workers of 131 tea estates, of 135, rejected the agreement and protested yesterday demanding Tk 300 daily wage.
Hundreds of workers staged a three-hour-long demonstration at the Luhayuni point in Kulaura, blocking the Dhaka-Bianibazar highway.
Their fellow workers also blocked Kamalganj point on Sreemangal-Bramanbazar road for three hours while staging a rally in Sreemangal town for an hour.
Ranjita Tanti, a tea worker said, "We have been on the streets for food and we cannot afford it with Tk120 wage daily. But the leaders want to stop us using the name of the prime minister."
Ojit Kairi, another worker, said, "If we agree with the wage increment to Tk 145, then our movement will end with no achievement."
On Saturday, the wing of the government concerned announced the wage hike to Tk145 per day, but the workers rejected it and continued their movement.
Against this backdrop, the Moulvibazar Deputy Commissioner Mir Nahid Ahsan, along with government officials concerned, sat with the representatives of Bangladesh Tea Workers' Union at his office on Sunday night.
In a joint statement, the both parties said that the tea workers will return to work at their current wage of Tk120 and the garden owners will pay the arrears to the workers for the strike period as per tradition. 
The wage will be fixed upon the consent of the prime minister following a video conference with her before the upcoming Durga Puja, as per the demand of the union leader, according to the joint statement.
Other demands of the tea workers will be submitted to the deputy commissioner in writing, and the DC will forward them to the Prime Minister's Office.
Nipen Paul, General Secretary of the union, said, "We want direct intervention from the prime minister."
Meanwhile, a tripartite meeting has been scheduled today in Dhaka with the labour and employment minister in the chair.
During yesterday's protest, Pankaj Kando, vice president of Bangladesh Tea Workers Union, was assaulted allegedly by workers of Kalighat Tea Estate in Sreemangal as he tried to convince them to withdraw the strike.