Tea workers' demo for raise: 'No one cares about our pain'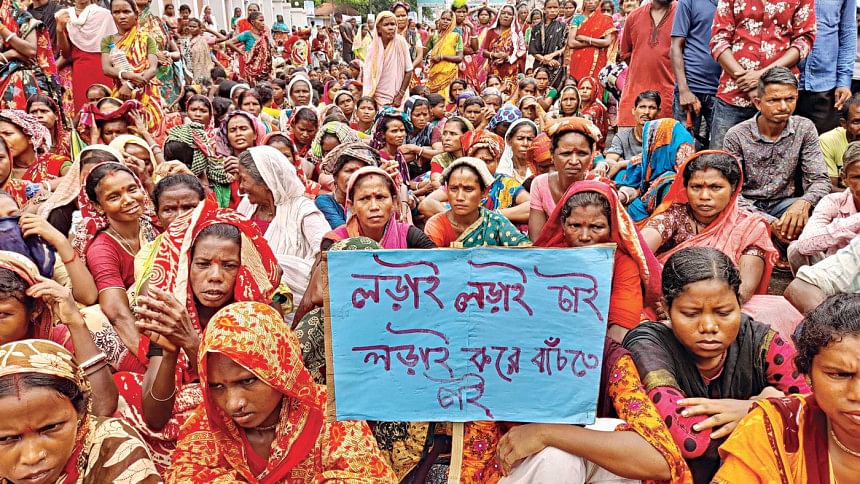 Demanding a pay hike, tea garden workers across the country yesterday went on an indefinite work abstention.
They are demanding a daily wage of Tk 300, while they are currently paid Tk 120.
Workers of 166 tea estates  across the country, including those in Chattogram and Sylhet, enforced the programme following Bangladesh Tea Workers Union's call on Friday.
As part of the programme, workers of different tea gardens formed human chains, staged demonstrations and blocked roads.
In Moulvibazar, workers blockaded roads in at least four points, including Brahmanbazar, Luhauni and Shamsernagar, for two hours from 10:00am causing around 2km tailbacks on the Moulvibazar-Borolekha regional highway.
Sabita Gorait, a demonstrator in Luhauni, said, "No one understands our pain. We work so hard, but aren't paid fairly. There are expenses for treatment and our children's education. While prices of daily essentials are increasing every day, our wages are not."
Lakshimani Singh, another demonstrating worker, said, "I have to stand all the daylong in the scorching heat while working. Sometimes, I get drenched in rain. Sometimes, insects bite me. I work despite all these difficulties. Tk 120 is not a fair wage considering the present situation."
Normally, tea workers' wages are fixed under a contract or agreement between the Bangladeshi Tea Sangsad, an association of tea estate owners, and Bangladesh Tea Workers' Union, said Nipen Paul, acting general secretary of the union.
As per a contract signed in October 2020, the wages are supposed to be revised every two years. That year the workers got a raise with retrospective effect from January 2019.
"According to the contract, the wages were supposed to be revised in January 2021 again. But the owners did not do it. The workers have been demanding their pay hike for the past year and a half," said Nipen.
During the period, tea garden owners held multiple meetings with the workers and proposed a raise from Tk 120 to Tk 134. The workers rejected it and demanded a daily wage of Tk 300.
"As prices of essentials are increasing, we will not be able to survive without a substantial wage hike. Our work abstention will continue until our demand is met," he told The Daily Star yesterday.
Contacted, Golam Mohammad Shibli, general manager of Finlay Tea Company and chairman of Bangladeshi Tea Sangsad in Sylhet, said it was illogical to stop work, while the discussion on the matter was still ongoing.
"It is a full tea production season. If work stops, both owners and workers will suffer. I request all the workers to resume work and solve the issue through the ongoing discussion."