Rain paralyses north
3 districts under water, farmers worry over loss, two killed by lightning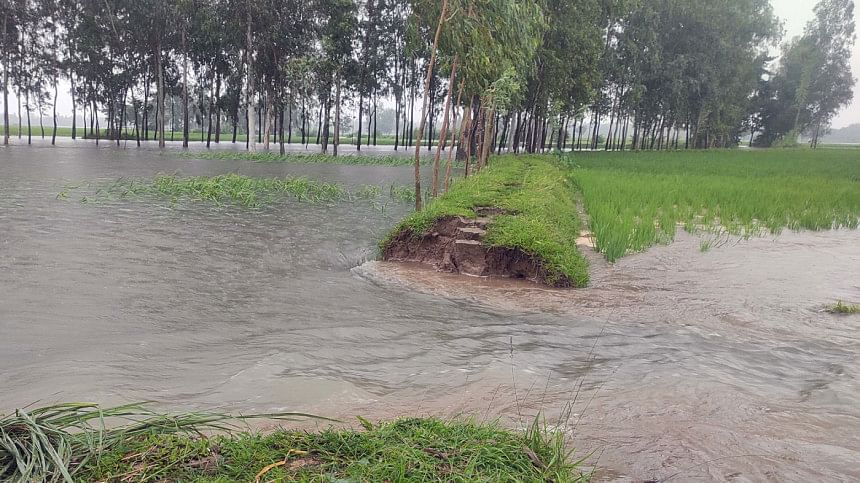 Residents of Rangpur and Dinajpur have been besieged by heavy rainfall accompanied by frequent lightning strikes since last Wednesday. This has particularly affected the day labourers, who are struggling to make ends meet amidst the calamity.
Take the case of Aminul Islam, a rickshaw driver in Rangpur's Babukhan area, who had to spend almost all that he earned on Saturday and Sunday to pay for the rent of his rickshaw.
"Due to incessant rains since Saturday, people hardly moved outside. But if I stay home for a day, I fail to feed my family and pay rent for the rickshaw," he said.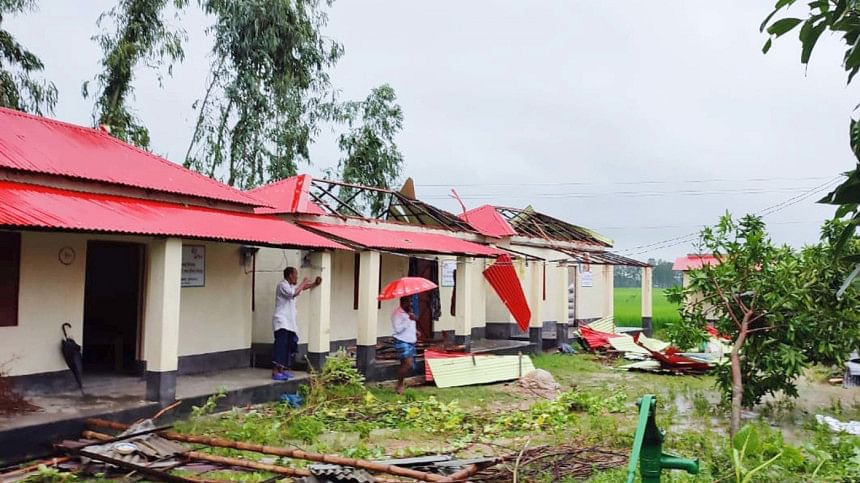 In the past 24 hours till yesterday, Dinajpur witnessed the highest 159mm rainfall in the division, followed by Saidpur in Nilphamari with 108mm rainfall.
Low-lying areas, farmlands, towns, paddy fields and agricultural plantations were inundated as  water levels of all the rivers in Rangpur and Dinajpur regions rose after the rainfall.
Countless farmers are worried of potential financial losses as their croplands went under water. Crops like cauliflower, cabbage, beans, and other winter vegetable varieties have suffered significant damage.
Fish from ponds were also washed away in many areas.
Obaidur Rahman Mandal, deputy director of Department of Agricultural Extension in Rangpur, said the last few days' rains may be beneficial for the paddy, but if it continues longer then it will adversely affect vegetable plantations. The extent of damage will be assessed after the water goes down, he added.
The adverse weather conditions have also disrupted inter-district and long-distance traffic, while traders could not open their shops.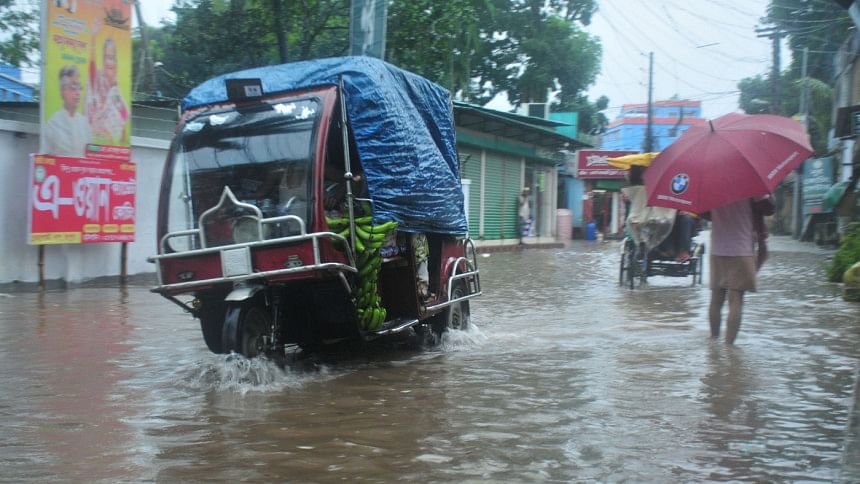 Sumon, who runs a vegetable shop in Rangpur city's Munsipara area, said it was not possible to open the shop amid rainfall, for the whole day.
Swapna Rani of Kukrul area said people are suffering a lot due to waterlogging in the low-lying areas, as it has been raining heavily.
Almost all areas in Rangpur city have been waterlogged since Saturday.
This correspondent visited Kamal Kachna, Mahiganj, Botla, New Jummapara, East Jummapara, Tajhat, Babupara, Kamarpara, Adarshpara, Nagar Mirganj, Shalbon, Mistripara, Kalabari Darshana, Mordan intersection, Munsipara, Hanuman Tala and several other areas yesterday  and found those under ankle to knee-deep water.
The situation is similar in Dinajpur town, where the absence of a proper drainage system has worsened the situation.
Dinajpur Deputy Commissioner Shakil Ahmed said, "Low lying area of Dinajpur town is submerged under water. Arrangement has been made to provide relief to the affected people."
"Rice and dried food have been distributed on Sunday among those affected," he added.
Meanwhile, a man was killed by lighting yesterday morning  in Chirirbandar upazila of Dinajpur. The deceased was identified as Rashidul Islam of Sahapur village.
In another incident, an 18-year-old boy was killed in a lightning strike while he was erecting an enclosure to protect the fish of a pond in Nawabganj upazila of Dinajpur yesterday evening.
The identity of the deceased could not be known immediately.