Traditional Fishing Tool: Good days for teprai artisans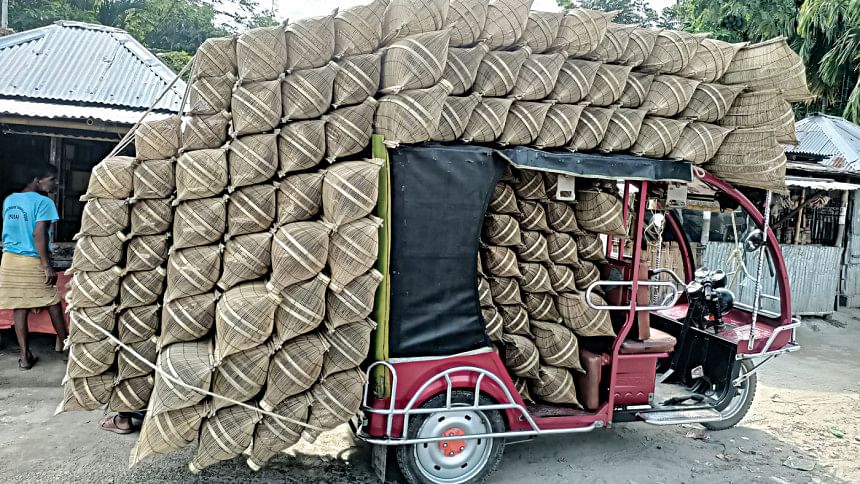 Teprai, a traditional fishing tool made of bamboo slits, makers in Lalmonirhat and Kurigram are all geared up for their seasonal business as demand for the item sees a rise during the monsoon every year.
The traditional method of catching fish with bamboo-made fishing trap, usually used for catching indigenous fishes, is still popular among the villagers in Lalmonirhat and Kurigram.
It is being sold in about 80 local bazars in the two districts.
Over two hundred craftsmen in the two districts manage to earn some extra money from the seasonal business during every monsoon.
A number of artisans said they usually produce teprai between the months of April and June, and sell their produces in July to September.
Almost all the members of a craftsman's family are involved in making the traditional fishing tool.
Each family produces around 300 to 500 teprai every season and earns a profit of Tk 200 to Tk 300 from per piece.
Niron Chandra Das, a craftsman from Jatrapur village in Kurigram Sadar upazila, said teprai is made in three sizes--five feet, three feet and two feet in length and one foot in width.
Each teprai has five to ten openings to allow fish to enter and one pocket for collecting fish, he said.
Niron said they were selling each large size teprai at Tk 800 to Tk 1,000, middle size at Tk 500 to Tk 600 and small size at Tk 400 to Tk 450, while they have to spent Tk 250 Tk 500 for bamboo and other raw materials to make each teprai, depending on its size.
Another artisan Subhas Chandra of Shimulbari village in Kurigram's Phulbari upazila said he produced about 300 teprai this season and already sold those all.
Rajanikanta Das of Chaparhat village in Lalmonirhat's Kaliganj upazila said all the five members of his family are involved in teprai making.
His family has produced nearly 400 teprai this season and sold most of those in the last few weeks.
Fisherman Meher Ali of Megharam village in Sadar upazila said each teprai can be used for one season only.
Kurigram District Fishery Officer (DFO) Kalipada Roy said teprai is usually used for catching local variety fishes in knee-deep water.