Vulture population sees 15.4pc surge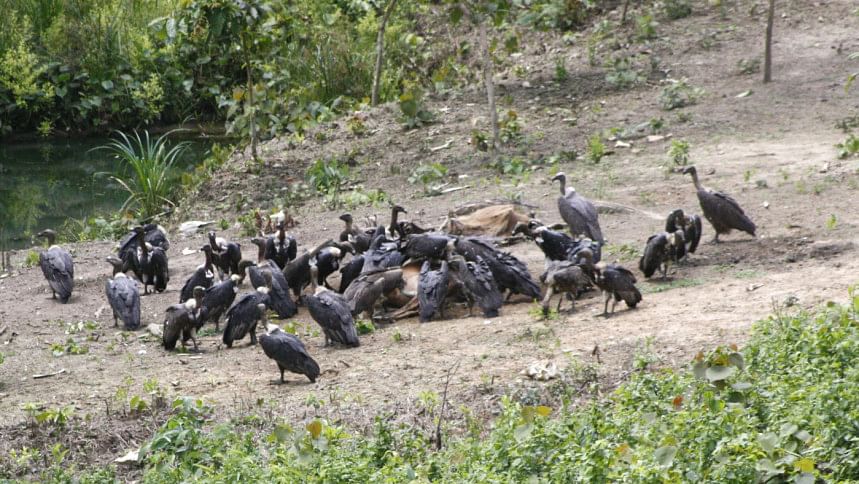 Since 1990, the number of vultures in the subcontinent has been rapidly declining. According to the Forest Department, there were 1,972 vultures in the country in 2008. In the last census conducted in  2015, that number fell to 260.
Researchers say that vultures are on the way to extinction due to adverse environments, lack of preservation measures and food shortage. Around 99.9 percent of the subcontinent's Bengal vulture is now extinct and the International Union for Conservation of Nature (IUCN) has declared the species as "critically endangered" around the world.
In recent years, while the reproduction rate of vultures has remained steady throughout the country, there has been a notable uptick in the Rema-Kalenga forest of Habiganj. The development has sparked optimism among those working to conserve vultures.
Notably, the fertility rate in vultures of this region rose from 57 percent in 2014 to a promising 72.4 percent.
The IUCN has been working with the Sufal Project of Forest Department, specifically on vulture care, in the country since 2014.
IUCN project director Sarwar Alam said there are around 260 vultures in Bangladesh. Once there were seven types of vultures in the country. Now, only the Bengal vulture is seen. Only two places are known as safe habitats for this vulture -- one is the Rema-Kalenga forest, the country's second largest forest area at Chunarughat upazila in Habiganj; and the other is the Sundarbans in Khulna.
In Bangladesh, vultures population has come close to becoming extinct, due to the extensive use of drugs like Diclofenac and Ketoprofen on livestock. When vultures eat the carcass of an animal treated with these drugs, they end up dying within an hour or two. Thankfully, the government banned these drugs in veterinary medicine in 2021.
The vulture is beneficial to the environment  as they are  the nature's most efficient scavengers. All the stale and rotting dead bodies in nature are eaten and cleaned by them, keeping society free from numerous diseases.
Tofazzal Sohel, general secretary of Bangladesh Poribesh Andolon's Habiganj chapter, said vultures live in trees and raise their chicks there. Cutting down big trees, religious superstitions, and lack of food are also pushing these birds closer to extinction.
"To keep our environment healthy, beautiful and liveable, we feel that common people should be more aware of protecting vultures," he added.
Wildlife and Biodiversity Conservation Officer Mirza Mehedhi Sorowar said recently a flock of vultures was seen in the field of Atghar village adjacent to Dighirpar Bazar of Moulvibazar Sadar upazila. These vultures may come from the Rema-Kalenga Wildlife Sanctuary in Habiganj. Apart from this, there are vulture shelters in Deorachhara, Kalachhara, Madhabpur and Karimpur in Moulvibazar.
According to an IUCN 2016 survey, there are about 100 Bengal vultures in the greater Sylhet region. This could be a sign of the vulture's return to nature.
In the greater Sylhet region, vultures are still doing well. In order to sustain these cleaners of nature, the sale of banned painkillers for livestock must be stopped altogether. Tall trees in various places and tea gardens should not be cut down. Only then the number of these birds can return to previous levels, said Md Rezaul Karim Chowdhury, former Sylhet Divisional Forest Officer of Wildlife Management and Nature Conservation Department.