World Leprosy Day: Tea workers worst-affected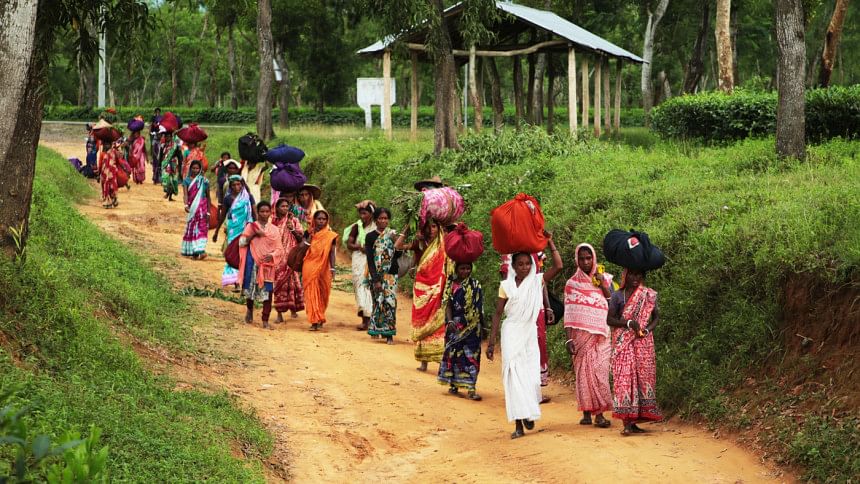 Tea garden workers in the country's northeastern region are at high risk of developing leprosy due to their unhygienic living conditions, malnutrition and lack of awareness.
Around 98 percent of leprosy-infected people in Moulvibazar, 62 percent in Sylhet and 72 percent in Habiganj, belong to tea worker communities, according to district civil surgeons.
The division includes four districts -- Sylhet, Moulvibazar, Habiganj and Sunamganj.
Of them, Moulvibazar ranks top in leprosy-affected districts, with 660 patients currently, said the district's Civil Surgeon Chowdhury Jalal Uddin Murshed.
Amid such a situation, Bangladesh, along with other countries across the world, is going to observe World Leprosy Day today.
Tea worker Sagor Moin Bauri, 40, who lives at a tea garden colony in Moulvibazar's Kamalganj upazila, has been suffering from leprosy for around five years.
"One day around five years ago, I found some hypopigmented skin patches on my face and body. It gradually spread further," she said.
"Initially, I did not get diagnosed as I was not aware of the disease. After diagnosis, doctors told me that I got infected with leprosy. I'm currently undergoing treatment."
"Since news spread in our colony, I'm facing different kinds of discrimination from my neighbours," she added.
Around 1,400 tea workers residing in the colony live in an extremely unhygienic environment, said locals.
Another tea worker Nayon Induar, 55, said, "One day I saw a skin patch on my right great toe when I was working in the garden. A few days later, ulceration occurred on my both feet. I rushed to doctors, who diagnosed that I was infected with leprosy."
"As I am going through regular treatment, my disease is lessening day by day," he said.
Tea worker leader Sitaram Bin, also former member of Shamshernagar union parishad in Moulvibazar, said, "Most tea garden workers are illiterate. They are not aware of leprosy. Furthermore, they have to live in a congested and unhygienic environment. That is why tea workers are among the highest infected."
GM Shiblee, chairperson of Bangladesh Cha Sangsad, Sylhet unit, said, "Many tea workers, who have been infected with leprosy, don't want to pursue medicine and treatment properly due to social stigma and superstitions. Thus, the disease is spreading among them."
Civil Surgeon Chowdhury Jalal Uddin Murshed said malnutrition and unhygienic living conditions are the major reasons for the high rate of leprosy infection in Moulvibazar.
Dr SM Shahreer, civil surgeon in Sylhet, said there were 38 new leprosy patients in Sylhet in 2020, 93 in 2021 and 91 in 2022. There are a total of 144 new leprosy patients in Sylhet's tea gardens out of the total of 222 infected patients.
"We are working to control the disease in this district," he added.
Contacted, Dr Mohammad Noore Alom Shamim, assistant director of DGHS's Sylhet divisional office, and echoed him.