EC free to hold fair polls
PM tells VoA, says Rohingyas must return home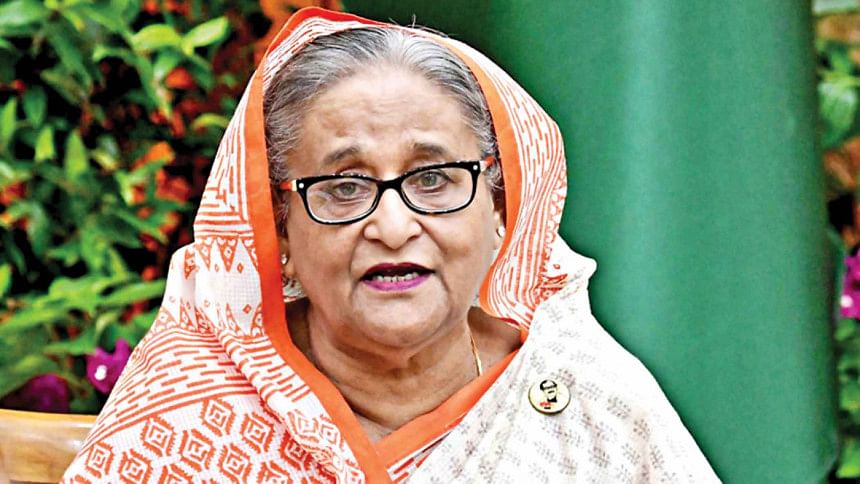 Prime Minister Sheikh Hasina has said the Election Commission is "completely free and independent" and there's a system that allows the EC to hold free and fair elections in Bangladesh.
She said this in an interview with the Bangla service of Voice of America (VoA) that aired on Tuesday.
The PM, now on a visit to the US, responded to a number of questions on democracy, human rights, Rohingya crisis, Digital Security Act and other issues.
She said Bangladesh has made huge strides during her party's three consecutive terms in power. The poverty rate has been cut and people are getting food, education and healthcare. "We're fulfilling all their basic needs."
Responding to a question, the premier described how some political parties like the BNP and Jatiya Party were born under the leadership of military dictators and how they seized power illegally.
She said the parties that were born under military strongmen's leadership are not used to developing relations with the ordinary people by going close to them; rather they are used to snatching votes and clinging on to power by force. "They might not like the democratic trends."
Former UN high commissioner for human rights Michelle Bachelet, during her visit to Bangladesh in April, encouraged the government to create an "independent, specialised mechanism" that works closely with the victims' families and civil society to investigate the allegations of enforced disappearances and extrajudicial killings.
Asked about it, Hasina said there is a human rights commission that always takes necessary steps. "If there is any allegation, they look into it."
Hasina said whenever any injustice takes place, steps are taken immediately as per the law, and it's something that didn't happen in the past.
"We are not abusing human rights, we are rather protecting them," she said, adding that her government has made people aware of their rights and has ensured that they can enjoy their rights.
The PM referred to the killings and disappearances of hundreds of army and air force members and Awami League leaders and activists during the tenure of Ziaur Rahman. She said their families didn't even get the bodies and had not been able to know what were the faults of their loved ones.
'MEDIA FREE TO CRITICISE GOVT'
Responding to a question on the Digital Security Act and its impact on media freedom, Hasina said Bangladesh's growing media during the tenures of her successive governments has enjoyed freedom to say whatever it wishes.
"What would be the answer if someone says they are not allowed to speak after having spoken about all the issues? That's my question."
She said Bangladesh had only a few TV and radio stations before she took office in 1996 and those were controlled by the government.
Once she came to power, she made it possible for the private sector to run media outlets freely. She said that about 32 private TV channels out of 44 approved are now operating in the country.
Hasina said people are talking in talk shows  without any restrictions , and they talk as they will -- true or false -- and keep criticising the government.
She said there was no freedom of speech or movement when there was a military dictator in power.
'ROHINGYAS MUST GO BACK'
The premier said Bangladesh is not in a position to shelter any more people from Myanmar.
Stressing the need for repatriation of the Rohingyas, she said they must go back to their own country. "It's not possible for us to take in any more people."
Bangladesh is now hosting over 1.1 million Rohingyas in Cox's Bazar and Bhasan Char. Not a single Rohingya was repatriated over the last five years.
Hasina talked about how the prolonged stay of the Rohingyas is destroying the forests in Cox's Bazar, causing sufferings to locals, and how they are getting involved in drug  and arms smuggling and human trafficking.
She referred to Bangladesh's repeated calls for the international community to work for the Rohingyas' safe return.
The PM said Bangladesh is a densely populated country and a prolonged stay of the Rohingyas is becoming a burden.
She described how people from Bangladesh took shelter in India in 1971 amid Pakistan military's brutality.
"We saw people's sufferings [in 1971] with our own eyes," Hasina said, referring to her conversation with her younger sister Sheikh Rehana before allowing in the Rohingyas amid the brutality against them in Myanmar.
Bangladesh has recently sought support and necessary steps from the international community so that Myanmar stops violence in its territory and cannot try to avoid Rohingya repatriation on the pretext of unrest.
ASHRAYAN PROJECT
Hasina said she wants to make sure everyone in Bangladesh gets their own home, land and address, as her government continues its efforts towards inclusive development.
"My aim is to see that not a single person is homeless, landless and without an address in Bangladesh."
She described how the idea of Ashrayan project came to her. One goal behind the idea was giving an equal ownership right to the husband and wife of a family.
Responding to a question, she said she has almost achieved her aim and 10 lakh families have been given homes. "... around 35 lakh people got shelters."
The premier said the government was not just giving the homeless homes, it's also providing them with cash support and necessary training to get involved in income generating activities.
She shared her experience of visiting St Martin's Island after a cyclone in 1997, where she found 70 homeless families.
She said Awami League leaders came forward with their land when she wanted to build homes for them with the support of the Bangladesh Navy. "I designed the houses. That's how it began."