Six By-Polls Today: Focus on B'baria as candidate still missing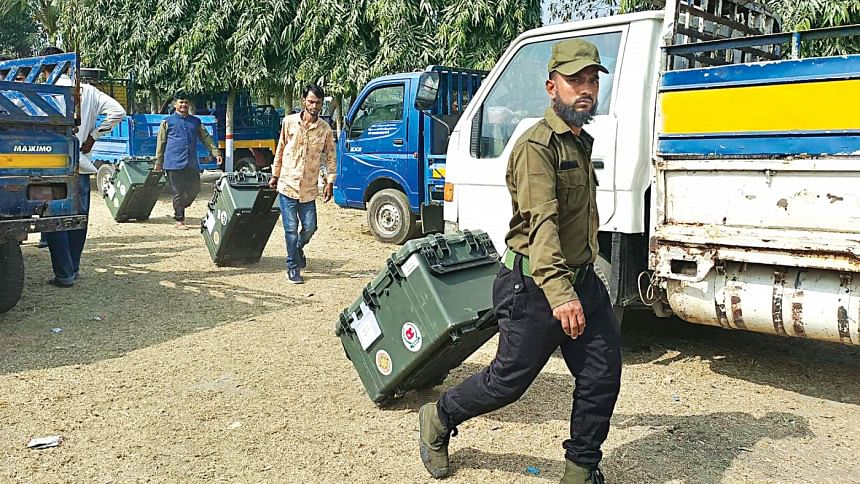 By-elections to six constituencies are being held today, but the Brahmanbaria-2 has become the centre of attention with an independent candidate "missing" for five days.
Though the family of Abu Asif Ahmed, former president of Ashuganj BNP, kept alleging that he was missing, an election commissioner yesterday said after analysing the circumstances, it seemed to them that he went into "hiding".
There are more twists in the by-polls to Brahmanbaria-2 (Sarail-Ashuganj). The ruling Awami League did not field any candidate there. Instead, the party men are desperate to make Abdus Sattar Bhuiyan, an expelled BNP leader running as an independent, the winner. Even AL Organising Secretary Ahmed Hossain visited the constituency on Monday and took part in Sattar's campaign.
Sattar resigned from BNP early December last year.
By-elections to Thakurgaon-3, Bogura-4 and 6, Chapainawabganj-2 and 3, and Brahmanbaria-2 are needed as those seats fell vacant following the resignations of six BNP lawmakers.
Allegations are rife in Bogura that AL leaders and activists are intimidating voters and threatening them not to show up at polling centres.
ASIF WENT INTO HIDING: EC
Election Commissioner Anisur Rahman yesterday told reporters at his office that they received a probe report from the deputy commissioner, the superintendent of police and the election officer of Brahmanbaria.
"Based on the information available, it seems that the candidate might have gone into hiding."
Noting that the audio clip of a conversation of independent Asif has gone viral on social media, Anisur said, "I have heard the audio. From the conversation…. it seems that they had a plan."
He said the local administration in its report said that the candidate was "missing" and it was sure that law enforcement agencies had no links with the incident.
"The report said the candidate's whereabouts was established once. But his location could not be traced later as his mobile phone was switched off. However, the law enforcement agencies are still trying," the commissioner added.
Asif's wife Meherunnesa Meherin said she e-mailed a complaint to Chief Election Commissioner Kazi Habibul Awal regarding her husband going missing.
"We are being threatened continuously. Police are coming to our house and conducting searches unnecessarily, causing harassment," she told journalists at her house in Ashuganj yesterday afternoon.
Jatiya Party candidate Abdul Hamid Bhasani, Zaker Party nominee Zahirul Islam Jewel and Asif's wife have expressed worries about fair by-elections.
"There is no sign that the by-polls will be fair. The ruling party and the local administration have become desperate to make Abdus Sattar the winner," said Hamid.
Zahirul said the general people are disappointed at the role of the administration officials.
ALLEGATIONS OF INTIMIDATION
Jatiya Samajtantrik Dal (Inu) candidate Emdadul Haque Imdad and independent Abdul Mannan in the Bogura-6 by-polls alleged that AL activists threatened many voters not to visit the polling stations.
However, AL nominee in Bogura-6 Ragebul Ahsan Ripu denied the allegation.
"We are not threatening anyone. The by-elections will be held in a festive mood," he told The Daily Star.
Independent runner Ashraful Hossain Alam, widely known as Hero Alam, in Bogura-4 and Bogura-6, said he heard that the results could be manipulated using electronic voting machines.
"If I see any irregularities in using EVMs tomorrow [today], I will boycott the by-elections," he told this newspaper.
Asked about allegations of threats from the AL candidate of capturing some polling centres, Bogura Deputy Commissioner Saiful Islam, also the returning officer, said an independent has filed a written complaint and some other candidates informed them verbally regarding the matter.
"We have already increased the number of magistrates, personnel of the striking force, law enforcement agencies, and BGB at those polling stations to ensure fair by-elections."
Many voters of the two Bogura constituencies were confused about using EVMs. Take, for example, the case of Hazrat Ali, 50, a voter from Bogura's Kahalu upazila. He said he doesn't know how to cast a vote using an EVM and how the votes are counted.
Many voters, especially BNP leaders and activists, are not at all interested in voting as the party is not in the by-polls race in its traditional stronghold.
EC Anisur said they have completed all preparations to hold the by-elections and asked the local administrations and law enforcement agencies to strictly maintain law and order.
He said they extensively conducted voters' education campaigns on how to cast votes using EVMs. "We hope there will be no problem in using EVMs."
Our Brahmanbaria and Bogura correspondents contributed to this report.