'Struggle for right to vote starts now'
Fakhrul tells Sylhet BNP rally; city dwellers suffer for lack of transport, mobile internet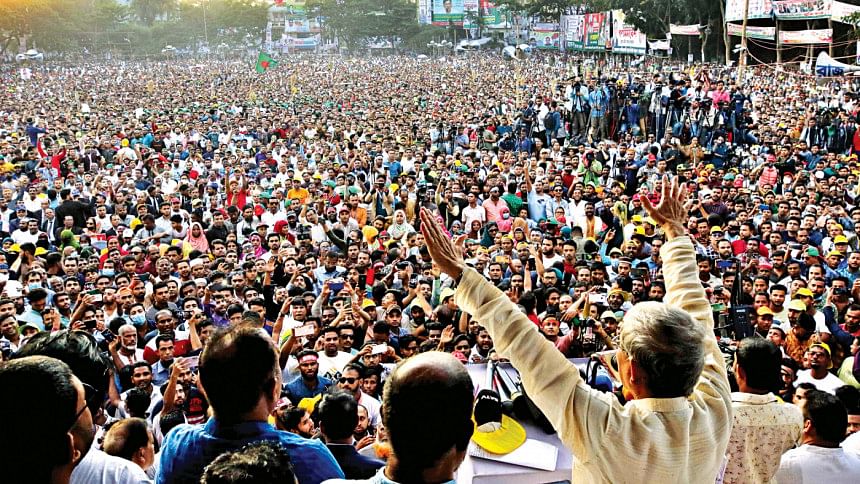 The BNP's only aim is to end the regime, Mirza Fakhrul Islam Alamgir told yesterday's rally in Sylhet city.
Sheikh Hasina must resign, parliament must be dissolve and an interim caretaker government should take over, he said.
"Sylhet has a long history of struggle. This is where the Liberation War began. President Ziaur Rahman led the war from the front and Saifur Rahman fought to reform the economy. Your history is that of winning wars. And the war of reclaiming people's rights starts from this holy land now. We will win," he told the crowds on Sylhet Alia Madrasa premises.
Despite the transport strike in Moulvibazar, Sunamganj and Habiganj in the last few days and suspension of bus services in Sylhet since Friday morning, thousands of people from different districts arrived in the city on boats, motorcycles and even on foot.
But the general public suffered on the roads in Sylhet due to the transport strike allegedly centring yesterday's BNP rally.
Hundreds of people had to take long walks on the streets devoid of vehicles or wait for hours to find transport. Only a few rickshaws could be seen occasionally.
On the Alia madrasa premises, large groups of BNP supporters arrived in the morning, joining the thousands who spent the night at the venue. The event started around 12:30pm.
Police set up 19 check points at different places and a large number of law enforcers were present near the venue.
Fakhrul said, "Sylhet BNP leader Ilias Ali is no longer amongst us. We don't know whether he is alive… Six hundred individuals have gone missing. Their families still don't know where they are.
"The general people, farmers, workers, van pullers, boatmen -- they are not at peace. Oil price increased once again yesterday, sugar price increased, vegetable-salt-egg everything is pricier. Our farmer parents cannot afford to feed an egg to their children.
"The Awami League promised to make rice Tk 10 a kg. That's not the reality. Three crore people are jobless. This government also shattered the youths' dreams of a bright future.
"Bangladesh fought in 1971 to gain their rights, build a democratic country, reinstate the right to vote and freedom of speech. Sheikh Hasina will be punished by the people's court for snatching away these rights and shattering people's dreams."
BNP Standing Committee Member Gayeshwar Chandra Roy said, "There is not enough money in the reserve to pay the interest on loans this government has taken. Democracy is now like Ilias Ali -- disappeared. We are looking for them both."
The rally was presided by Abdul Quiyum Choudury, president of Sylhet Zilla BNP while Standing Committee Member Abdul Moyeen Khan, and Joint Secretary General Moazzem Hossain Alal spoke as special guests.
The BNP's rallies in different divisional cities will conclude with the December 10 rally in Dhaka.
SUFFERINGS OF CITY DWELLERS 
"My younger brother has suddenly fallen sick. This is an emergency. I must go to his house immediately. But I have been waiting for over an hour without any luck," said Husna Begum, 40, who was waiting for transport at Bandar Bazar intersection around 10:00am.
Husna's brother's house is only 1.5km away, but she could not start walking because her five-year-old son was with her at the time.
Those who were lucky to find a rickshaw saw a threefold increase in fare.
Besides, many people complained that they could not access mobile data from 10:00am to 6:00pm, said MA Kaium, a resident of the city's Upashohor area.
Saddam Hossain, a resident of Dhakkhin Surma upazila, said he and six others had to travel on a rickshaw van to Sylhet bus station. "I have to go to Dhaka because of an emergency," he told The Daily Star in the morning. He returned home a few hours later after failing to find any vehicle.
This correspondent talked to two dozen people in the city yesterday and most of them expressed frustration and anger over the transport strike.
Transport strikes were also called ahead of recent BNP rallies in Mymensingh, Khulna, Rangpur, Barishal, and Faridpur.
The BNP maintains that these strikes are part of an attempt by the ruling Awami League to keep BNP supporters away from the rallies.