Sylhet city virtually stops
People suffer for lack of transport, internet all day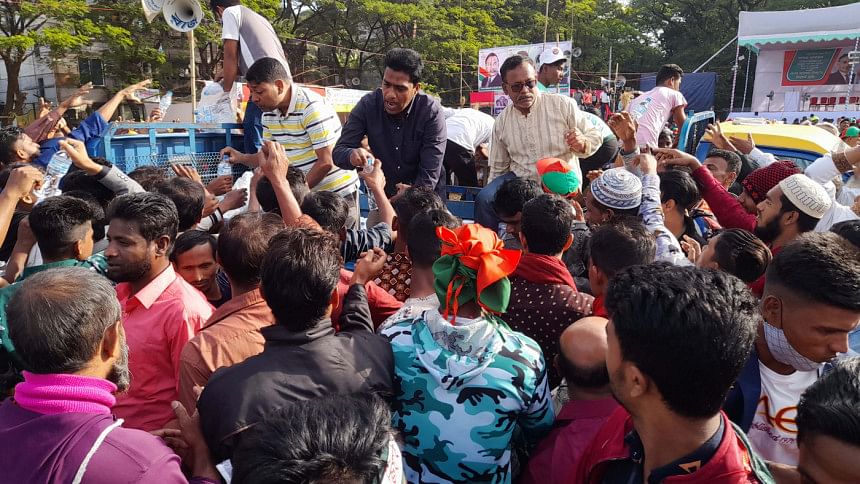 People in general suffered on the roads in Sylhet due to the transport strike allegedly centring yesterday's BNP rally.
Hundreds of people had to take long walks on the streets devoid of vehicles. Only a few rickshaws were seen occasionally. 
"My younger brother has suddenly fallen sick. This is an emergency. I must go to his house immediately. But I have been waiting for over an hour without any luck," said Husna Begum, 40, at Bandar Bazar intersection around 10:00am.
Husna's brother's house is only 1.5km away, but she could not start walking like the others because her five-year-old son was with her at the time.
Many people struggled to reach work on time in the morning because of the lack of public transport.
Those who were lucky to find a rickshaw saw a threefold increase in fare.
Saddam Hossain, a resident of Dhakkhin Surma upazila, said he and six others had to travel on a rickshaw van to Sylhet bus station.
"I have to go to Dhaka on an emergency basis," he told The Daily Star in the morning. He returned home a few hours later after failing to find any vehicle.
This correspondent talked to two dozen people in the city yesterday and most of them expressed frustration and anger over the transport strike.
Seeking anonymity, a resident of the city's Ambarkhana area said, "Political leaders claim that they are in politics to protect public interest. But the reality is the opposite. The common people always become victims of political conflicts."
Even, traders said they had to incur losses due to the strike.
"If people cannot go out of home and cannot get any transport, how will they come to markets or malls for shopping. Today, our market is almost empty," said Maruf Mia, a trader at Hasan Market in Sylhet city.
Shopkeepers and small businesses suffered as very few people went shopping.
Road transport associations earlier announced a 12-hour strike from 6:00am yesterday in Sylhet district and another 36-hour strike from 6:00am on Friday in Habiganj, Moulvibazar and Sunamganj.
BNP yesterday held a rally on the premises of Sylhet Alia Madrasa in Chowhatta area.
Transport strikes were also called ahead of recent BNP rallies in Mymensingh, Khulna, Rangpur, Barishal and Faridpur.
The BNP maintains that these strikes are part of an attempt by the ruling Awami League to keep BNP supporters away from the rallies.
Meanwhile, people in Sylhet city did not get mobile internet from 10:00am to 6:00pm, said MA Kaium, a resident of the city's Upashohor area.