Tea workers will continue demo for Tk 300 wage
Reject raise of Tk 25 fixed by govt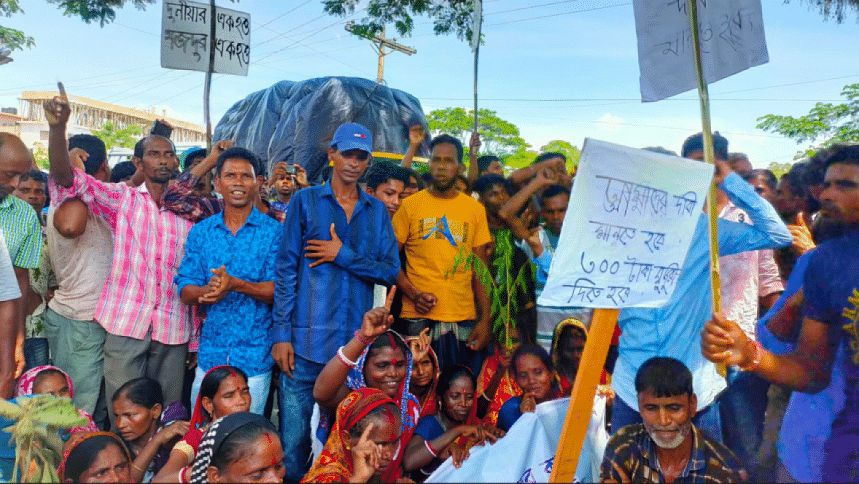 Many tea garden workers last night vowed to continue their protests for Tk 300 daily wage, hours after they called off their strike following the prime minister's directives for raising their daily wage from Tk 120 to Tk 145.
Nipen Pal, acting general secretary of the central committee of Bangladesh Tea Workers Union, confirmed the development to our Moulvibazar correspondent last night. 
"We respect the prime minister's decision. After the withdrawal of the strike was announced, the leaders of panchayat committees and valley committees from various tea gardens informed us that the workers started strike in the garden, saying that they would not accept the wage of Tk 145. So, we announced to continue the strike considering the workers," said Nipen Pal.
Dhana Bauri, president of the Manu-Dhalai Valley Committee of the Tea Workers' Union, said "We will not accept a wage of Tk 145. We announced to continue the strike until a wage of Tk 300 is fixed."
Swapna Bauri, a female worker of Teliapara tea garden, said, "We have been protesting for two weeks. We work six days a week and get Tk 600-700, with which we can't run our family. So we will continue the strike if we don't get a wage of Tk 300."
However, Raju Goyala, president of Sylhet Valley of Bangladesh Tea Workers' Union, called off the strike and announced that he will join work from tomorrow.
Raju said, "The honourable Prime Minister has asked to accept daily wage of Tk 145 and postpone the strike. It has been decided to accept Tk 145 for the time being and later a meeting will be held with the prime minister. Considering the loss of tea gardens, we will start work from tomorrow."
Earlier in the day, tea workers' leaders called off the strike after the daily wage of tea workers was increased from Tk 120 to Tk 145, on the directive of Prime Minister Sheikh Hasina.
The workers took the decision when Moulvibazar Deputy Commissioner Mir Nahid Ahsan declared the prime minister's assurance at a meeting held at the Office of the Department of Labour at Sreemangal, Moulvibazar yesterday(August 20, 2022) afternoon.
The workers of 167 tea estates across the country on August 9, 2022, enforced a two-hour work abstention (9:00 am to 11:00 am) daily demanding a pay hike. After four days, the workers of 167 tea gardens went on indefinite work abstention.