Bridge built without approach road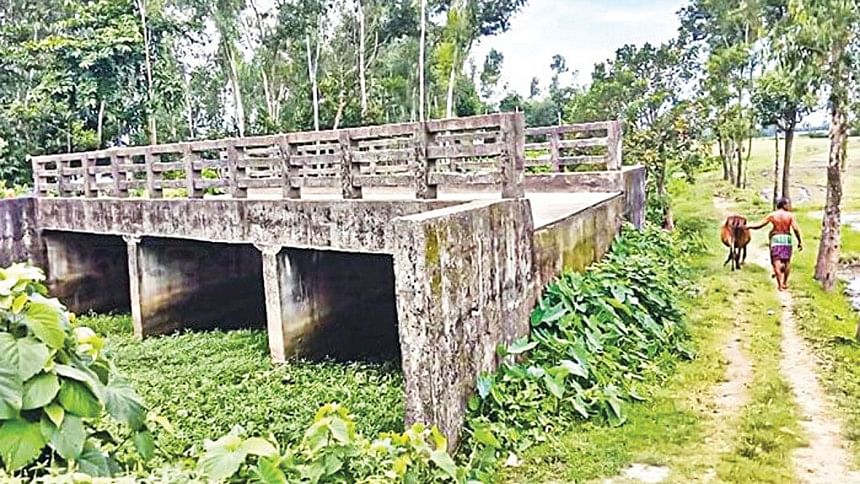 A bridge, built over a canal at Rupnagar village in Habiganj's Madhabpur upazila over one and a half decades ago, has been lying unused since construction as it does not have an approach road on one side, causing immense suffering to residents of several nearby villages.
Aggrieved villagers said it is nothing but complete waste of government money.
The bridge is of no use as there is an approach road on its one side and a paddy field on the opposite side, said Mifta Mia, a resident of Rupnagar village.
During a recent visit to the area this correspondent saw small vehicles and pedestrians were using the old dilapidated bridge, next to the new one, amid risk.
Although, the bridge, built nearly 16 years ago, has a paved road on one side, there is no connecting road but a paddy field on the other side.
According to the office of the upazila engineer, after the old bridge over the canal at Rupnagar village turned risky, Local Government Engineering Department (LGED) built the useless bridge at a cost of Tk 12 lakh about 16 years ago to improve communication facilities of local residents.
Local people alleged that although the bridge was schedule to be built after demolishing the old one, the authorities concerned could not demolish the old one after some local influential opposed the plan.
Finding no other alternative, the contractor concerned built this bridge in an unplanned way, the alleged.
While talking, Kabir Mia of Rupnagar village, also owner of the adjacent cropland, said he never promised to donate the land for free as he purchased the land for paddy cultivation.
Tajul Islam Mahaldar, panel chairman of Baghasura UP, said the connecting road can be built if two decimals of land are purchased, which is work around Tk 2 lakh.
A bridge worth about Tk 12 lakh is of no use for an additional Tk 2 lakh, he added.
Madhabpur LGED Upazila Engineer, Shah Alam said the owner of the adjacent cropland promised to donate the land for the connecting road, but he later backtracked on his decision after the bridge work was completed.