120,000 Armenians may flee Nagorno-Karabakh
Armenian PM warns amid fears of ethnic cleansing by Azerbaijan, blames Russia for failing to ensure security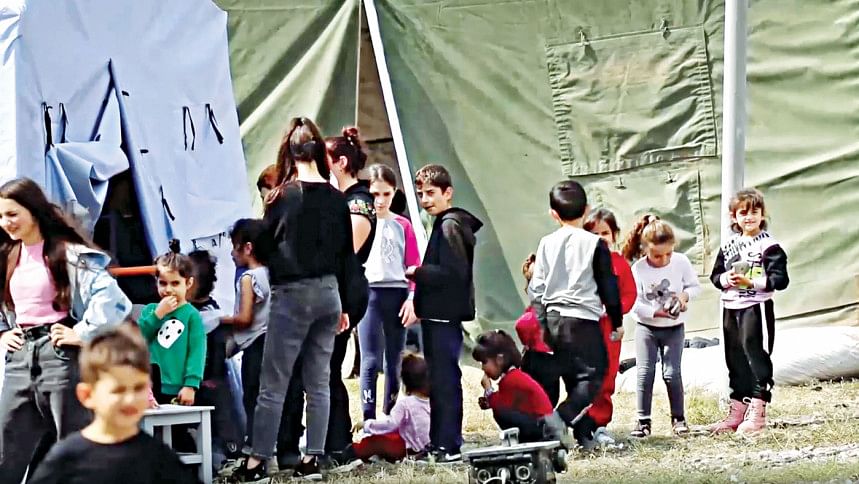 Armenia's Prime Minister Nikol Pashinyan said yesterday the likelihood was rising that ethnic Armenians would flee the breakaway region of Nagorno-Karabakh and blamed Russia for failing to ensure Armenian security.
If 120,000 people go down the Lachin corridor to Armenia, the small South Caucasian country could face both a humanitarian and political crisis.
"If proper conditions are not created for the Armenians of Nagorno-Karabakh to live in their homes and there are no effective protection mechanisms against ethnic cleansing, the likelihood is rising that the Armenians of Nagorno-Karabakh will see exile from their homeland as the only way to save their lives and identity," Pashinyan said in address to the nation.
"Responsibility for such a development of events will fall entirely on Azerbaijan, which adopted a policy of ethnic cleansing, and on the Russian peacekeeping contingent in Nagorno-Karabakh," he said, according to a government transcript.
He added that the Armenian-Russian strategic partnership was "not enough to ensure the external security of Armenia".      Hundreds of recently arrived ethnic Armenian refugees from the enclave were seen at a town near Armenian border, Reuters reporters said.
Last week, Azerbaijan scored a victory over ethnic Armenians who have controlled the Karabakh region since the dissolution of the Soviet Union. An adviser to the leader of the Karabakh Armenians told Reuters earlier yesterday that the population would leave because they feel unsafe under Azerbaijani rule.
Russia had acted as guarantor for a peace deal that ended a 44-day war in Karabakh three years ago, and many Armenians blame Moscow for failing to protect the region.
Russian officials say Pashinyan is to blame for his own mishandling of the crisis, and have repeatedly said that Armenia has few other friends in the region.
"The government will accept our brothers and sisters from Nagorno-Karabakh with full care," Pashinyan said.
Pashinyan has warned that some unidentified forces were seeking to stoke a coup against him and has accused Russian media of engaging in an information war against him.
"Some of our partners are increasingly making efforts to expose our security vulnerabilities, putting at risk not only our external, but also internal security and stability, while violating all norms of etiquette and correctness in diplomatic and interstate relations, including obligations assumed under treaties," Pashinyan said in his address yesterday.
"In this context, it is necessary to transform, complement and enrich the external and internal security instruments of the Republic of Armenia," he said.
For Azerbaijan, the exit of Armenians from Karabakh is a major victory that brings an apparent close to many years of war and squabbling over the region.