Climate Change: Major economies should play due role to avert crisis
PM tells summit in New York, signs treaty of high seas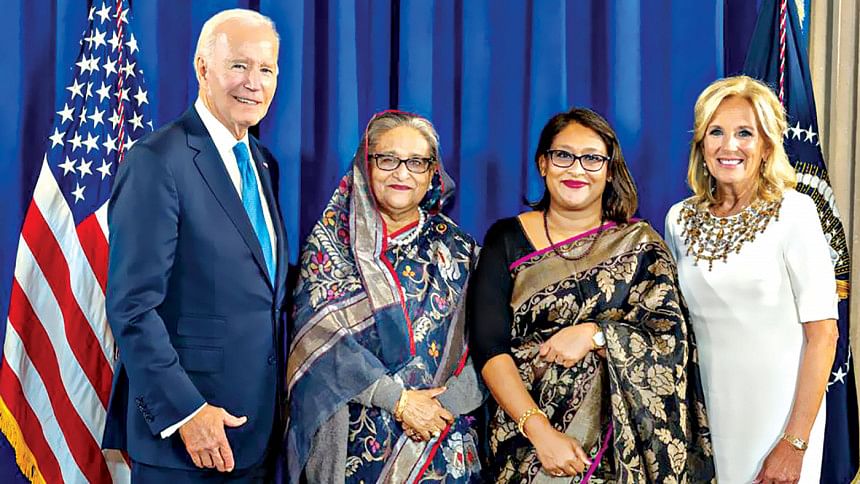 Prime Minister Sheikh Hasina yesterday said the major economies of the world should be honest about climate change to avert the crisis.
"We expect the world's major economies to remain honest about climate  change and do their fair share to avert the impending crisis," she said.
She made the remarks at a High-Level Thematic Session of Climate Ambition Summit on "Delivering Climate Justice: Accelerating Ambition and Implementation on Adaptation and Early Warnings for All" at ECOSOC Chamber in New York.
She went to New York on September 17 to attend the 78th United Nations General Assembly.
The premier said Bangladesh's experience demonstrated that investing in adaptation and early warning makes perfect sense.
"We hope our development partners will seize these opportunities to deliver climate justice," she said.
Hasina said Bangladesh has joined this session to lend support to two initiatives by the UN secretary general.
As a climate justice advocate, she said Bangladesh stands ready to align with any constructive move that advances the agenda.
She said they are working on Bangladesh's second satellite, Bangabandhu II, as an Earth Observatory. "Bangladesh is willing to share its expertise with other vulnerable countries through South-South and triangular cooperation."
Hasina mentioned that Bangladesh had reduced cyclone fatalities to single digits.
"We have one of the world's largest community volunteer programmes comprising 65,000 coastal people."
Bangladesh's latest National Plan for Disaster Management has adopted an integrated multi-hazard early warning approach, the premier said.
"We are using mobile technology to provide regular updates on weather forecasts."
Thematic Ambassador of the Climate Vulnerable Forum Saima Wazed was present.
In another development, Hasina signed the Marine Biodiversity of Areas Beyond National Jurisdiction treaty, also known as the "Treaty of the High Seas", to protect the world's oceans and rivers from damage due to the fragile marine environment by overfishing and other human activities.
It was signed on Wednesday (New York time) under the United Nations Convention on the Law of the Sea, Foreign Minister AK Abdul Momen told a press briefing.
Momen said the rich countries are mainly responsible for carbon emissions, while the contribution of the developing countries is only 0.47 percent.
The foreign minister called upon the rich countries to fulfill their pledge to give $100 billion every year to the climate fund.
"They should keep their promises," he said.
The minister said Bangladesh has got a nominal amount of the money from the climate fund to overcome the loss and damage caused by the climate change.