Killing of Sikh Leader: Assist Canada with probe
US asks India amid bitter diplomatic row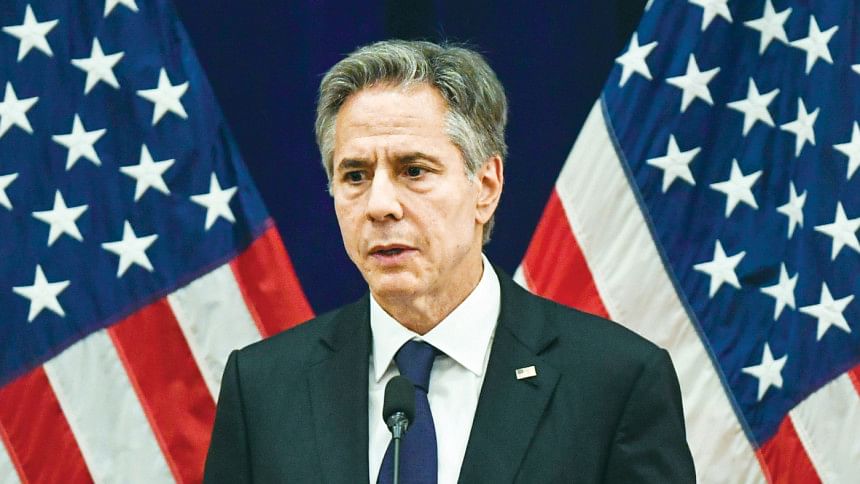 US Secretary of State Antony Blinken called on India Friday to cooperate with Canada and ensure "accountability" over the killing of a Sikh separatist, after Ottawa accused New Delhi of involvement.
Blinken said the United States has been in touch both with India, with which it has warming ties, and Canada, a close ally which expelled an Indian diplomat earlier this week.
"We want to see accountability. And it's important that the investigation run its course and lead to that result," Blinken told reporters in New York, where he was taking part in the UN General Assembly.
"We would hope that our Indian friends would cooperate with that investigation as well," Blinken said.
Blinken, without commenting directly on the substance of the allegations, said that the United States took "very, very seriously" incidents of "transnational repression."
"I think it's important, more broadly, for the international system that any country that might consider engaging in such acts not do so," he said.
Canadian Prime Minister Justin Trudeau said Monday that Indian agents played a role in the June murder of Hardeep Singh Nijjar, a Canadian citizen, near Vancouver.
Trudeau on Thursday called on India to cooperate on the investigation.
Nijjar was wanted by India for alleged terrorism and conspiracy to commit murder. He was part of the Khalistan movement, which advocates a separate Sikh homeland and was crushed by Indian security forces in the 1980s.
India has come back swinging at Canada, reducing its diplomatic staff and stopping visa services.
Meanwhile, India's top investigation agency yesterday confiscated the properties of a prominent Sikh separatist and close ally of Hardeep Singh Nijjar.
Gurpatwant Singh Pannun, a lawyer believed to be based in Canada, was designated as a terrorist by Indian authorities in 2020 and is wanted on charges of terrorism and sedition.
He is also the founder of the US-based group Sikhs For Justice (SFJ), whose Canada chapter was headed by Nijjar before he was gunned down by masked assailants in June near Vancouver.
A diplomatic firestorm erupted this week with Canadian Prime Minister Justin Trudeau saying there were "credible reasons to believe that agents of the government of India were involved" in Nijjar's death.
Pannun jumped into the raging row and issued a video telling Canadian Hindus to "go back to India", claiming they had adopted a "jingoistic approach" by siding with New Delhi.
In an interview with an Indian news channel, Pannun said Nijjar had been his "close associate" for over 20 years and was like a "younger brother" to him. He also blamed India for Nijjar's killing.
Soon after his interview was aired, the Indian government issued an advisory to news networks asking them to refrain from giving a platform to people accused of "heinous crimes".
Armed with court orders, officials of India's National Investigation Agency (NIA) on Saturday confiscated Pannun's house in Chandigarh, the capital of the Sikh-majority state of Punjab, it said in a statement.
The NIA also confiscated agricultural land belonging to him in Amritsar, it added.
It accused Pannun of "actively exhorting Punjab-based gangsters and youth" on social media "to fight for the cause of independent state of Khalistan, challenging the sovereignty, integrity and security of the country".
Sikhism is a minority religion originating in northern India that traces its roots back to the 15th century and drew influences from both Hinduism and Islam.
The Khalistan campaign was largely considered a benign fringe movement until the early 1980s, when a charismatic Sikh fundamentalist launched a violent separatist insurgency.
It culminated with Indian forces storming the Golden Temple, the faith's holiest shrine in Amritsar, where separatists had barricaded themselves.
India's prime minister Indira Gandhi was subsequently assassinated by two of her Sikh bodyguards.
The insurgency was eventually brought under control and the Khalistan movement's most vocal advocates are now among the large Sikh diaspora, particularly in Canada, Britain and Australia.
But memories of the violence -- in which thousands died -- still haunt India, which has outlawed the Khalistan movement and listed several associated groups as "terrorist organisations".