Stand by Ukraine
Biden appeals to world leaders at UNGA; Guterres says Russia's invasion 'unleashed a nexus of horror'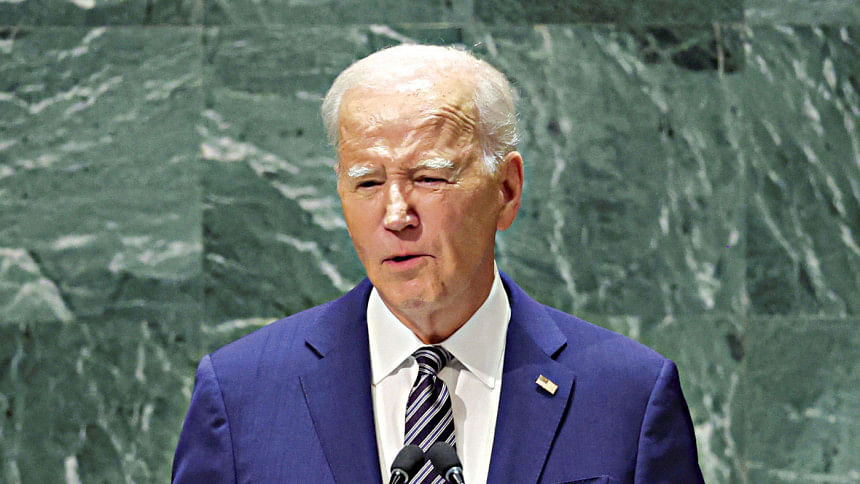 US President Joe Biden yesterday appealed to world leaders at the UN General Assembly to stand with Ukraine against Russian invaders, hoping Republicans in Congress will also take notice.
"Russia believes that the world will grow weary and allow it to brutalize Ukraine without consequence," Biden said in his speech to UNGA. "If we allow Ukraine to be carved up, is the independence of any nation secure?"
Biden's address at the annual gathering was the centrepiece event of his three-day visit to New York, which will include meetings with the heads of five Central Asian nations, and the leaders of Israel and Brazil.
In his speech, Biden argued that Russia's February 2022 invasion of Ukraine and occupation of territory violated the founding UN Charter, a main principle of which is respect for sovereignty and territorial integrity.
Biden echoed remarks of UN Secretary-General Antonio Guterres who in his opening speech to UNGA yesterday said Russia's invasion "has unleashed a nexus of horror."
A Biden administration official said Biden and US officials would also focus at the UN meetings on mobilizing resources for infrastructure and sustainable development and fighting climate change.
Solid majorities of Americans support providing weaponry to Ukraine to defend itself against Russia and believe that such aid demonstrates to China and other US rivals a will to protect US interests and allies, according to a Reuters/Ipsos survey in June.
Ukrainian President Volodymyr Zelensky, due to speak at UNGA, was expected to visit Biden at the White House tomorrow and to meet some congressional leaders as well.
The United States is preparing a new military aid package for Ukraine to coincide with Zelensky's visit, and Congress has been asked to approve billions of dollars more in security assistance for the rest of the year.
"We have confidence that there will be bipartisan support for this. I think President Zelensky does as well," White House national security adviser Jake Sullivan told reporters.
After his speech, Biden was due to sit down with UN Secretary General Antonio Guterres to discuss world hot spots.
Later, he will attend a summit with the presidents of five Central Asian nations, a first. They are Kazakhstan, the Kyrgyz Republic, Tajikistan, Turkmenistan and Uzbekistan.
Biden will meet Brazilian President Luiz Inacio Lula da Silva and join him in an event with labor leaders from Brazil and the United States today.