Bangladeshi entrepreneur opens first of its kind agricultural school in Maldives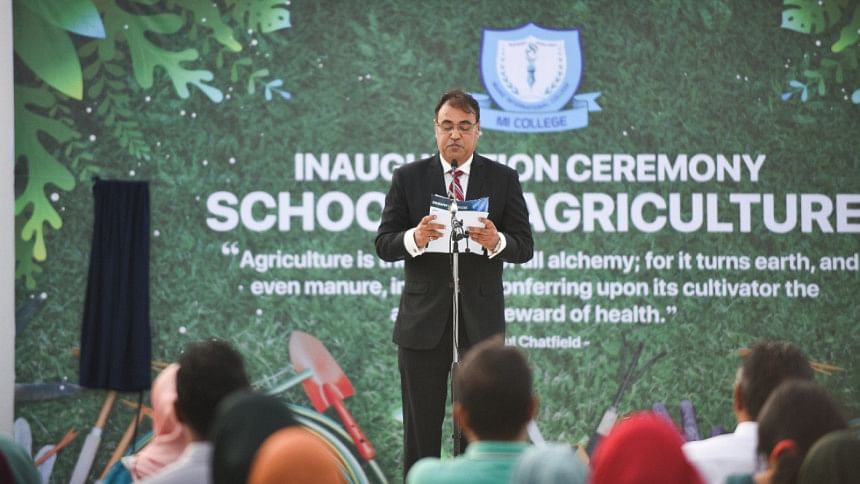 Bangladeshi entrepreneur Ahmed Mottaki has founded the first of its kind "School of Agriculture" at MI College, an international-level educational institution in the Maldives.
This is the first public-private initiative to introduce agricultural education in the Maldives, which kicked off operations recently.
The agricultural faculty was formally inaugurated on May 10 at the academic building of MI College in the historic Addu City by Abdulla Sodig, state minister for Planning and Housing of the Maldives.
The ceremony, chaired by Ahmed Mottaki, was attended by the former mayor of Addu City, high-ranking education officials, academicians, and businessmen of the country.
The state minister welcomed the initiative and wished for its success and assured all-round cooperation.
Ahmed Mottaki said that the "Certificate in Label 3 Garden" course has initially started and later a bachelor's course in agriculture will be introduced along with other courses.
Retired officers of Bangladesh's Department of Agricultural Extension (DAE) Dr Mahmoud Mirdah and Dr Md Khaled Kamal joined the initiative to conduct the course, and oversee the overall programme.
Currently, there are more than 3,000 students in 17 branches of MI College in different islands of Maldives. Most of its students are Maldivians. The college was established in 2006 by Ahmed Mottakir and it has been contributing significantly to the expansion of education in the Maldives.
Ahmed Mottaki of Shahbazpur in Sarail upazila of Brahmanbaria has been an expatriate in the Maldives for over 30 years. Although he started his professional life by teaching in a government school in the country, he is now an education entrepreneur and a businessman.