Rescue ship saves 438 migrants in Mediterranean: NGO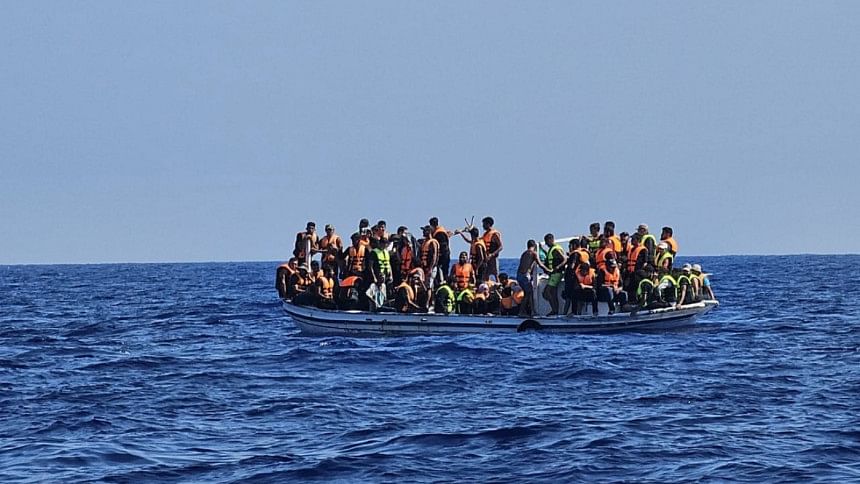 Rescue ship Ocean Viking has saved 438 migrants in distress in the Mediterranean over the last two days, the organisation that runs it, SOS Mediterranee, said on Friday.
The rescues took place in international waters off the coasts of Libya and Tunisia, the France-based NGO said.
Earlier in the day, the NGO said that on Thursday it had "rescued 272 people" of 23 different nationalities from three boats in the central Mediterranean, the most perilous maritime crossing in the world for the migrants.
Those rescued included "32 unaccompanied minors, nine babies and five people with disabilities", said the organisation, which is based in Marseille, on the French Mediterranean.
Later Friday, it said it had rescued another 166 people when it "went to the aid of a number of boats in distress".
Those onboard were evacuated "in coordination with the Italian coast guards in the search and rescue area between Tunisia and Lampedusa".
The tiny Italian island of Lampedusa, located just 90 miles (145 kilometres) from Tunisia, is the first port of call for many migrants seeking to make the treacherous sea journey to Europe from North Africa.
In total, "438 rescued people are currently on board", SOS Mediteranee said.
The Ocean Viking was "heading towards Genoa" in northern Italy because the Italian authorities had ordered them to go to the distant port to disembark the migrants, the group added.
At least 2,013 people have died or gone missing so far this year attempting to cross the central Mediterranean, according to the United Nations migration agency, the International Organization for Migration.
That is significantly higher than its figure for the whole of 2022, which was 1,417.
In June, one sinking alone in the western Mediterranean cost the lives of at least 82 people, one of the deadliest incidents involving migrants in the area.
In July, the Italian authorities detained the Ocean Viking for 10 days at Civitavecchia, after questioning the vessel's safety standards, before finally releasing it.