What's eating away at AL's bedrock?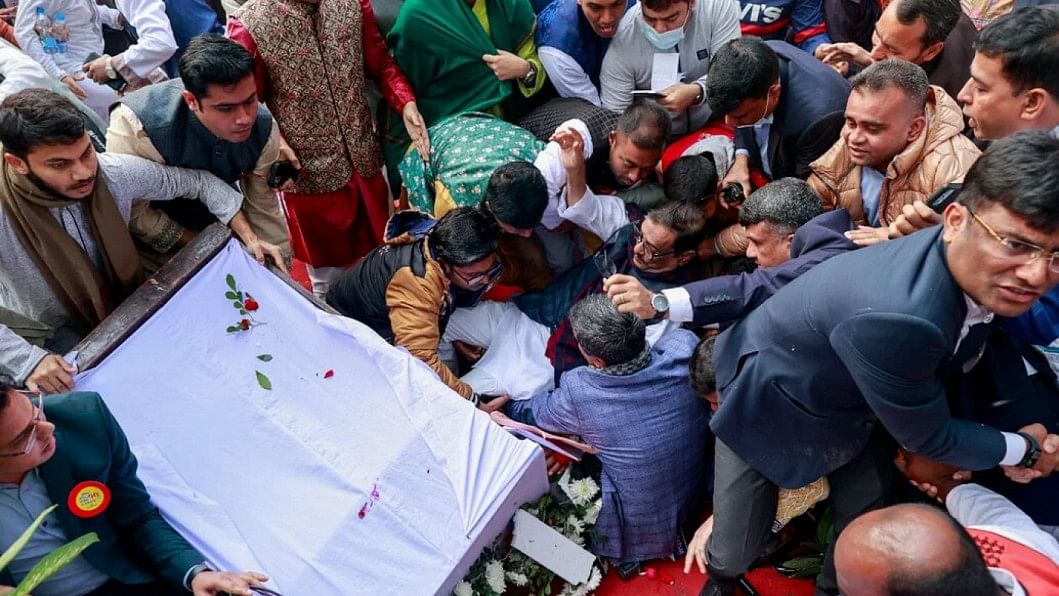 Eminent writer Humayun Azad wrote a novel in 1995 titled "Shob Kichhu Bhenge Pore," which roughly translates to "everything falls apart." As if keeping with the literal spirit of the words, many things have fallen apart or collapsed in Bangladesh since then.
We have seen a bridge collapse even before its inauguration. We have seen factory buildings collapse like houses of cards. We have even witnessed the walls of houses built under the prime minister's Ashrayan Project start to crack within days of people moving into them. But most recently, we saw a stage, laden with budding Awami League leaders, collapse.
It was a grand event marking the 75th anniversary of the ruling Awami League's student wing, the Bangladesh Chhatra League (BCL), and they had invited the party's spokesperson, Obaidul Quader, to address the ceremony. Just as the AL general secretary, surrounded by Chhatra League leaders, began his speech as chief guest, the stage caved in under the weight of the dignitaries gathered atop it.
It was not, however, the first time that such a thing has happened in Bangladeshi politics with too many people on the stage. It has happened before, notably in Anwara of Chattogram when a BNP policymaker, Amir Khosru Mahmud Chowdhury, was delivering his speech.
Obaidul Quader recovered soon to stand up and resume his speech. He said, given the recent context of events, that the collapse was only inevitable. "But I'll have to say we don't need so many leaders on the stage. Actually, we don't need so many leaders. We need more activists. We don't need so many leaders. Instead of sitting in the front row, people are crowding the stage during programmes. Why? Why do we need so many leaders? We don't need to produce leaders. We need to produce party workers."
But Quader's call for more activists than leaders comes as a surprise. It is not the first time he has made the comment. We all know that the ruling AL, one of the country's oldest political parties, finds its strength in its strong organisation that stretches all the way to the grassroots of the country, where they have an army of dedicated activists and supporters. Grassroots leaders are the heart of the party.
So, what has changed that the party now feels the need for more activists? Isn't it an ominous sign for a party, which has been in office for three terms, to call for more activists?
After assuming office in 2009, the AL started establishing its dominance in politics. Due to its strength, and elimination or weakening of opposition forces, opposition activists started joining the ruling Awami League. The party's senior leaders, on several occasions, warned about such "hybrid" leaders or infiltrators. Seasoned party leaders alleged that the dedicated and tested leaders had been sidelined by the hybrids.
The situation turned worse after the 2014 election, which gave a sense to ruling party members that securing a nomination or blessings from the party was enough to win the polls, since they would be virtually unopposed. This made businessmen desperate to get closer to power. And we saw a number of media reports stating that nominations were given to persons who had very little or no connection to politics, let alone to Awami League's politics. Around 62 percent of the lawmakers in the current parliament are from the business community. This indicates that politics is dominated by businessmen, not by politicians.
The dominance of bureaucracy is also noticeable. The influence of bureaucracy on Bangladeshi politics is nothing new, but its dominance is rising. The situation has reached such an extent that senior lawmakers, including former ministers, have expressed their grievances regarding this in parliament.
But again, it is the ruling party that paved the way for bureaucrats to meddle with politics. That's why we see that, from elections to relief distribution, bureaucrats are at the fore of everything.
Bangladesh is just about a year away from its next parliamentary election. And this time, the situation is very challenging for the ruling party, compared to what it was in the last two elections of 2014 and 2018. After the death of HT Imam, co-chairman of the Awami League Election Steering Committee, there was a rumour that a former government official may take charge in his stead. But people have little idea about who it will finally be.
The recent outgoing cabinet secretary, Kabir Bin Anwar, went to Awami League president Sheikh Hasina's Dhanmondi office a few days after beginning his post-retirement leave. Although party leaders are tight-lipped, inside sources say he might become the next head of the party's election steering committee.
When bureaucrats keep getting billed for the top election job in the most political of exercises, it is bound to turn away the party's seasoned, tested and dedicated leaders – along with their support base at the grassroots. An embarrassing stage collapse could well be an ominous sign of the party's bedrock caving in.
Mohammad Al-Masum Molla is deputy chief reporter at The Daily Star.