US-Bangla plane crash: Nepal endorses condolence motion
PM KP Sharma Oli expresses sorrow, for improving safety measures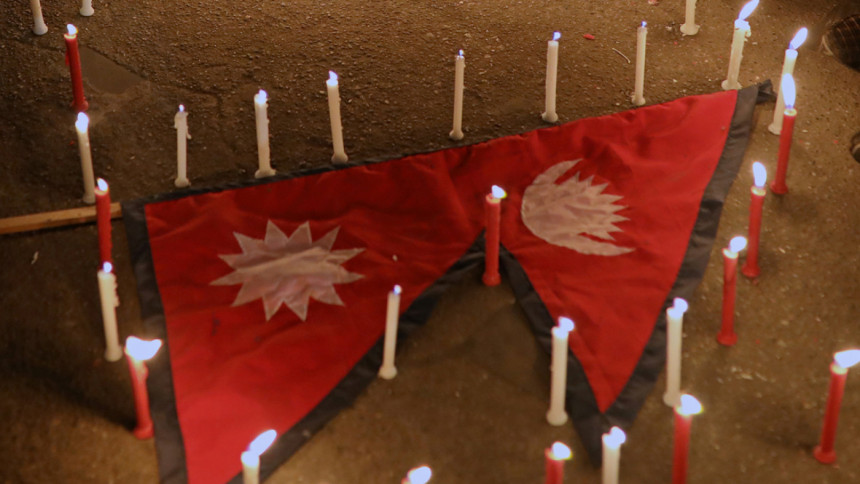 Four days after the US-Bangla aircraft crash, the House of Representatives in Nepal yesterday endorsed a condolence motion in remembrance of the deceased. 
Speaker Krishna Bahadur Mahara presented the motion which was unanimously approved by the House. It also observed a minute's silence to express sorrow over the tragedy. Twenty-two Nepalis, 26 Bangladeshis and one Chinese citizen were killed in the deadly crash of Bombardier Dash 8 Q400 aircraft at the Tribhuvan International Airport on Monday afternoon. 
Prior to endorsing the motion, the country's Prime Minister KP Sharma Oli addressing the House expressed his deep sorrow on demise of 49 people and made commitment to improving the safety measures at the country's lone international airport. 
"We have formed a panel to investigate into the crash and suggest the government towards ensuring safety to avoid such accidents in the future. We will adopt the short- and long term measures towards improving the safety," he said.
He also claimed that the government took prompt steps in rescue and treatment of the injured. "I also met with Bangladeshi Minister for Aviation and discussed on working together for providing good treatment to the injured and identifying the bodies through forensic tests and DNA testing if necessary," he added.
On Monday evening itself the government had formed a six-member panel under former secretary Yagya Prasad Gautam to investigate the cause of the crash and suggest the government safety measures to avoid such accidents in the future. 
Meanwhile, among 22 injured in the crash, three Nepalis returned home on Friday after recuperating while four others were ferried to Bangladesh. Similarly, one has been taken to Singapore for further treatment. 
Counselor at Bangladeshi Embassy in Nepal Mohammad Al Alamul told the Post that six doctors and two nurses had arrived in Kathmandu to support the medical team here for treatment. Currently, five injured Bangladeshi nationals are receiving treatment at different hospitals in Kathmandu. The Forensic Department at the Tribhuvan University Teaching Hospital, which is conducting autopsy of the bodies of crash victims, is expected to begin distribution of the bodies to their kin on Saturday.
According to The Daily Star, Monday's crash in Nepal's Tribhuvan International Airport left 51 dead. It slammed on an empty field and burst into flames. At least 28 Bangladeshis were among the dead.