How getting rid of D unit in Dhaka University is affecting admission candidates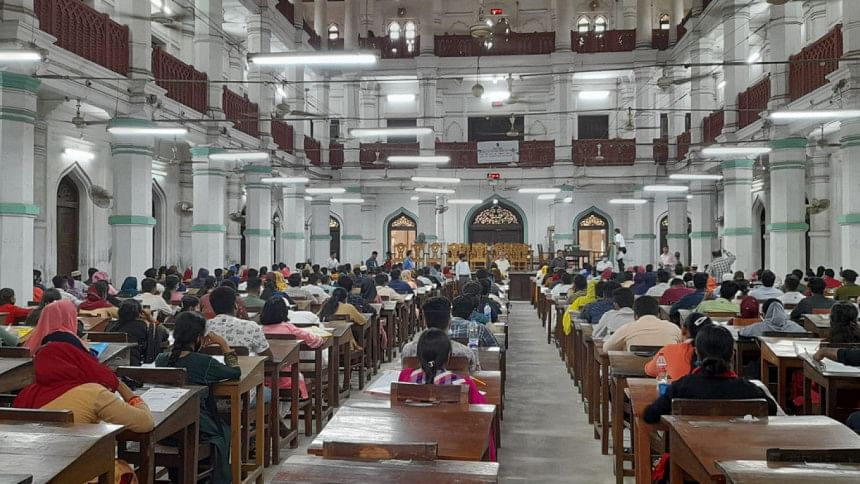 This year, Dhaka University (DU) has made some significant changes to its admission process, including removing the D unit.
Previously, the D unit was the exchange unit where students from different backgrounds could change their academic tracks. If a student from a Science background wanted to study in the Business faculty at DU, they would sit for the D unit exam. Similarly, commerce students wishing to switch to Science or Humanities majors would also sit for the D unit exam. D unit also was the gateway into the Social Science departments.
Overall, the D unit would allow you to access a variety of faculties by sitting for only one exam.
From 2023, this gateway has been abolished. The new system requires students to sit for exams of the respective faculties. That means, regardless of your background, if you want to access a Business Studies department, you have to sit for the Business Studies unit (C unit). The same applies to Science (A unit) and Humanities, Law, and Social Science (B unit).
Admission candidates have enough on their plate as it is. Adding multiple exams, all with their own set of syllabuses to study makes their lives unnecessarily harder. Students do not simply prepare for one university's admission test. They tend to branch out and attempt entrance exams for several universities. Similarly, students tend to attempt more than one unit to increase their chances of getting in. Aggregating the different requirements, syllabuses, and ways of preparation for each school and unit becomes overwhelming for students.
Moreover, since this is the first time exams are being held without a transfer unit, many admission coaching centres may not be prepared with adequate resources. They often rely on past papers to formulate their mock questions, which they can't do this time around. It will also become more complicated to teach because the exam questions and options vary according to the background of the student (i.e., science, commerce, or humanities background). Students who do not attend coaching and instead prefer to take advice from known seniors may face trouble too, as there are no past experiences to hear from.
Overall, the new structure has created a lot of confusion among students and tutors alike. 
However, there is a silver lining here.
Having independent exams for each unit means there are more opportunities for students to do well. For example, if someone suddenly falls sick the day before the A unit exam and cannot give their best, it will only affect the result of that particular unit. They will still have the chance to ace the other units they registered for. Merit positions will also be distinct. A person might be on the waiting list in one unit but high up on the merit list of another. In this way, the chances of succeeding are actually higher.
There is no doubt that admission tests are life-altering. The current candidates are the guinea pigs of this new system. Despite the burden of the seemingly endless syllabuses to cram, the students who strategically make the most out of this opportunity will come out on top.
Noyolee is either sleeping or procrastinating or both. Tell her to stop overthinking at munimns13@gmail.com